Murray State Department of Art & Design hosts senior exhibits
Murray State Department of Art & Design hosts senior exhibits
By Alex Pologruto | Nov 29, 2021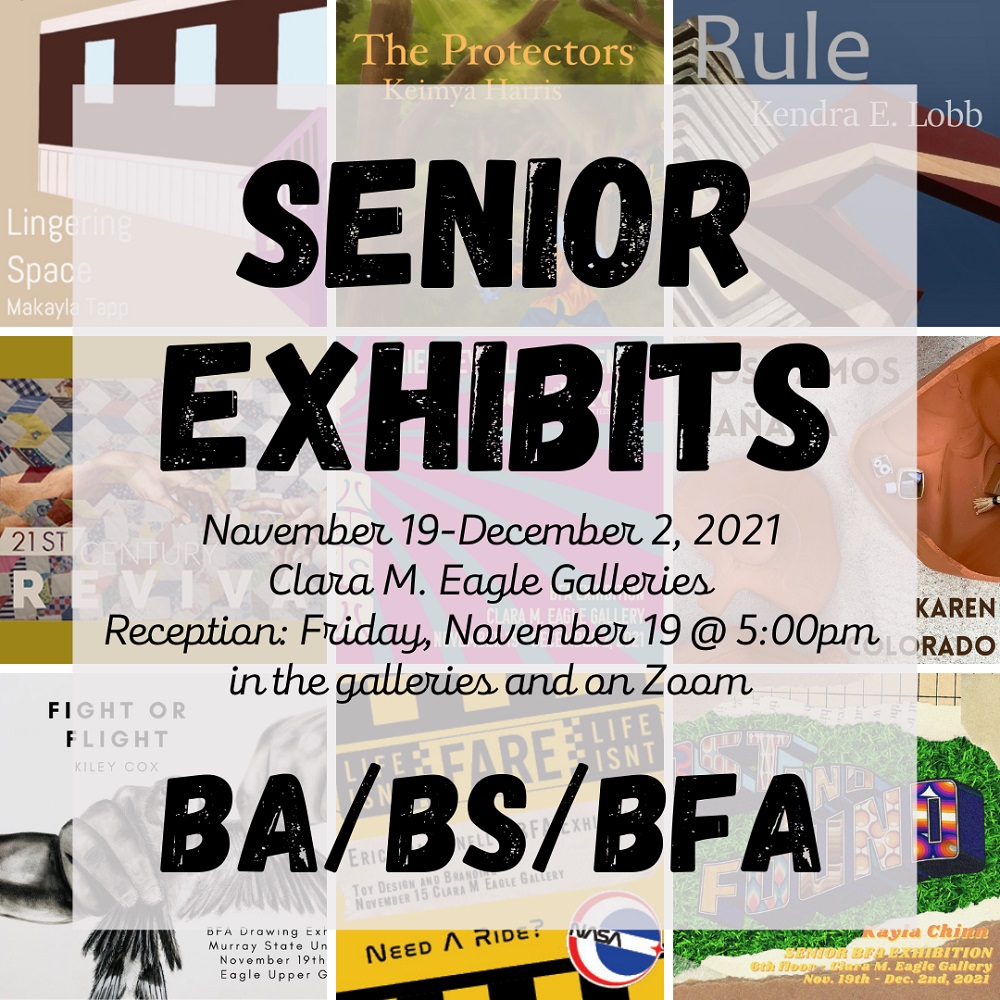 MURRAY, Ky. — The Murray State University Department of Art & Design and University Galleries are pleased to announce the capstone exhibitions of students who are graduating from the Art & Design program. Three sets of exhibitions will be on display, those of Studio Art and Graphic Design BFA students, and BA/BS students. The exhibition is located at the Clara M. Eagle Galleries in the Doyle Fine Arts Building and will run through December 2.
In partial fulfillment of their graduation requirements, each student pursuing a Fine Arts degree (BFA, BA, BS) is required to present an exhibition of recent works completed during their studies at Murray State University. With the guidance of an individualized faculty committee and T. Michael Martin, the Director of University Galleries, these capstone exhibitions generally take the form of concurrent exhibitions or small groups presenting as a collective in the gallery spaces.
The following students' art will be displayed at the exhibition:
BA/BS Students
Kirsten Moore, BA, Art Education:

21

st

-Century Revival

(Madisonville, Kentucky)

Makayla Tapp, BS, Art Education:

Lingering Space

(Owensboro, Kentucky)
BFA Students
Eric Abarbanell, BFA in Graphic Design:

Life's Not Fare

(Murray, Kentucky)

Kiley Cox, BFA in Studio Art:

Fight or Flight

(Irvington, Kentucky)

Daniel Reynolds, BFA in Graphic Design:

Songbird Music & Arts Festival 2021

(Utica, Kentucky)

Karen Colorado, BFA in Studio Art:

Nos Vamos Mañana

(Louisville, Kentucky)

Kayla Chinn, BFA in Studio Art/Art Education:

Lost and Found

(Beaver Dam, Kentucky)

Keimya Harris, BFA in Studio Art:

The Protectors

(Stanford, Kentucky)

Kendra Lobb, BFA in Studio Art:

Rule

(New Palestine, Indiana)
Gallery hours are Monday through Friday, 8:00 a.m. to 4:30 p.m. Admission to the gallery is free of cost. Per University policy, social distancing and masks are required.