Murray State University's new Makerspace area provides innovative resources and opportunities for students, faculty and staff
Murray State University's new Makerspace area provides innovative resources and opportunities for students, faculty and staff
By Shawn Touney | Nov 9, 2021
MURRAY, Ky. — Murray State University and University Libraries dedicated the new Makerspace area inside Waterfield Library as part of the University's many events and celebrations associated with Homecoming 2021 on October 22.
Students, as well as faculty and staff, can gain hands-on experience through design and artistic expression with a variety of innovative technologies including 3D printing and scanning, laser cutting, virtual reality, photography, sewing and recording.
The new space also includes 12 dual-monitor workstations with cutting-edge software for 3D modeling, sound production, video editing, game creation, along with other digital editing tools and maker technology.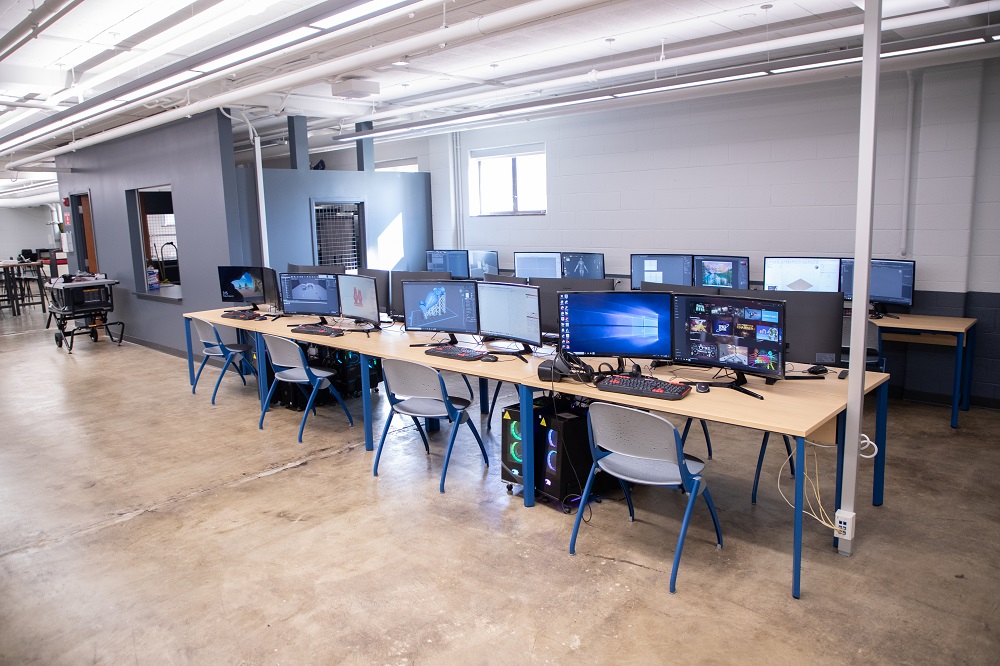 The grand opening included a ribbon-cutting ceremony and speakers program with Murray State President Dr. Bob Jackson, Provost and Vice President for Academic Affairs Dr. Tim Todd, Interim Dean of University Libraries Cris Ferguson, Interim Assistant Provost and Director of Online Programs Ashley Ireland, and Makerspace Coordinator Jeremy Gosser.
"The Makerspace will promote hands-on, creative learning and enable our students to design, build, and invent," said Ferguson. "It will foster a collaborative environment where students can investigate and create, exploring the intersections between technology, science, art and culture. Moreover, this space provides the University Libraries another valuable avenue through which we can partner with departments and units across campus to further the academic mission of the University and meet the needs of our diverse community."
The project originated in 2019 through the Office of the Provost as well as University Libraries, with the idea of planning and conceiving a space to accommodate a multitude of technologies and opportunities for students. The planning process took about a year, and construction began in 2020. While both construction and the acquisition of equipment endured several delays due to the pandemic, the project forged ahead under the leadership of Ireland, Ferguson and Gosser.
The Makerspace area is available to the students, faculty and staff free of cost, and is located on the lower level of Waterfield Library. The area is currently open from 8 a.m. until 4:30 p.m. Monday through Friday.
Individuals interested in helping financially support the Makerspace can contact Director of Development for University Libraries Melanie Brooks at 270-809-3026 or mbrooks3@murraystate.edu to learn more.