Alpha Upsilon Alpha Literacy Honors Society makes impact on the Murray community
By Claire Layne | Nov 8, 2023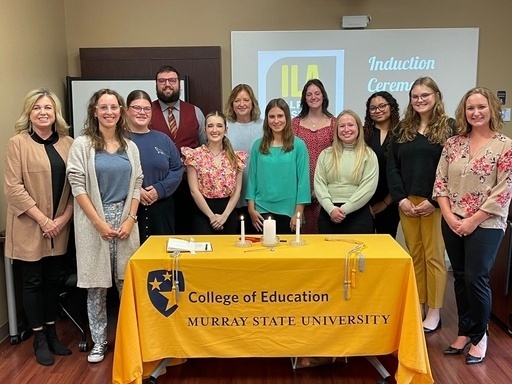 MURRAY, Ky. – Alpha Upsilon Alpha Literacy Honors Society (AUA) at Murray State University is committed to serving classrooms, schools, communities and the world by bringing literature to the forefront. They provide free books at every meeting, bringing in guest speakers to discuss how important reading is, as well as great strategies to enhance the excitement of literature. AUA discusses the importance of lap reading at an early age by providing Murray-Calloway County Hospital with brochures for new parents. They provide family literacy engagement nights twice a year by collaborating with the Calloway County Public Library. Their goal is to promote literacy from birth to 12th grade in the surrounding communities through volunteering and outreach events. Their members include undergraduate and graduate students at Murray State who have a 3.3+ GPA and possess a passion for promoting literacy. Members must attend at least one event per semester.
Freshmen and sophomore students are encouraged to attend AUA meetings as a Reading Club member. Members are encouraged to join AUA as a junior or senior student. The initiation ceremony takes place every October, with a formal ceremony in the evening honoring club members and their passion for literacy. Members are encouraged to present at the annual state-level Kentucky Reading Association conference. This year, two board members presented with AUA's faculty advisor, Dr. Christina Grant. Another recent highlight took place at a family literacy event at a local library.
AUA Honor Society's motto is "Lege sapere aude," or "Read, dare to be wise." Members do so by taking time to read and share their favorite authors with their peers. These students go the extra mile by attending monthly meetings where AUA hosts guest speakers on various literacy topics. One recent topic where AUA members gained wisdom was on banned books. Other favorite topics include Dolly Parton's Imagination Library, classroom superpowers and engaging families in literacy.
"AUA is a passion of ours at Murray State," said faculty advisor Dr. Christina Grant. "It is a sense of belonging. Fellow members love talking about books of all ages! It's not a book club where we discuss plot storylines; it is a club where we discuss the love for all books, and we want everyone to read!"
Carly Oglivie, the current AUA president, shared, "I love AUA because it brings together an amazing group of diverse students who all love reading and want to share that love with others! I love seeing the impact AUA members have on each other and the community through literacy events, meeting discussions and general support for one another."