The Department of Psychology's faculty and students organized "Brain Bash" at Murray Elementary School
By Alex Pologruto | Mar 21, 2023

The Education Fair was supported by the Brain Awareness Week Outreach Grant
MURRAY, Ky. – Dr. Megan St. Peters, assistant professor of Psychology at Murray State University, and students from the Murray State University Department of Psychology hosted "Brain Bash," an education fair for third graders at Murray Elementary School on Friday, Mar. 10. The event was supported by a Brain Awareness Week Outreach Grant from the International Brain Research Organization (IRBO) and the Dana Foundation, a private philanthropic organization dedicated to advancing understanding about the brain in health and disease through research grants and public outreach.
Over 150 elementary school students rotated through four activity stations to learn about how senses interact for taste and smells, how our brain changes with experience and basic brain regions and functions. The activities integrated the appropriate Kentucky Academic Standards for Science learning objectives.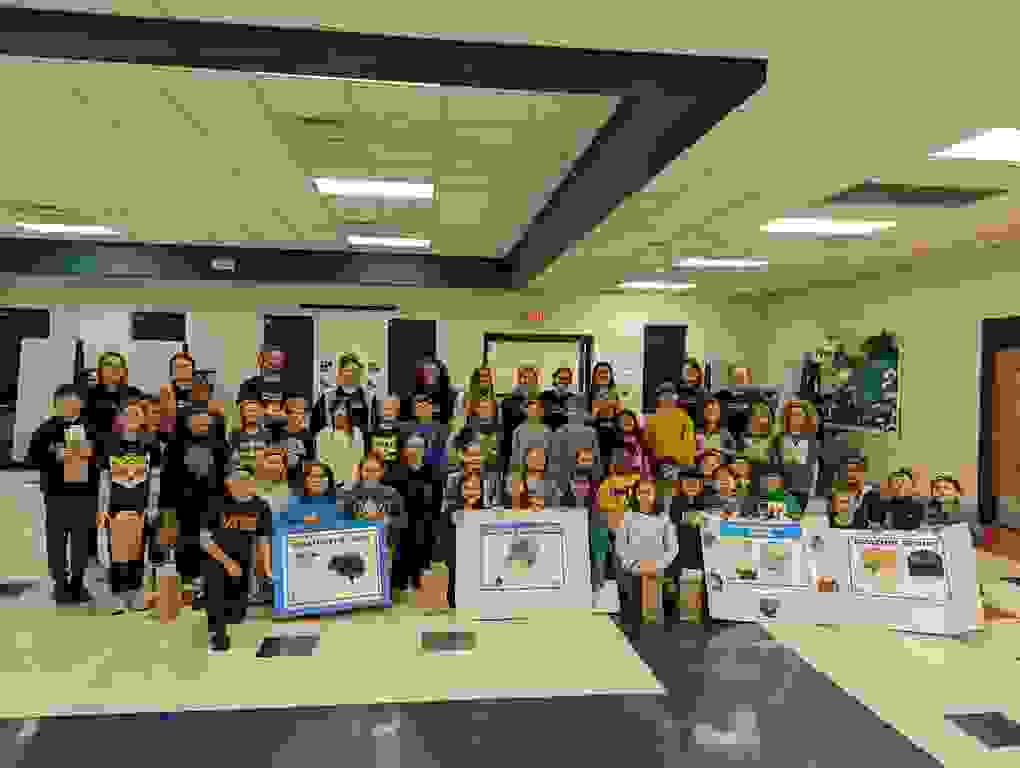 Coordinated by the Dana Foundation, Brain Awareness Week is the global campaign to foster public enthusiasm and support for brain science. Every March, partners host imaginative activities in their communities that share the wonders of the brain and the impact brain science has on everyday lives.
"Learning what our brain does, how it can change with experience and how our senses interact to influence our perceptions in life are fascinating topics that the kids can see in their everyday lives," said St. Peters. "It is our hope that exposing young children to neuroscience will spark their love of learning by encouraging questions like 'why?' and 'how?'"
St. Peters was assisted by 14 undergraduate and 3 graduate students from the psychology department:
Austin Balabas (Waterloo, Illinois)

Payton Bunting (Jackson, Tennessee)

Hillary Copeland (Gilbertsville, Kentucky)

Hannah Eriksen (Crestwood, Kentucky)

Bella Gallia (Centralia, Illinois)

Emily Gilford (Mayfield, Kentucky)

Jazmyn Gray (Murray, Kentucky)

Lauren Hayes (Paducah, Kentucky)

Mary Kimery (Milan, Tennessee)

Kaid Marek (Clarksville, Tennessee)

Anna Minor (Paris, Tennessee)

Kyle Nelson (Murray, Kentucky)

Tyler Robinson (Murray, Kentucky)

Amber Sanders (Grand Rapids, Michigan)

Tristen Skinner (Grand Rivers, Kentucky)

Erin Tyree (Lewisberg, Kentucky)

Daryann Whitener (Marquand, Missouri)
To learn more about the Murray State University Department of Psychology please visit murraystate.edu/psychology. To learn more about Brain Awareness Week and the Dana Foundation please visit brainawareness.org.