Murray State University's Breathitt Veterinary Center designated as a Level 1 laboratory
By Debbie Reed | Mar 11, 2021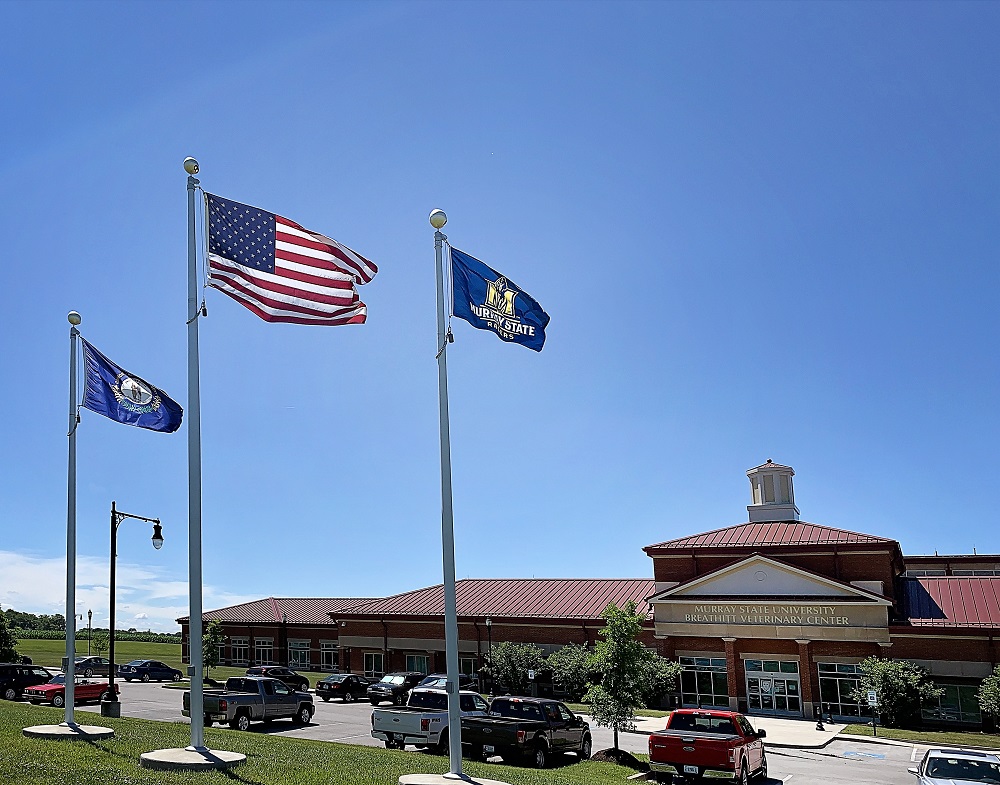 MURRAY, Ky. — Murray State University's Breathitt Veterinary Center in Hopkinsville has been designated as a Level 1 laboratory by the USDA National Animal Health Laboratory (NAHLN) system. Out of 60 diagnostic laboratories nationally in the NAHLN system, the center is now one of 23 state laboratories with Level 1 status and has been a Level 2 laboratory in the NAHLN system since 2005.
"NAHLN Level 1 status gives us additional responsibilities in the arena of livestock and consumer protection," said Dr. Debbie Reed, assistant professor and director of the Breathitt Veterinary Center. "I am beyond delighted that we have been able to attain the designation. This validates the foresight of the Breathitt Veterinary Center and Murray State University administrators in designing the facility we occupy and the investment that the Commonwealth of Kentucky made in providing funding. Our staff will work hard to remain on the cutting edge of veterinary diagnostics."
The Breathitt Veterinary Center, part of Murray State's Hutson School of Agriculture, is a nationally preeminent animal disease diagnostic laboratory dedicated to protecting the invaluable assets of the region's equine, livestock and poultry industries by providing the fastest, most accurate and most dependable animal disease diagnostic services possible. The center offers a broad range of tests for diagnostic services primarily to the livestock, poultry and equine industries of Kentucky and bordering states of Missouri, Tennessee, Illinois and Indiana.
The center also provides valuable educational and experiential learning opportunities for Murray State students who are pursuing degrees through the Hutson School of Agriculture.
NAHLN, organized in 2002, is a shared partnership between publicly-funded animal health laboratories and federal animal health laboratories for the purpose of protecting U.S. livestock population against foreign animal diseases. NAHLN laboratories receive federal funding to develop capacity and surveillance programs for high priority foreign animal diseases, which include Foot and Mouth Disease, Highly Pathogenic Avian Influenza, velogenic NewCastle Disease, Swine Influenza, Classic Swine Fever as well as African Swine Fever and Chronic Wasting Disease. NAHLN laboratories perform surveillance testing for these diseases at all times and in the face of an outbreak, share supplies, reagents and personnel.
The 2,400 square foot BioSafety Level 3 suite at the Breathitt Veterinary Center was designed in preparation for such an event. The molecular diagnostics equipment necessary for this testing is funded through NAHLN. Technicians at the center are proficiency tested on a regular basis to ensure their expertise to test samples for these diseases and equipment and reagents are kept on site.
While the number of Level 1 laboratories across the nation has risen over the past five years, the inclusion of the Breathitt Veterinary Center is an endorsement of the advanced level of diagnostics available to veterinarians across Kentucky.
Hutson School of Agriculture Dean Dr. Tony Brannon says, "Murray State University and the Hutson School of Agriculture are proud to have the Breathitt Veterinary Center as an integral part of our program to protect the state's livestock, wildlife and pets. Not only does the center provide excellent service to veterinarians and animal agriculture in a state-of-the-art facility, but they also are an integral part of our veterinary technology and pre-vet curriculum that ensures our students get an education, not just a degree."
In recognition of the Breathitt Veterinary Center moving to Level 1 status, Murray State President Dr. Bob Jackson added, "The federal government is now recognizing us for what we already knew - we have an excellent facility, a great work force and a great deal has been done by many in recent years to advance our work at the Breathitt Veterinary Center."