Murray State University Students share community outreach efforts in class project
May 6, 2020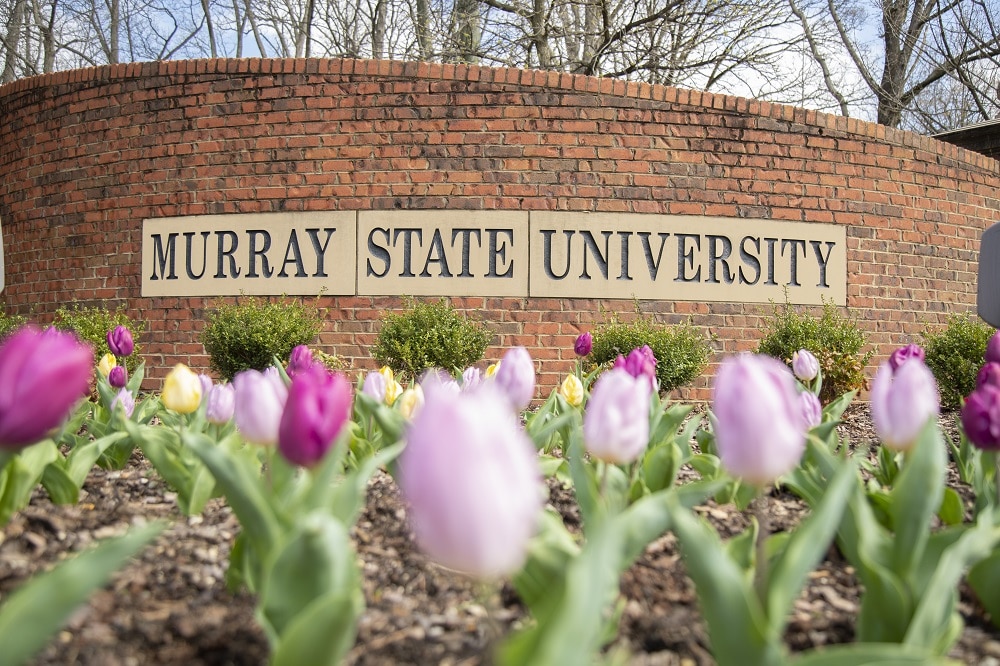 MURRAY, Ky. — Murray State University students enrolled in instructor Robin Esau's "Policy, Legal Issues, and Advocacy for Social Change in Nonprofit Organizations" course are wrapping up outreach projects as part of the class's focus on community advocacy.
The course provides an exploration of the legal issues impacting the nonprofit sector, the roles of policy in ensuring compliance and effective practice and the application of advocacy strategies. Students were tasked to research, create and carry out advocacy projects throughout the spring semester.
Amy Land, a senior nonprofit leadership studies major from Paducah, Kentucky, is working with her employer Beyond Uganda, which is providing community services in the eastern African country across three project sites. Project leaders are educating residents on social distancing measures and best hygiene practices amidst the ongoing novel coronavirus (COVID-19) pandemic, while also delivering food and installing water stations for families unable to travel to local water sources.
"Uganda is currently locked down due to COVID-19," Land said. "As sponsorship coordinator, I am personally reaching out to each individual sponsor to update them on their sponsor child's family and encouraging them to write letters or give a donation to help support the measures being taken by the Ugandan staff. Right now is a critical time because many of the families do not have food to eat if Beyond Uganda can not provide it."
Land added that the project also includes additional fundraising, social media outreach and individual contacts with potential sponsors for Ugandan children and families.
Junior Kristin Anderson, a double major in nonprofit leadership studies and Spanish from Norman, Oklahoma, is working on a social media project aimed at introducing followers — primarily University students and employees — to different cultures represented on campus, as well as increasing culture sensitivity to those who may not be as familiar with other cultures.
Anderson is interviewing University students and graduates about their own culture and uploading Q&As to Instagram at instagram.com/culturallyaware.campaign. Participants are asked about their own culture, as well as insensitive questions people ask, things people never ask and their own definitions of "cultural awareness" and "culture."
"I chose this project because I know that growing up in primarily white and Christian areas or bubbles, I wasn't exposed to a lot of cultural or ethnic diversity as a child. Coming to college, I have met so many exchange, transfer and international students, and it has been such a blessing to make friends with people who are outside of my childhood bubble."
Meike Drewell, a business administration major and nonprofit leadership studies minor from Austin, Texas, has created a "See a Card, Send a Card" challenge for his project. The initiative invites individuals, families and other groups to write encouraging cards to residents in senior living communities, then post pictures to their social media challenging friends to do the same.
"During social distancing, it's important to find creative ways to care for each other and stay connected," Drewell said. "I love that the NLS department at Murray State gives us the opportunity and encourages us to be involved in the community and implement what we learn in the classroom. This project has been a great experience in bringing awareness to the issue of loneliness in older generations, especially during COVID-19, as well as facilitating community involvement."
Cards can be dropped off at the front office of Brookdale Murray (905 Glendale Rd. Murray, KY 42071) or mailed to Wesley Living at Murray (Office Building 500, 440 Utterback Rd. Murray, KY 42071).
"I am so proud of the students' creativity displayed in the advocacy projects they designed this semester, especially in light of the challenges of current life realities," Esau said. "These projects represent the diversity of student interests as well as touch on the wide range of issues that the nonprofit sector is responding to every day. Our students are committed to impacting the world for good and their passion to do so is nothing short of inspiring."