Dennis Jackson Racer Room
By Dave Winder | Jan 12, 2021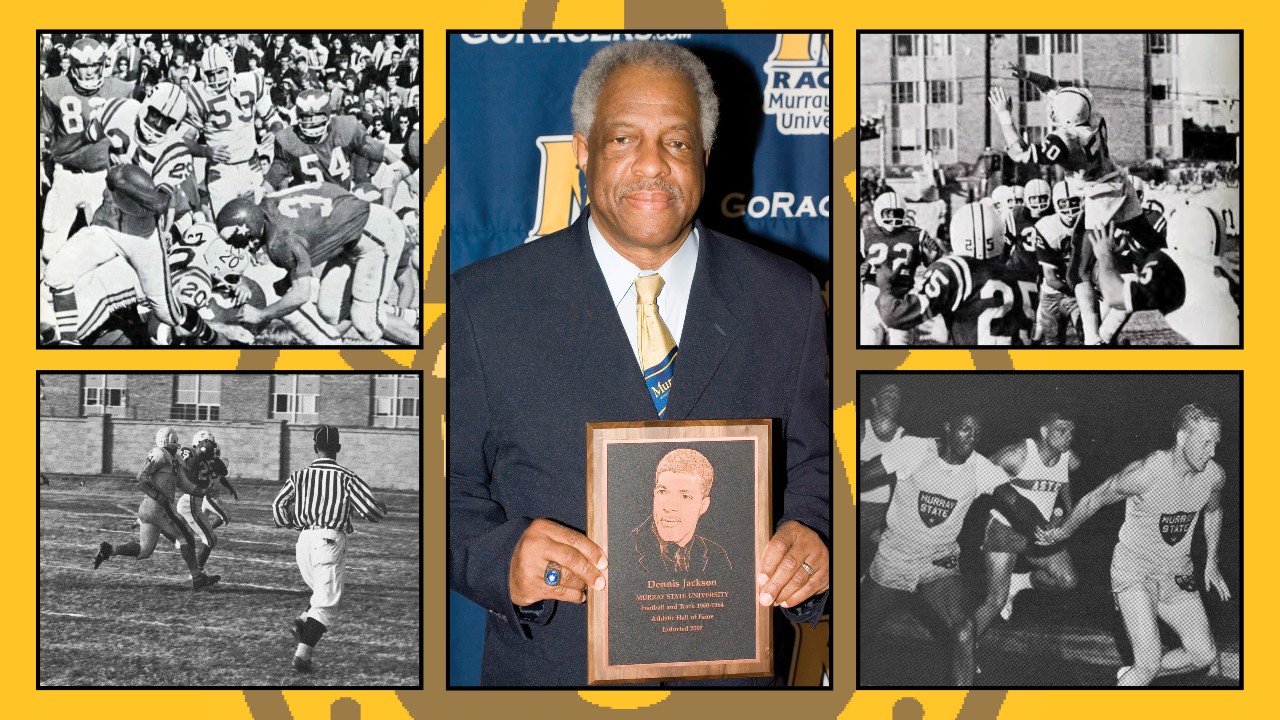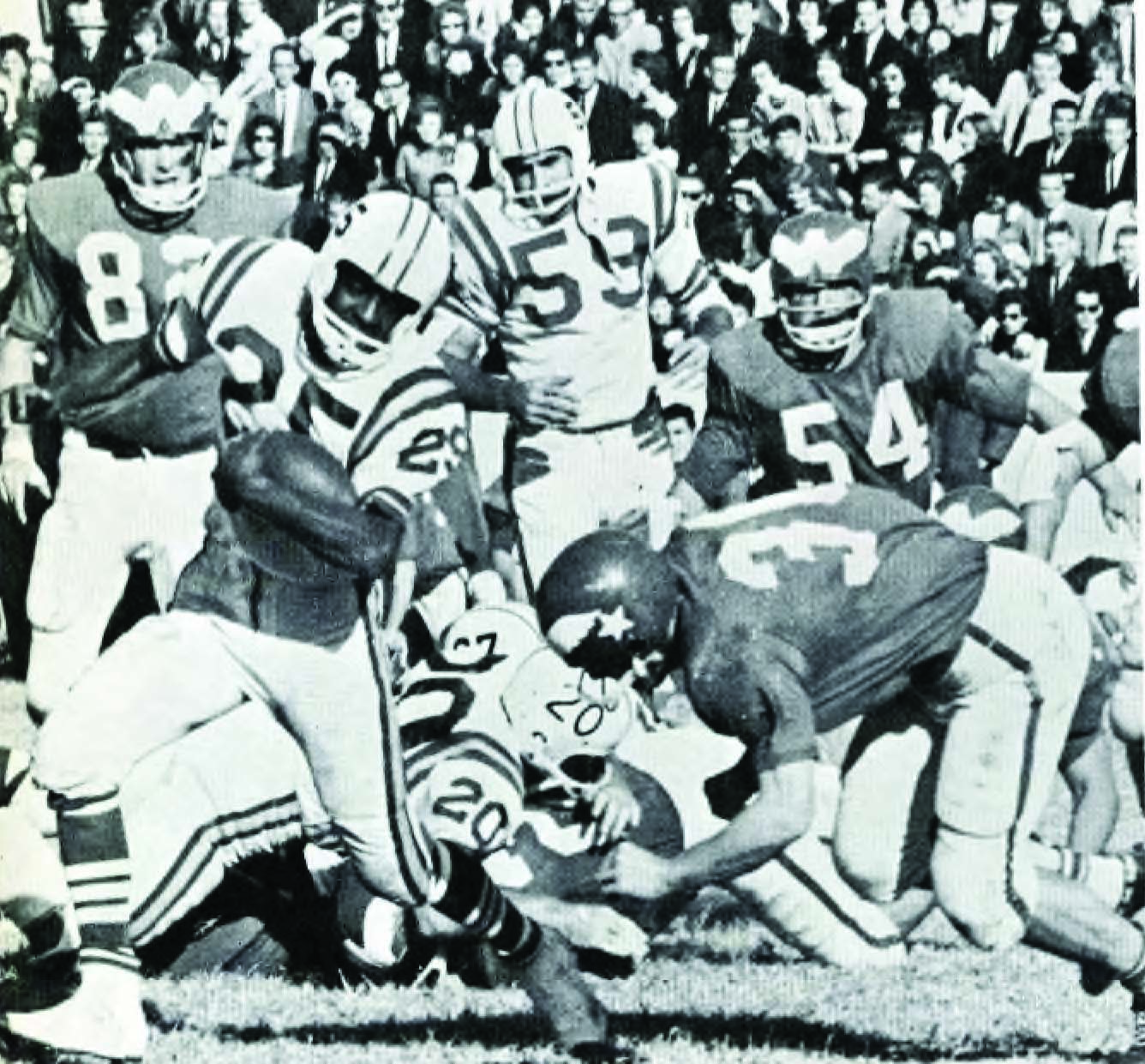 Murray State Athletics honors Dennis Jackson, the first African-American student-athlete at MSU, by naming the Dennis Jackson Racer Room in Roy Stewart Stadium.
A celebration of the event for the Racers' Distinguished Alumnus, multi-sport star and 2007 Murray State Athletics Hall of Fame inductee will be conducted on Sunday, March 21st at 12:30pm. The event will take place in the Dennis Jackson Racer Room prior to the Racers hosting Tennessee State at 2:00pm in Stewart Stadium. Murray State Athletics will stream the event, making it available to those who may not be able to attend.
"We are very pleased to honor Mr. Dennis Jackson with the naming of the Racer Room," said University President Dr. Bob Jackson. "Dennis is one of the all-time greats and it is only fitting to name this part of the Stewart Stadium in order to recognize his many achievements and lifetime of service to Murray State University."
The naming of the Dennis Jackson Racer Room once again shines a spotlight on his groundbreaking collegiate football and track & field career (1961-64) for the Racers. The recognition of Dennis Jackson was confirmed by the MSU Board of Regents on Friday, December 4 to honor his life-long commitment to education and continuous service as an ambassador for Murray State University & Murray State Athletics.
The Dennis Jackson Racer Room is currently under renovation in order to create a first-class environment to support student-athlete development as well as host both game day and community hospitality events. This state-of-the-art space will also serve as an ideal location to host prospective student-athletes and their families. It will be outfitted with the latest audio/visual equipment, Murray State branding and sport-specific mannequins donning Nike gear, resourced via the department-wide apparel deal with Nike/BSN. The Dennis Jackson Racer Room will also include a nutrition/fueling station for current Racer student-athletes and a special area to commemorate Dennis Jackson's life and contributions.
Murray State Athletics desires to extend renovations into a first-class nutrition preparation and serving space in the back of the Dennis Jackson Racer Room. This space will include upgraded kitchen equipment, electrical work and food storage/serving casework. All 320+ student-athletes will benefit, from a recovery & refueling standpoint, in the resources available within the Dennis Jackson Racer Room. Individuals interested in donating to the project may contact Taylor Mudd (office-270.809.3517; email-tmudd3@murraystate.edu)
"Providing first-class facilities, nutrition and hospitality resources are critical to developing our student-athletes, recruiting future Racers and building all of our programs 'The Racer Way'", said Director of Athletics Kevin Saal. "Dennis Jackson was the model student-athlete, creating a pathway for thousands who have come behind him. He's dedicated his life to the development of young people through education in the classroom and athletics. He's served Murray State University as an active alumnus and his community as a model leader and giver of his time. This naming opportunity continues to further our current and future student-athletes' education in the many years to come. Through Dennis Jackson's story, our student-athletes will see daily, a defined pathway of tremendous success and impact, which started at Murray State University. We are incredibly blessed and excited to honor Dennis Jackson and tell his story in the years to come."
Jackson, from Murray's Douglass High School, was recruited to Murray State by coach Bill Fergerson. Jackson was an all-around football player competing on offense and defense. One of the amazing moments of his career occurred in his final homecoming game against Tennessee Tech at Cutchin Stadium in 1964. In a time when the Racers hadn't won a homecoming game in eight years, Jackson scored the tying and game-winning touchdowns in the fourth quarter in the 28-21 win for the Racers. Jackson was MSU's top receiver in 1964, leading the team in receptions, yards, and touchdowns. Jackson, who was an All-Ohio Valley Conference selection in 1964, held receiving records for Racer Football when he finished his senior season.
In track & field, Jackson was an excellent sprinter in the 100 and 200 yard events and was part of the Racers' Ohio Valley Conference champion 4x100 relay team that had the best time in the southeast region.
Prior to his time with the Racers, Jackson was one of the top athletes in Kentucky out of Douglass High School in Murray. Jackson certainly could've chosen the route of playing collegiate basketball. He was one of the top scorers in the state as a senior with 26.3 points per game.
The desire to participate in athletics never left Jackson even when his playing days were done. He served as a high school basketball official for 25 years and called numerous games in 15 years at the Kentucky State Tournament. Jackson was inducted into the Kentucky High School Athletic Association Hall of Fame in 1999.
He graduated from Murray State with degrees in history and physical education and began a 40-plus year career as a teacher, coach and administrator until his retirement from Paducah, Ky. Public Schools in 2008. Governor Steve Beshear appointed Jackson to the Kentucky Council for Post-Secondary Education in 2010. Murray State inducted Jackson into the MSU Athletics Hall of Fame in 2007 and recognized him as its Distinguished Alumnus in 2016.
Jackson and his wife, the former Patricia Brandon, have a son, Brandon. All are graduates of Murray State University.
About Murray State Athletics
Located in Murray, Kentucky, the athletics department at Murray State University is a member of NCAA D-I and plays in the Football Championship Subdivision. The Racers have 15 programs including men's teams for baseball, basketball, cross country, football, golf, and women's teams for basketball, cross country, golf, soccer, softball, tennis, track & field, and volleyball. MSU also has a rifle program that is coed. The Racers are one of the founding members of the Ohio Valley Conference from its beginnings in 1948. Kevin Saal has served as director of athletics since March 2019. Follow the Racers on Twitter, Facebook and Instagram and on the web at GoRacers.com.