Yoko Hatakeyama named 2023 Alumni Association Distinguished Professor
By Carrie McGinnis | May 23, 2023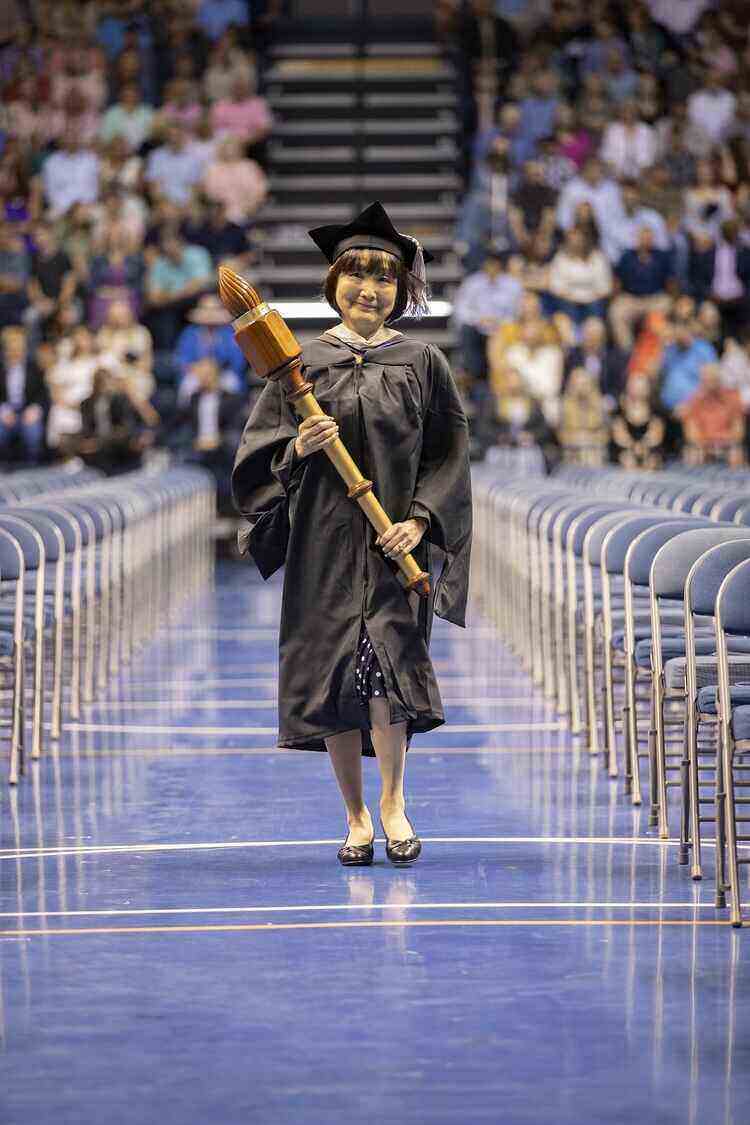 MURRAY, Ky. – Senior instructor of Japanese Yoko Hatakeyama, '95, '05, was selected as the 2023 Murray State University Alumni Association (MSUAA) Distinguished Professor, and served as the faculty mace-bearer during spring commencement exercises May 13.
A global languages instructor at Murray State since 1991, Hatakeyama is also a two-time alumna, earning a master's degree in organizational communication in 1995 and a second master's degree in English and philosophy in 2005.
In addition to her faculty role at Murray State, Hatakeyama has accompanied many students on study abroad trips to Japan over the last 23 years as a program director for the Kentucky Institute for International Studies (KIIS). KIIS is a nonprofit faculty-led study abroad consortium of colleges and universities in Kentucky and surrounding states.
While advising the University's Japanese club, Hatakeyama also serves as an advisor for Murray State students with interest in applying for the competitive Japanese Exchange and Teaching program (JET). The JET program allows young professionals from all over the world to live and work in Japan. Most participants serve as Assistant Language Teachers and work in public and private schools, while others work as Coordinators for International Relations as interpreters or translators. This year, four Murray State students are participating in the program.
Each year, the MSUAA recognizes the University's Distinguished Professor Award recipient as nominated by Murray State students. The award is reserved for those faculty members who have served the University unselfishly, have distinguished themselves professionally and have been recognized by students as outstanding teachers and mentors.
"Hatakeyama Sensei goes out of her way to help students prepare for the JET program," said Aryka Cooper, one of Hatakeyama's students, in her nomination for the award. "She goes above and beyond for her students, giving them extra help during her free periods and encouraging the students in their Japanese learning. Many students are advanced enough to enter in Japanese competitions, as well as Japanese study abroad programs, due to the extra help that she gives despite her busy schedule. She is exactly what this award stands for."
As part of a longstanding tradition, the Distinguished Professor serves as the mace-bearer during commencement exercises, leading the academic procession and placing the mace in its holder on stage. The mace, which symbolizes order and authority, was designed and hand-crafted by Murray State's department of industrial education in 1968.