Department of Art & Design receives a generous donation of digital photographic equipment to empower student creativity
By Alex Pologruto | Apr 24, 2023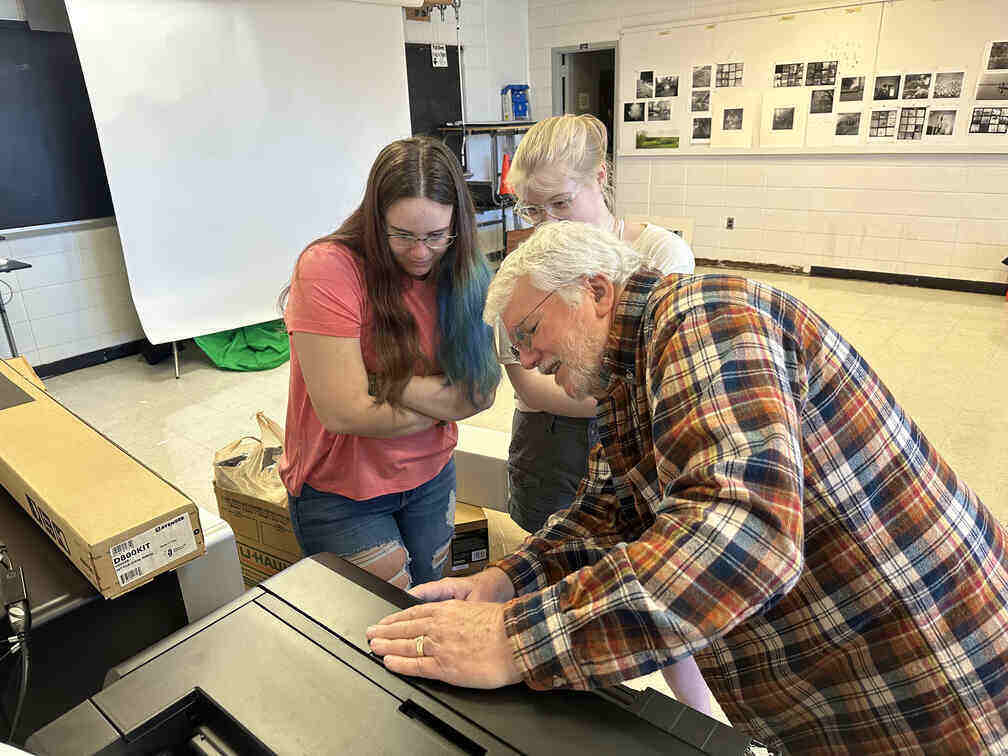 MURRAY, Ky. – John David Busby, a retired photographer and aeronautical engineer from Illinois who now resides in the Purchase area, has generously donated digital photographic equipment to the photography area in the Department of Art & Design at Murray State University. The donation took place on April 14 and has been met with excitement and appreciation from the University community.
Busby, known for his remarkable career as both a fine art photographer with gallery representation and an aeronautical engineer, visited the photography facilities at Murray State and was deeply impressed by the program's dedication and enthusiasm of assistant professor of photography and new media, Cintia Segovia Figueroa. He expressed his unwavering support for the students and their passion for photography.
"The tour to the photography facilities convinced me I can't go wrong in donating to the photography students, and your enthusiasm makes me excited to continue to support the program," said Busby.
The generous donation by Busby includes digital photographic equipment, such as studio lighting, DSLR's, lenses, a drone, two photographic printers and more. The equipment will enhance the learning experiences for photography students at Murray State and will provide access to cutting-edge technology, allowing them to hone their skills and achieve their artistic vision. The donation will contribute to the continued growth and success of the photography program, and leave a lasting impact on the education and future success of photography students at the University.
"We are immensely grateful for Mr. Busby's generous donation," said Kala Allen-Dunn, director of development for the College of Humanities and Fine Arts and the Honors College at Murray State.
"We are thrilled to have Mr. Busby as a valued member of our University community," said David Balthrop, dean of the College of Humanities and Fine Arts. "His support will greatly benefit our photography students, providing them with the tools and resources they need to excel in their studies and pursue their passion for photography."
The Department of Art & Design at Murray State offers students a diverse range of opportunities to develop their skills in digital and analog photography, video and more. The department is committed to providing a nurturing and stimulating environment for students to explore their creative potential and develop a strong foundation in the visual arts.
Busby's generous donation to the photography area in the Department of Art & Design is a testament to his commitment to supporting the next generation of photographers.
For more information on Murray State University's Department of Art & Design please visit murraystate.edu/art.