Murray State University Hutson School of Agriculture honors Doug Lawson as 2021 Outstanding Agriculture Alumnus Award recipient
By Shawn Touney | Nov 30, 2021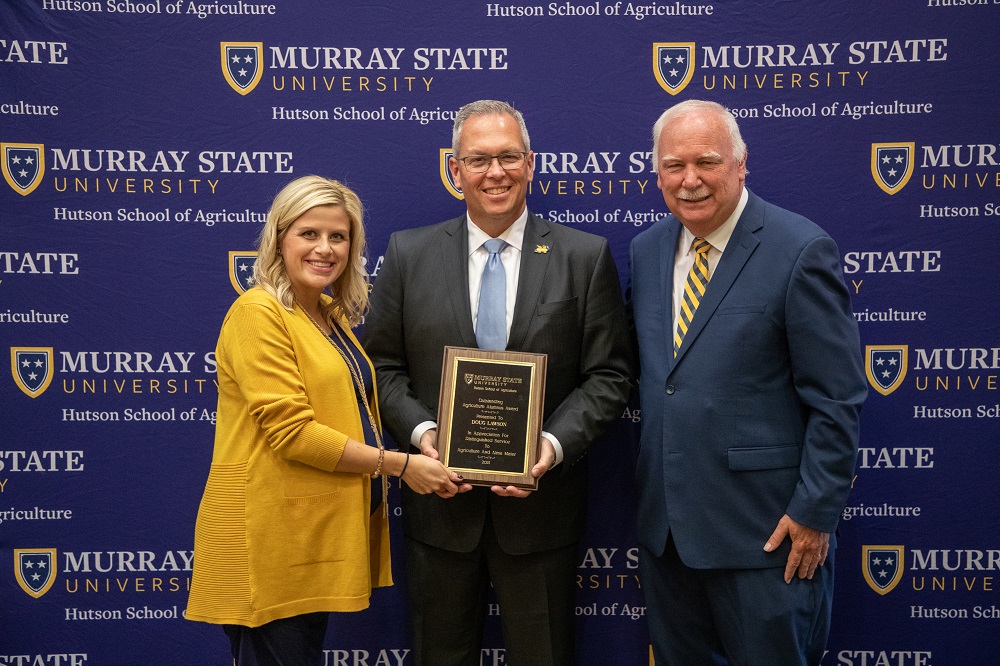 MURRAY, Ky. — The Murray State University Hutson School of Agriculture honored Doug Lawson, '93, as the recipient of the 2021 Outstanding Agriculture Alumnus Award.
"Doug Lawson is simply one of those people who is going to leave the world a better place than it was when he entered it. He's an all-around professional and leader, but even more valuable than that is his integrity and commitment to service to his local and agricultural communities," said Dr. Tony Brannon, dean of the Hutson School of Agriculture.
As part of the announcement, Murray State Agriculture Alumni President Dr. Shelia Wilson Phillips presented the award and said, "It is with great honor that we award the 2021 Murray State Hutson School of Agriculture Outstanding Alumnus Award to Mr. Doug Lawson."
Lawson earned a Bachelor of Science in Agriculture with an emphasis in Business at Murray State in 1993. In 2002, he graduated from Louisiana State University's Graduate School of Banking and followed that with a Professional Masters in Banking in 2005 through Alex Sheshunoff Consulting. Lawson is currently pursuing a Master of Science degree in Agriculture at Murray State.
Lawson's drive and goal-oriented mentality have propelled him to success as a leader of several well-known companies and banks. In 1993, he began his professional career as a loan officer for the Jackson Purchase Agricultural Credit Association where he learned to love banking and being trusted by those whom he served. His career accelerated quickly when he was named a Senior Lender and Vice President of the Citizens Bank of Hickman at only 27 years old. His next step led him to Union Planters Bank in Murray, where he served as Regional Vice President and as a Regional Agricultural and Commercial lender for 17 offices in western Kentucky. Lawson served in leadership roles at both Paducah Bank and Trust as well as Heritage Bank in Murray, where both entities experienced significant growth under his leadership.
Lawson stepped away from the banking world for a few years and used his entrepreneurial and leadership skills in working with the start-up of Kingdom Trust Company for five years. During that time, the business grew to over 3,000 clients, with clients in all 50 states and two foreign countries. He then took his expertise to Hutson, Inc., the fourth largest John Deere dealer in North America. While there, he helped lead a team of 240 employees in 13 stores and four states.
Lawson experienced numerous accomplishments during his time away from the banking world; however, he eventually returned to his professional first love. In 2018 he was named as the President and Chief Operating Officer of Field and Main Bank in Henderson, Kentucky as well as being seated on the Field and Main Bank Board of Directors and Field and Main Insurance Board of Directors. He currently leads 117 bankers in six locations in northwest Kentucky, southern Indiana and central Kentucky. Lawson is especially proud of the culture of care within the bank and their "Build Community" motto.
Outside of the corporate world, Lawson has held many other positions in which he has given back to his communities and the Commonwealth of Kentucky. He has served on the Kentucky Agriculture Finance Corporation for 17 years as an original board member since 2004. He has been appointed to four terms by three separate governors during his tenure. He is the current treasurer of the Henderson Chamber of Commerce and was recently appointed to the Evansville Regional Economic Partnership Board of Directors. In his free time, he serves as a Director for the Downtown Henderson Partnership and as a Director for REUP Men's Ministries in Bowling Green, Kentucky.
Lawson has held the position of Treasurer for the Hutson School of Agriculture Alumni Association for the last 16 years. Aside from the accolades and executive positions, Lawson cites his most coveted role in his career prior to returning to banking, was serving students as an Adjunct Professor in the Hutson School of Agriculture, teaching Ag Finance, Ag Record Keeping and Analysis and Farm Real Estate Appraisal from 2017-2019.
He is married to Stacey, who also graduated from Murray State in '93 and '00. They have two daughters, Brittany who is a 2021 Murray State graduate and Hannah who is currently a junior at Murray State.