Murray State University Hutson School of Agriculture honors Dr. Robin Holland as 2021 Outstanding Agriculture Young Alumnus Award recipient
By Shawn Touney | Nov 30, 2021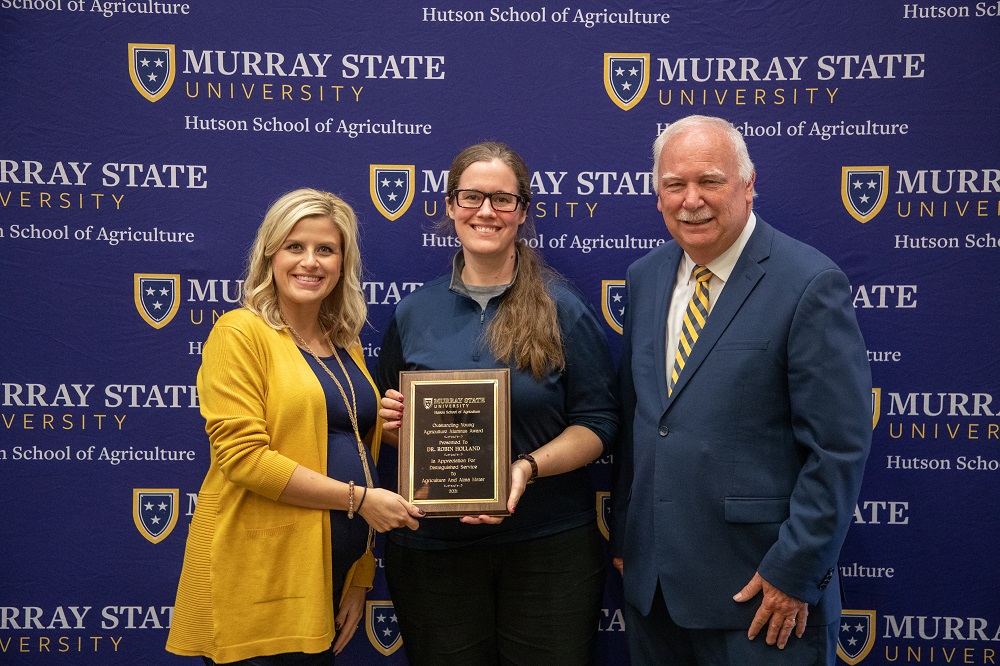 MURRAY, Ky. — The Murray State University Hutson School of Agriculture honored Dr. Robin Holland, '11, as the recipient of the 2021 Outstanding Agriculture Young Alumnus Award during its annual Dean's Circle luncheon as part of Homecoming 2021.
"Dr. Holland has shown exemplary characteristics of hard work, determination, ingenuity, productivity and vision that has led to her being named the 2021 Outstanding Young Agriculture Alumnus of Murray State University," said Dr. Tony Brannon, dean of the Hutson School of Agriculture.
As part of the announcement , Murray State Agriculture Alumni President Dr. Shelia Wilson Phillips presented the award and said, "It gives us great pleasure to present the 2021 Outstanding Young Agriculture Alumnus Award to Dr. Robin Holland."
Holland grew up on a small family farm in Hanover, Illinois and began her career at Murray State as a music major in the fall of 2007 before changing her major to pre-veterinary medicine.
While a student at Murray State, she served as an undergraduate research assistant for both the Departments of Biology and Chemistry. One of her specific projects involved conducting research on the inheritance patterns of coat color markings in Norwegian Fjord Horses. She developed databases for recording survey data of horse owners and performed genetic analyses in order to evaluate inheritance patterns. She presented her findings at several national meetings of interest to the Norwegian Fjord Horse community as well as a university undergraduate research event. This would prove to be just the beginning of Robin's impressive career in diagnostics and research.
While still a Murray State student, Holland served as an undergraduate teaching assistant for the genetics course and helped to shepherd many students in the laboratory setting. Taking advantage of the opportunity to travel and continue to develop her skills in the lab, Robin spent a summer at the University of Pennsylvania serving as an undergraduate research intern in their Department of Pathobiology where she conducted research into the molecular pathogenesis of Yersinia pestis infection.
In her time at Murray State, Holland was a member of the Alpha Zeta Professional Agricultural Society, Phi Kappa Phi College Honor Society and Alpha Chi National College Honor Society. She received several accolades during her Murray State tenure, including being named a John Carr Scholar, a "Who's Who Among American Colleges and Universities" recipient, "Outstanding Undergraduate Teaching Assistant" for the Department of Biology, and receiving both the Mabel Pullen Scholarship and Dr. V.D. and Grace Bohannon Veterinary Medicine Scholarship.
She graduated Summa Cum Laude from Murray State in 2011 with a major in Pre-Veterinary Medicine and a minor in Chemistry.
Holland's studies led her back to her home state of Illinois. She enrolled in a Doctor of Veterinary Medicine/PhD combined degree program at the University of Illinois as part of the Veterinary Medical Scholars Program. Outside of her rigorous curriculum, Holland stayed quite busy, completing veterinary student externships in both Brazil and Germany which provided experience in clinical pathology as well as training in biosafety procedures in containment laboratories and dual-use agents.
Holland completed her PhD and Doctor of Veterinary Medicine degrees at the University of Illinois in 2018 and 2020, respectively.
Recently, Holland served on the front lines during the COVID-19 pandemic. From July to September 2020 she served as the Lead Researcher for COVID-19 Diagnostic Testing at the Institute for Genomic Biology at the University of Illinois, leading the transition and establishment of a CLIA-certified laboratory for COVID-19 diagnostics. For her leadership and efforts, in 2021 she was awarded the Presidential Medallion by University of Illinois President Tim Killeen, the highest honor that a system president can bestow.
In September 2020, Holland was named as the Diagnostic Services Section Head of the Foreign Animal Disease Diagnostic Laboratory at the Plum Island Animal Disease Center in New York, overseeing diagnostic testing of foreign animal disease investigations while collaborating with other laboratories domestically and around the world.
The Murray State Alumni Association Young Alumni Council recognized Robin as a member of its 2021 Top 22 Under 40 class. In doing so, they seek to honor the most influential, innovative and inspiring Murray State alumni under the age of 40, who have distinguished themselves among their peers and continue to make a significant impact on the world.