Murray State Homecoming Queen and King court selected for 2016
Oct 11, 2016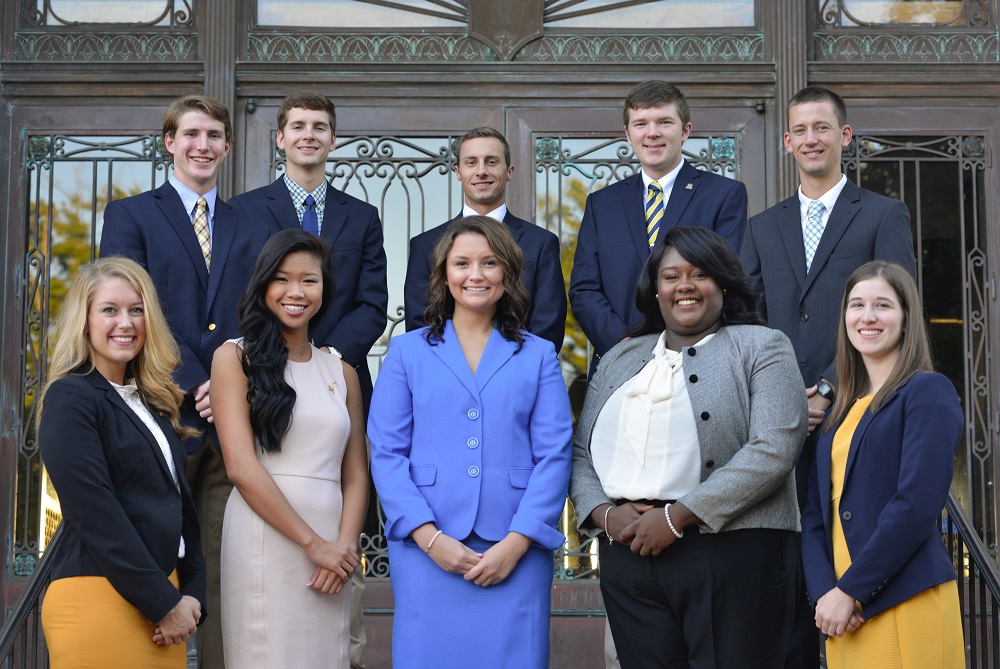 MURRAY, Ky. — Murray State University will be celebrating its 2016 Homecoming Oct. 27- 29. One of the event's special traditions is the crowning of the Homecoming Queen and King.
Students selected for this year's Homecoming Court include Jordan Maberry, Amie Jones, Caitlin Dunaway, Kelsey Bogard, Emily Mundt, Robert Rosa, Austin Spicer, Cole Reichert, Caleb Brannon and Michael Mann.
Jordan Maberry of Alton, Ill. is the daughter of Scott and Amy Maberry and Lisa and Chet Border. She is a senior management and human resources major and is active in Sigma Phi Epsilon and the American Society for Safety Engineers. A Dean's List student, she was nominated for the 2016 Greek Woman of the Year award at Murray State and competed as a Miss Murray State contestant in 2015.
Amie Jones is the daughter of Betty Jones of Hopkinsville, Ky. She is a senior accounting major who is active in several organizations and has fulfilled various roles with Alpha Gamma Delta. A Dean's List and Honors College student, she is also a recipient of the Diversity Academic Achievement Award and Greek 4.0 GPA Recognition.
Caitlin Dunaway is the daughter of Thom and Heather Dunaway of Salem, Ill. A senior marketing major, she is involved with the Student Government Association, Alpha Delta Pi and the Panhellenic Council. She has been recognized as Alpha Delta Pi's Most Involved Member and one of the Vice President of Student Affairs Top 10 Student Leaders.
Kelsey Bogard of Murray, Ky. is the daughter of Dorothy Bogard and a graduate student in postsecondary education administration and student affairs. She serves as president and chapter vice president of Delta Sigma Theta and is a recipient of numerous scholarships. A winner of Murray State University Idol and Miss Black and Gold Scholarship Pageant, she was also crowned the 2012 Black Student Council Homecoming Queen.
Emily Mundt is the daughter of Ann and Gary Mundt of Prospect, Ky. An active member of Alpha Sigma Alpha, she was a contestant in the Ms. Murray State University Scholarship Pageant and participated in the Education in Ireland study abroad program in 2015. She is a Dean's List student.
Robert Rosa is the son of John and Pam Rosa of Bloomington, Ill. He is a junior who is majoring in elementary education. A member of Lambda Chi Alpha, he has also served as a Great Beginnings Leader and a member of Campus Outreach.
Austin Spicer is the son of David and Shannon Spicer of Paducah, Ky. A junior finance major, he is involved in the Alpha Sigma Phi fraternity and has been honored with several awards, including Mr. Alpha Kappa Alpha and Alpha Omicron Pi Mr. MSU in 2016. He is a Dean's List student.
Cole Reichert is the son of Kim and Lisa Reichert of Belleville, Ill. He is a senior agriculture systems technology major. A member and president of Alpha Sigma Phi, he has been honored with the Most Outstanding Brother and Most Reliable Brother awards.
Caleb Brannon is the son of Dr. Tony and Lisa Brannon of Puryear, Tenn. A junior, Brannon is majoring in agriculture business and is on the Dean's List. He is a recipient of several scholarships and a winner of Agriscience Research in Integrated Systems national award. He was recently recognized as a Farm Credit Fresh Perspectives Top 100 National Honoree.
Michael Mann is the son of Mark and Sheila Mann of Springfield, Ky. He is a senior agribusiness major. He is a member of the Sigma Pi fraternity and the Student Government Association as well as vice president of the Order of Omega. Cunningham is recipient of the Hutson School of Agriculture Go Getter Award.
The 2016 Homecoming Queen and King will be announced at the football game at Roy Stewart Stadium on Saturday, Oct. 29.
The Murray State University homecoming site at murraystate.edu/homecoming contains a full list of weekend events and reunion schedules.
About Murray State University: Murray State University provides an "Opportunity Afforded" for nearly 11,000 students through a high-quality education with experiential learning, academic and personal growth and the ability to secure a lifetime of success. Since 1922, the true value of higher education has been found at Murray State University, where our commitment is to afford endless opportunities for developing leaders in the community, the country and the world. The University's main campus is located in Murray, Ky. and includes five regional campuses. For more information on Murray State University, please visit murraystate.edu.