Wildlife and Conservation Students Hold Inaugural Field and Outreach Day
Murray State University wildlife and conservation students hold inaugural field and outreach day
By Alex Pologruto | Dec 7, 2021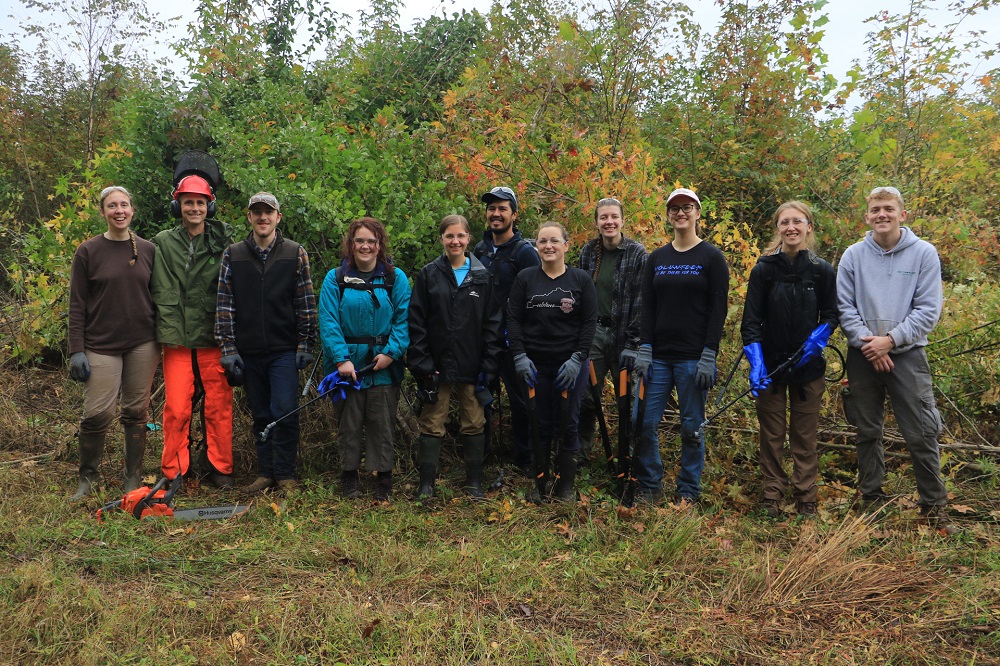 MURRAY, Ky. — Murray State University members of the Calloway County Riverlands Alliance Invasive Species Task Force conducted their first field and outreach day in October. The field team included nine Murray State wildlife and conservation biology students led by certified wildlife biologist Dr. Andrea Darracq and assistant professor of wildlife and conservation at the University, as well as certified wildlife biologist Eric Darracq. The team treated a local landowner's property to remove invasive-exotic Bradford pears and woody native invasives within a historic prairie ecosystem. Concurrent with the field day, additional biology students hosted a "Spooky Invasives" outreach event hosting children from the community to teach them about invasive-exotic plants like kudzu and Bradford pears.
The Riverlands Outdoor Heritage Conservation Alliance is an informal body formed in 2018, consisting of individuals that represent more than 80 organizations within the west Tennessee and west Kentucky regions. The mission of this organization is to collaboratively sustain regional capacity for natural resource stewardship and use to ensure a continued high quality of life for the Riverlands region.
"Invasive species in the river lands region negatively influence sustainability of natural resources and economics," said Dr. Andrea Darracq.
To transition the area back to its original prairie ecosystem the task forces team removed at least 58 Bradford pear trees along with the native woody invasives. The removal specifically benefits the native wildlife that rely on the grassland ecosystems.
The Riverlands Alliance County Task Force are independent groups of volunteers who receive general guidance from the Riverlands Alliance Invasives Species Task Force Team (RAIST), which is a subcommittee of volunteers charged by the Riverlands Alliance body to advance invasive species education, control and prevention. Through the Riverlands Alliance County Task Force, biology students at Murray State "are actively engaged in an awesome opportunity to gain hands-on experience reducing invasive species that will help prepare them for their careers," said Dr. Andrea Darracq. "They can give back to the community via educational projects, like our 'Spooky Invasives' event, and direct removal of invasives in the field during biannual field events."
The University's Wildlife and Fisheries Society students have started the first of at least five task forces that will be formed in the Riverlands region using a grant from the United States Fish and Wildlife Service. The Murray State University Riverlands Alliance Invasive Species Task Force will conduct another event in the spring along with two newly-established task forces in Marshall County, Kentucky and Weakley County, Tennessee.
Learn more about the Riverlands Alliance Invasive Species Task Forces and express interest in volunteering at bit.ly/30Npzhr or send an email to riverlandsalliance@gmail.com. Additionally, by joining the iNaturalist project "Riverlands Alliance Invasive Species Detection" individuals can submit their invasive species observations.