Initial proceeds from centennial book will begin to benefit Pogue Library
By Shawn Touney | Apr 25, 2023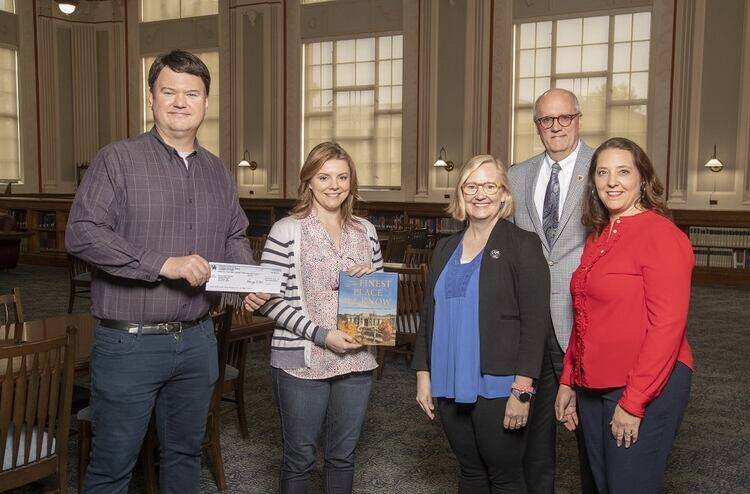 MURRAY, Ky. – Initial proceeds from the sales of Murray State University's commemorative centennial book, "The Finest Place We Know" have been received by the University and will begin to be utilized to support operations and maintenance needs in Pogue Library, one of the most iconic campus buildings that is featured on the book's cover.
Released in conjunction with Murray State's centennial in 2022, "The Finest Place We Know" celebrates the University's 100-year story by looking back on the people, places and events which have shaped the institution's history. A comprehensive and keepsake pictorial history, the book features hundreds of images from the University's Pogue Special Collections Library and is accompanied by stories that explore the institution's founding and growth over the past century.
The hardcover book was published by the University Press of Kentucky and is co-authored by Murray State President Dr. Robert L Jackson, Dr. Sean J. McLaughlin, the archives and museum director and Sarah Marie Owens, library specialist with Pogue Special Collections and University Archives.
"We are pleased to know that ongoing and future sales of 'The Finest Place We Know' will help support one of the most beautiful buildings on our campus in Pogue Library," Murray State President Dr. Bob Jackson said. "Since the book's release during our centennial in 2022, the response from our campus community, alumni and supporters has been tremendous. Readers of our commemorative book have enjoyed looking back on the people, places and events that have shaped Murray State University."
The book can be purchased through numerous online book retailers, kentuckypress.com, the University Bookstore inside the Curris Center as well as online at bookstore.murraystate.edu.