Murray State University to host Jamey Aebersold Jazz Festival
By Shawn Touney | Mar 27, 2023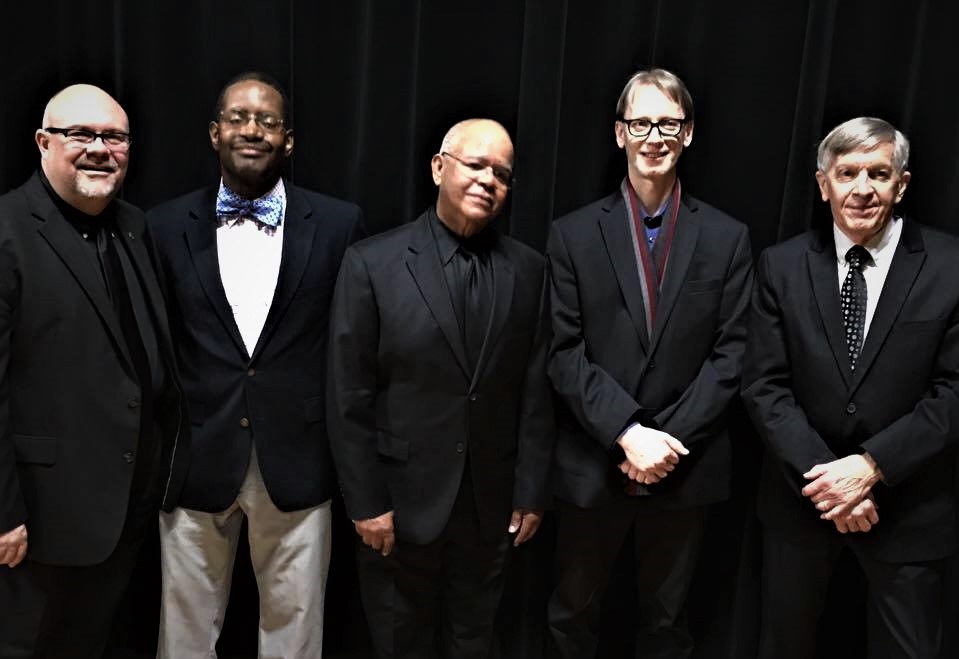 Festival to feature 12 regional jazz bands and the Jamey Aebersold Quartet
MURRAY, Ky. – The 15th Murray State University-Jamey Aebersold Jazz Festival will take place on Friday, March 31. Nine high school jazz bands and three groups from Murray State will be performing in clinics and concerts open to the public. There will be an open improvisation clinic with NEA Jazz Master Jamey Aebersold in the Performing Arts Hall of the Old Fine Arts Building at 3 p.m. and the headlining concert by the Jamey Aebersold Quartet following the clinic in the same hall. All concerts and clinics are free and the public is cordially invited.
The coordinator of the festival, which annually brings between 200-300 young musicians to Murray State is Dr. Todd E. Hill, professor of Music and director of Jazz Studies. Student assistance comes from the members of the Murray State Jazz Band, Combos and Jazz Orchestra.
"Mr. Aebersold has donated much of his time and financial support to the jazz program at Murray State," said Hill. "He is a great friend to the department of music, the jazz program, to our radio station WKMS, and he has enriched the cultural life of the community at large in addition to everything he has done for jazz education internationally."
Aebersold endowed a jazz scholarship for Murray State students in 2008. The jazz festival was renamed in his honor several years later as a tribute to Aebersold's continued commitment to jazz education and Murray State.
The festival, designed for educational rather than competitive purposes, is in its 15th year. Each school's director decides whether their groups will receive an assessment score. The day will include clinics by professional musicians and educators including Professor Ricky Burkhead from the University of Mississippi; Dr. Derek Jones, Director of Bands and the Jazz Band at Bethel University; Brian Hogg, Director of Jazz Studies at Northern Kentucky University, and Gary "Bo" Clayton, Director of Jazz Studies at Austin Peay State University.
At approximately 3:30 p.m., the Jamey Aebersold Quartet featuring National Endowment for the Arts "Jazz Master" Jamey Aebersold on alto sax, Wade Honey on piano, Tyrone Wheeler on bass and Jonathan Higgins on drums, will perform a concert featuring jazz standards for the public in the Performing Arts Hall of the Old Fine Arts Building.
"Our clinicians are some of the most respected teachers and performers in this part of the country," said Hill. "The participants will be getting the high quality jazz education experience for which we're known. We don't have the bands competing with each other. This is a musical event for sharing and learning. A newcomer to the festival is Norris City (Illinois) High School. The other groups are repeat participants, many for several years."
The clinic schedule for bands includes:
10 a.m. – Caldwell County

10:30 a.m. - Madisonville North Hopkins (8th/9th)

11 a.m. – Norris City (Illinois)

11:30 a.m. – Hopkinsville

12 p.m. – Madisonville North Hopkins "White"

12:30 p.m. - Graves County

1 p.m. - McCracken County

1:30 p.m. – Madisonville North Hopkins "Maroon"

2 p.m. – Christian County

2:30 p.m. - Murray State University Jazz Band, Jazz Tentette, and Jazz Orchestra