Jazz Orchestra releases fourth holiday album
Dec 14, 2020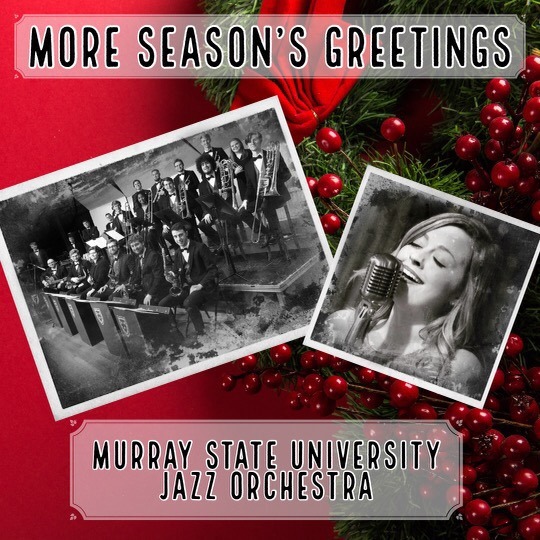 MURRAY, Ky. — Murray State University's Jazz Orchestra released their fourth album, "More Season's Greetings," which will be available on all major streaming platforms later the week of December 14, 2020.
The selections for "More Season's Greetings" were recorded during 2018 and 2019. Some of the featured selections include White Christmas, The Christmas Song, Let it Snow, Let it Snow, Let it Snow, Winter Wonderland, Silver Bells, Merry Christmas Darling, Santa Claus is Coming to Town and more traditional favorites. Vocalist Kayla Marie Little (Bachelor of Music Business 2020) is featured frequently throughout.
Dr. Todd E. Hill (BME 1987 and MME 1997), professor of music and director of jazz studies, teaches honors jazz history, history and analysis of American popular music and other courses as needed by the Department of Music. He directs the University's Jazz Orchestra, Jazz Band, Jazz Lab and the Blue and Gold Jazz Combos. He founded and has directed the Murray State University Town & Gown Community Band since 2012. He has served as a guest conductor and clinician for regional and All-State Jazz Bands throughout the United States.
"I'm certainly glad we were able to make this music available to everyone, but especially our fellow Murray State University alumni. Our last Christmas album 'Season's Greetings' (2017) was a great success and we sold out of copies! We will be placing it onto the online platforms for folks to purchase next year, so that if they missed it the first time around, they can enjoy it the second!"
The University's Jazz Orchestra will be releasing a new album of Jazz and Standards early this Spring title "Live and On the Road" featuring music played live at the University's Jazz Concerts, the Jamey Aebersold Jazz Festival, at the Kentucky Music Educators Conference and the famed Elmhurst Jazz Festival between 2017 and 2020. An additional EP will be coming out later in 2021 featuring recordings made in studio during the COVID-19 pandemic.
Streaming of "More Season's Greetings" will be available on all major platforms beginning late in the week of December 14, 2020. The "More Season's Greetings" recording was made with engineering by Justin Patton of the Murray State University recording services and issued by the Murray State University music business programs' "M-Track Records" headed by Karen Kane, director of music business.