Murray State University announces national leadership council for the Be Bold: Forever Blue & Gold campaign
By Tina Bernot | Apr 27, 2023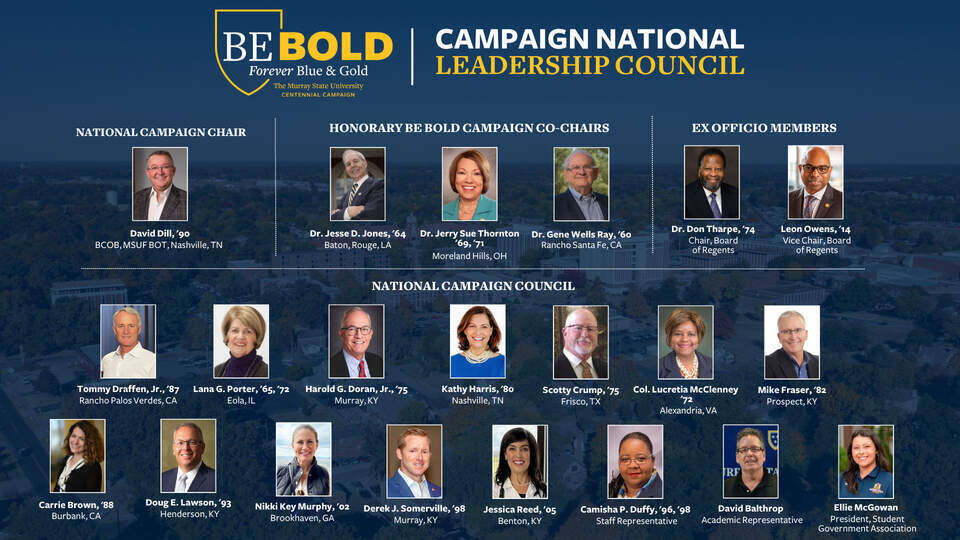 $57 million toward the $100 million campaign goal has been raised
MURRAY, Ky. – A prestigious group of some of the most successful, generous and connected alumni along with faculty, staff and students of Murray State University recently gathered on campus in the Hall of Benefactors and Distinguished Alumni to discuss the continued successful path for a historic centennial comprehensive capital fundraising campaign. As part of an agenda that included the announcement of the national campaign leadership council, the group celebrated and recognized the campaign's progress as $57 million has already been raised toward the $100 million goal.
"We are extremely grateful to our many alumni and friends who have donated generously to date. The tremendous generosity of our donors ensures that we are able to continue our 100-year history of access and affordability for our students, academic quality and campus enhancements as we move toward our $100 million goal," said Murray State President Dr. Bob Jackson.
The Be Bold: Forever Blue & Gold national campaign leadership council is comprised of 21 members representing the University's more than 80,000 alumni across the world and is being led by David Dill, a 1990 Murray State graduate and the current president & CEO of Lifepoint Health of Brentwood, Tennessee. The council also includes other top national business leaders, renowned scientists, accomplished health care professionals, veterans and military leaders and champions of public education. There is also representation from Murray State staff, academic leadership as well as student leadership who are serving on the council.
"The national campaign leadership council for the Be Bold Campaign will support the efforts of Murray State and the Murray State University Foundation as together, we reach to raise $100 million in total support," said David Dill, national chair of the volunteer leadership group. "We will lead by example and give generously as we share out the mission and vision created to boldly lead the University into its next century of service."
Formally launched last fall at the University's Centennial Celebration Gala during Homecoming weekend, the campaign will strive to reach $100 million of support for the University. $50 million will be directed toward student access including new scholarship endowments and enhancing the traditions of a Murray State total college experience. Another $50 million will be raised to support academic excellence and the strategic modernization of campus facilities, with a focus on new funding prioritizing teaching and learning, restoring original campus buildings, creating new greenspaces and investing in athletics programs and facilities.
Dr. Tina Bernot, executive director of development, is charged with leading the campaign along with the University's office of development and in collaboration with Dr. David Durr, president of the Murray State University Foundation, Inc.
"Our Be Bold national campaign council will provide key leadership for this historic effort to make Murray State University an accessible and modern campus for the 21st century that is welcoming to all students," said Bernot. "These amazing individuals are giving their time to boldly help support the campaign objectives and initiatives as they encourage alumni and donor involvement from across the country and around the world."
To make a gift to the University and help support the Be Bold: Forever Blue & Gold Centennial Campaign, call the Murray State Office of Development at 270-809-3001 or visit murraystate.edu/giving.