Mock Trial Team competes at regional tournament
Mock Trial Team competes at regional tournament
By Alex Pologruto | Mar 18, 2022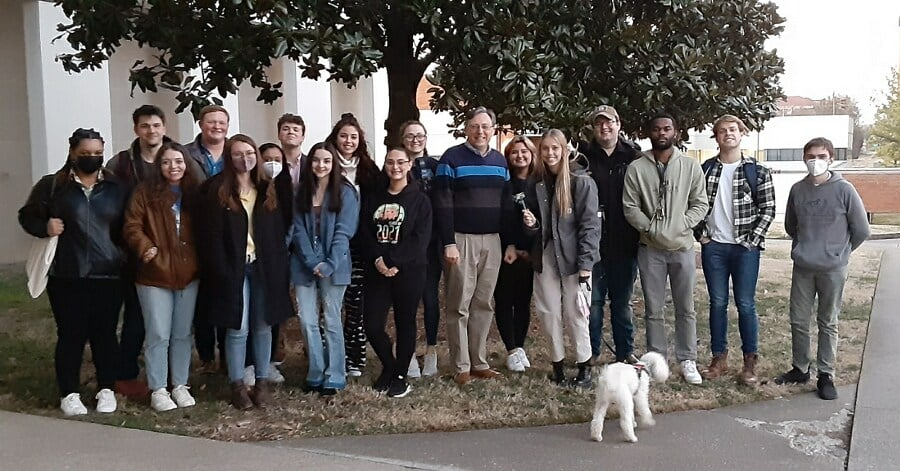 Team brings home the Spirit of AMTA Award
MURRAY, Ky. — The Murray State University Mock Trial team competed virtually at the American Mock Trial Association Regional tournament on Feb. 26 and Feb. 27. Junior Pre-Professional Legal Studies major Travis Conner of Mayfield, Kentucky, earned an Outstanding Attorney Award and the team as a whole received the Spirit of American Mock Trial Association (AMTA) Award. The Spirit of AMTA Award goes to the team that best exemplifies the ideals of honesty, civility and fair play at the tournament.
The American Mock Trial Association was founded in 1985 by Dean Richard Calkins of Drake Law School. AMTA serves as the governing body for intercollegiate mock trial competition. Through engaging in trial simulations in competition with teams from other institutions, students develop critical thinking and public speaking skills, as well as a knowledge of legal practices and procedures. AMTA sponsors regional and national-level competitions, as well as providing interesting and complex case materials for academic use.
Currently, AMTA hosts 32 regional tournaments, eight opening round championship tournaments and a national championship tournament each season. Approximately 700 teams from over 400 universities and colleges will compete in these tournaments. In total, AMTA provides a forum for over 7,300 undergraduate students each academic year to engage in intercollegiate mock trial competitions across the country.
Case Thomason, a junior pre-professional legal studies major from Possum Trot, Kentucky, served as a captain of the team and one of the attorneys.
"What I enjoy about Mock Trial is that it is one of the most helpful tools to have in wanting to become a lawyer," said Thomason. "It helps my public speaking capabilities and is the closest thing you can have to an actual trial, which is what I plan on doing in the future. Talking with actual attorneys and the battle between opposing teams is something I will be taking with me in the future, and I really enjoyed having been given that opportunity."
Other Mock Trial team members include Olivia Badalamenti of Collinsville, Illinois; Keely Butler of Benton, Kentucky; Megan Fietsam of Belleville, Illinois; William Groves of Hopkinsville, Kentucky; Garrett Hastings of Humbolt, Tennessee; Tramel Lee of Louisville, Kentucky; Rebekah Parnell of Martin, Tennessee; Grace Sinclair of Springfield, Illinois; Ashlyn Tracy of Auburn, Kentucky; and Briona Young of Louisville, Kentucky. The team's faculty sponsor is Dr. Paul Foote, associate professor of Political Science.
Thomason says the camaraderie of the Mock Trial team is indicative of the pre-law program as a whole.
"I love learning more and more about politics and law. The group of poli-sci pre-law students at Murray State is a tight-knit group. We usually all have the same exact classes, same exact times, with the same exact teachers. That is very helpful in regards to being able to talk to anyone if you have a problem because they are in the same exact boat as you. We are able to work it out together," said Thomason.
For more information on the AMTA please visit collegemocktrial.org/ or contact Dr. Paul Foote at pfoote@murraystate.edu.