MSU receives award for marketing campaign highlighting University's centennial year
By MSU Public Relations | Nov 9, 2023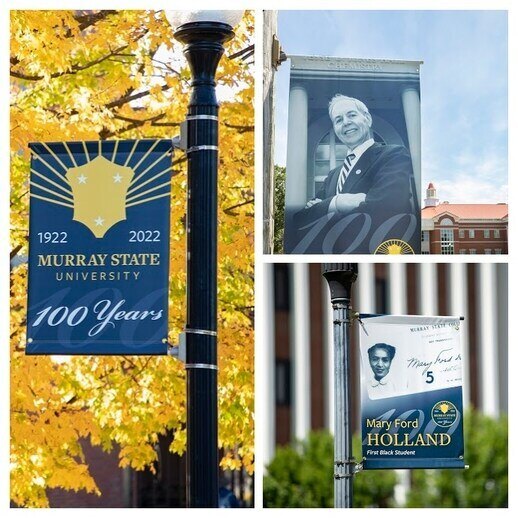 MURRAY, Ky. – Murray State University has been recognized by the Council for Advancement and Support of Education (CASE) as an award winner for its marketing campaign highlighting the University's centennial year in 2022.
The CASE District III award, which encompasses a nine-state region in the southeast, noted Murray State's marketing communications initiatives within its University Advancement division as a collaborative effort engaging both the campus and greater community with generating excitement and involvement for the milestone 100th year.
"This award is a tremendous recognition for Murray State University. Many areas and individuals did a wonderful job with planning, leading and executing a collaborative effort to create awareness of Murray State University's historic centennial year," Murray State President Dr. Bob Jackson said. "We are very grateful to CASE for recognizing this initiative and for their important work in supporting education."
Melissa Shown, graphic design manager in the office of branding, marketing and communication, created a branded centennial logo that was widely used as the primary visual identifier across print and digital applications, ranging from campus light pole banners to novelty items and social media graphics to letterhead. The centennial logo features a shield that is visible outside Pogue Library, one of the University's most beautiful campus buildings that dates back to the first part of the 20th century. The rays, which protrude from the shield, help signify the forward growth outward as Murray State has entered its second century to serve future generations of students.
Numerous tactics were executed to share Murray State's story regionally and beyond, while strategic collaborations fostered new relationships and strengthened existing relationships with multiple audiences.
To engage with the campus community, a web-based centennial marketing toolkit was created with various downloadable assets for faculty, staff and students including centennial logo files, messaging, social media graphics, centennial branded phone wallpapers, Zoom backgrounds, Powerpoint templates and more.
Marketing the centennial to alumni, friends and supporters of the institution was vitally important. The centennial year led the University to its highest fundraising total over a four-year time period through the generosity of many supporters who invested in Murray State in 2022. The University's current Be Bold: Forever Blue & Gold Centennial Campaign is seeing record-breaking generosity from alumni, friends and supporters in its goal of raising $100 million to benefit student support and success, academic excellence, strategic modernization of campus facilities, and strengthening the long-standing championship tradition of Racer Athletics.
During the centennial year, the office of alumni relations increased its lifetime alumni association memberships and single memberships from the previous year. A centennial-inspired Racer Alumni Podcast was created as a new engagement tool.
A targeted public relations strategy highlighting the centennial year throughout 2022 contributed to a 22% growth in earned media coverage from the previous year. The average user time on the University's centennial web page, murraystate.edu/centennial performed well above the industry standard.
Murray State highlighted the centennial in outreach with prospective and admitted students as well, encouraging them to join a University and Racer family that for 100 years, has provided a transformative college experience. In Fall 2022, the University bucked the trend seen nationally with declining enrollment figures with an increase in total students and its largest graduate student enrollment since 2015.
The successful results and impact of the marketing campaign led to an increased institutional awareness of Murray State and its 100-year history, an increase in areas of private giving, alumni engagement and student enrollment, and excitement among the campus body in addition to other key metrics to propel Murray State into its second century.
CASE District III award winners will be recognized at the annual conference, to be held Feb. 4-6, 2024 in Orlando, Florida.
The award from CASE notes that "CASE District III annually celebrates the best work in education advancement in the Southeast region. We recognize you for your superior accomplishment and salute your institution and colleagues for their professional contributions. Congratulations on your outstanding achievement."