Theatre Arts program presents Murder on the Orient Express
Theatre Arts program presents Murder on the Orient Express
By Carrie Jerrell | Apr 25, 2022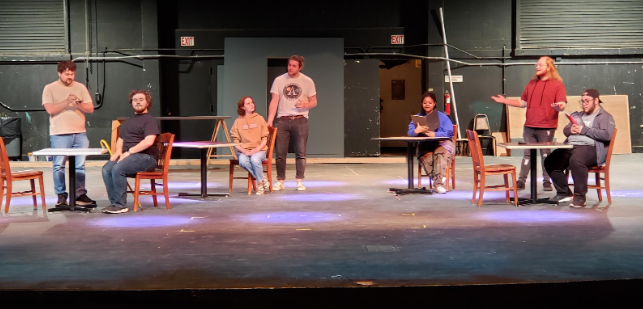 MURRAY, Ky. — The Murray State University Department of Global Languages and Theatre Arts is pleased to present Agatha Christie's Murder on the Orient Express, adapted by Ken Ludwig, on Thursday, Friday and Saturday, April 28 – 30 at 7:30 p.m. and Sunday, May 1 at 2:30 p.m. All performances are in the Robert E. Johnson Theatre on Murray State's campus. General admission is $16.00 per person. Murray State students are admitted free with their student ID.
Agatha Christie's Murder on the Orient Express, follows detective Hercule Poirot, who, after a long day's work, boards the Orient Express thinking he will have a peaceful journey home. This plan goes awry after an unsavory millionaire is murdered en route. Immediately taking up the case, Poirot realizes that while everyone on the famous train is a suspect, many passengers have revenge as motivation.
Murray State's production of Agatha Christie's Murder on the Orient Express is directed by Lissa Graham-Schneider, professor of theater.
"Ken Ludwig's adaptation of this favorite Agatha Christie story brings comedy as well as suspense to this classic mystery," said Graham-Schneider. "Audiences will be delighted and amused."
The full cast of Agatha Christie's Murder on the Orient Express includes:
Olivia Beach (sophomore from Louisville, Kentucky) as Princess Dragamiroff

Davin Belt (junior from Gilbertsville, Kentucky) as Hector Macqueen

Eli Borwick (sophomore from Greenville, Illinois) as Colonel Arbuthnot

Natalie Boyle (freshman from Cornelius, North Carolina) as Mother

Diamond Edwards (sophomore from Louisville, Kentucky) as Daisy

Ryan Howell (sophomore from Shelbyville, Kentucky) as the Announcer

Zacharie Lamb (freshman from Mayfield, Kentucky) as Monsieur Bouc

Holden Mast (freshman from O'Fallon, Illinois) as Hercule Poirot,

Abby Meadows (freshman from Paducah, Kentucky) as Countess Andrenyi

Grace Moberly (freshman from Chandler, Indiana) as the Nanny and the Radio Voice/Memory

Kynlee Mohler (senior from Murray, Kentucky) as Greta Ohlsson

Jakob Moore (senior from Crofton, Kentucky) as Samuel Ratchett/Man

Dragan Schmidt (freshman from Hickman, Kentucky) as Michel the Conductor

Mack Slack (sophomore from Belleville, Illinois), Helen Hubbard

Alec Wadley (junior from Paducah, Kentucky) Head Waiter/Father

Caroline Winnenberg (senior from Louisville, Kentucky) as Mary Debenham
"I have loved being a part of this production," said senior Kynlee Mohler. "The cast, crew and directors are absolutely amazing to work with. They are a big reason I love what I do. Bringing my character Greta Ohlsson to life has been the highlight of my time here at Murray State. She is a German missionary from the 1930s and is a big ball of emotions. I have been directing and stage managing for the last few semesters, so taking off the manager's cap and throwing on some acting shoes has been a lot of fun. I really hope you will all join me at my last train stop towards graduation, and come see the Orient Express in full gear. Oh, and there might even be a murder investigation."
"Playing Princess Dragamiroff was a challenge to say the least," said sophomore Olivia Beach. "I was intimidated to take on the role at first, but over time it has become one of the best experiences in my life. This character not only has taught me a lot, but has helped me become a better actress in my own way. With all the shows I have done here and this one being the most recent, I have enjoyed every second in the theatre program and I cannot wait for audiences to see us bring this show on its feet!"
"This is truly a dream cast, and I couldn't be more proud of the work everyone has put into this show. My character is a legendary literary figure, and it was scary bringing that to life with all of his little quirks, but I've worked harder than ever to give that character the justice he deserves," said Holden Mast, a freshman who plays investigator Hercule Poirot. "The show has been my favorite theatre project so far."
"I have had an incredible time working on this show," said senior Caroline Winnenberg, who plays Mary Debenham. "The plot is so intricately laid in many ways that every little choice I make for my character is a major decision, which has challenged me quite a bit. Overall, I'm very proud of this cast and I'm excited for the campus to see all our hard work."
Andrew Bittenbender, a junior from Floyds Knobs, Indiana, serves as assistant director on the production. Lighting design is provided by senior Jupiter Thomas from Fort Walton Beach, Florida. Senior Charlie Raymer from Paris, Tennessee, designed the costumes. Stage manager is Tesla Like, a senior from Murray, Kentucky. Assistant stage managers include Heavyn Taylor, a senior from Brandenburg, Kentucky, and Cade Stephens, a freshman from Bowling Green, Kentucky. Props Master is Katie Carmine, a senior from Bardstown, Kentucky. Sound Board Operators are Natalie Boyle and Diamond Edwards. Gabe Steffan, a sophomore from Calvert City, Kentucky, serves as Light Board Operator. Grace Moberly serves as Projectionist, and Samuel Treece, a junior from Smiths Grove, Kentucky, serves as Fly Captain.
Run Crew includes Ali Arnett, a freshman from Kennett, Missouri, Tania Grace a freshman from Clarksville, Tennessee, and Alec LeBlanc, a junior from Murfreesboro, Tennessee. Wardrobe Crew includes Abby Ankrom, a senior from Troy, Illinois, Erinn Finley, a junior from Dover, Tennessee, and Trey Smith, a junior from Lake Barrington, Illinois. Box Office Manager is Alex Johnson, a junior from Murray, Kentucky, and House Manager is Al Loyd, a senior from Bolivar, Tennessee. Associate professor of theatre Justin P. Walsh provides the technical direction and sound design, and fight choreography is provided by associate professor of theatre Matthew Crider.
For more information about the show, contact 270-809-4421 or go to murraystatetickets.com. To learn more about Murray State's theatre arts program please visit murraystate.edu/theatre.