Murray State University-Jamey Aebersold Jazz Festival returns
Murray State University-Jamey Aebersold Jazz Festival returns
By Shawn Touney | Mar 29, 2022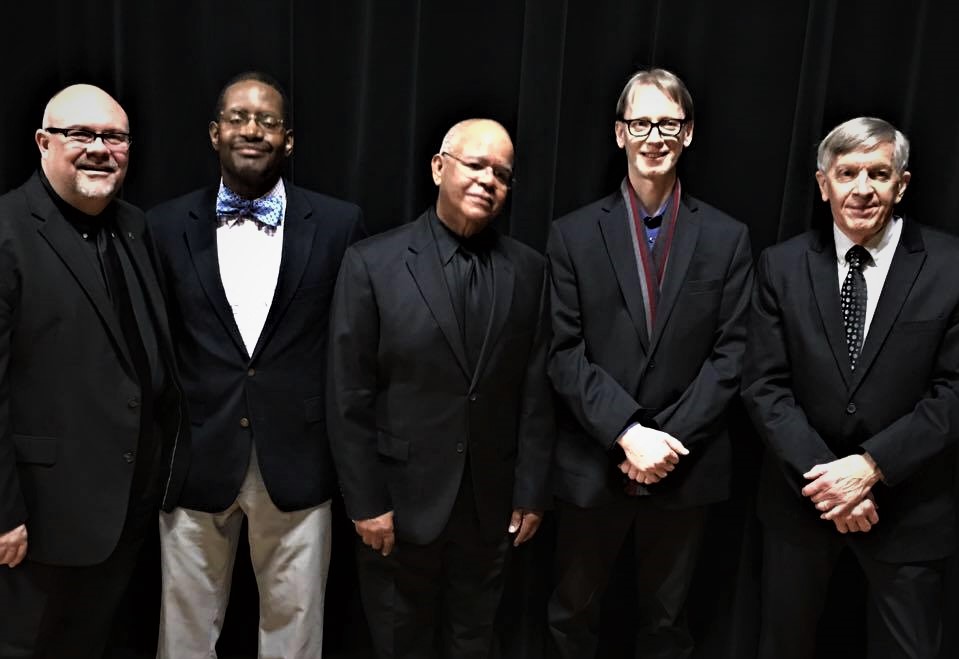 Festival returns after two years, will feature 11 regional jazz bands and The Jamey Aebersold Quartet
MURRAY, Ky. — The fourteenth Murray State University-Jamey Aebersold Jazz Festival will take place on Friday, April 1. Two middle school jazz bands, one combined middle and high school group, seven high school jazz bands and one visiting collegiate group from Tennessee will be performing in clinics and concerts that are open to the public. There will be an open improvisation clinic with NEA Jazz Master Jamey Aebersold in the Performing Arts Hall of the Old Fine Arts Building at 3:30 p.m. and the headlining concert by Jamey Aebersold Quartet performing at 6:30 p.m. in the same space that evening. All concerts and clinics are free, and the public is cordially invited.
The coordinator of the festival, which annually brings 200-300 young musicians to Murray State, is Dr. Todd E. Hill, Professor of Music and Director of Jazz Studies. Student assistance comes from the members of the Murray State Jazz Band, Combos and Jazz Orchestra.
"Mr. Aebersold has donated much of his time and financial support to the jazz program at Murray State. Jamey has been coming here off and on since the early 1970s when the late Professor Ray Conklin headed up the jazz program. Jamey is a great friend to the department of music, the jazz program, to our radio station WKMS, and he has enriched the cultural life of the community at large in addition to everything he has done for jazz education internationally," said Hill.
Aebersold endowed a jazz scholarship for Murray State University students in 2008.
The festival, designed for educational rather than competitive purposes, is in its fourteenth year. Teachers decide whether their groups will receive an assessment score. The day will include clinics by professional musicians and educators including Professor Ricky Burkhead from the University of Mississippi; Eddie Clark of St. Louis, a professional trombonist and educator who has performed or recorded with Quincy Jones, Frank Sinatra, Sarah Vaughan, Tony Bennett, Gil Evans and many others; and Dr. Todd French, Associate Professor of Music at Murray State. Each band will have a special clinic with Dr. Todd Hill, Murray State's Director of Jazz Studies, and will have special section clinics with Murray State jazz students and a special trumpet clinic with Calloway County High School Director of Bands, Nicholas Calcamuggio.
At 6:30 p.m. that evening, the Jamey Aebersold Quartet will feature National Endowment for the Arts "Jazz Master" Jamey Aebersold on alto sax, Todd Hildreth on piano, Tyrone Wheeler on bass and Jonathan Higgins on drums. The band will perform a concert featuring jazz standards for the public in the Performing Arts Hall of the Old Fine Arts Building.
"Our clinicians are some of the most respected teachers and performers in this part of the country. The participants will be getting the high quality jazz education experience for which we're known. We don't have the bands competing with each other – there is so much of that," said Hill. "This is a musical event for sharing and learning. Newcomers to the festival include Caverna High School and Lane College from Jackson, Tennessee. The other groups are repeat participants, many for several years."
The clinic schedule for bands is as follows:
9 a.m. - Caldwell County Middle/High School (Mason Henry, director)
9:30 a.m. - Lone Oak Middle School (Chris Watson, director)
10 a.m. - Hopkinsville High School (Addisson Grimm and Grant Jones, directors)
11 a.m. - James Madison Middle School (Alan Emerson, director)
11:30 a.m. - Graves County High School (Richard Burchett, director)
Noon - Christian County High School (Anthony Darnell and Calvin Warren, directors)
12:30 p.m. - Madisonville-North Hopkins High School "White" (Alan Emerson and Cory Mullins, directors)
1:30 p.m. - Madisonville-North Hopkins High School "Maroon" (Alan Emerson and Cory Mullins, directors)
2 p.m. - McCracken County High School (Kelley Ray, director)
2:30 p.m. - Caverna High School (Jeff Williams and Lily Williams, directors)
3 p.m. - Lane College (James Henning, director)