Murray State University music ensembles to perform at Kentucky Music Educators Association conference
By Carrie Jerrell | Feb 12, 2021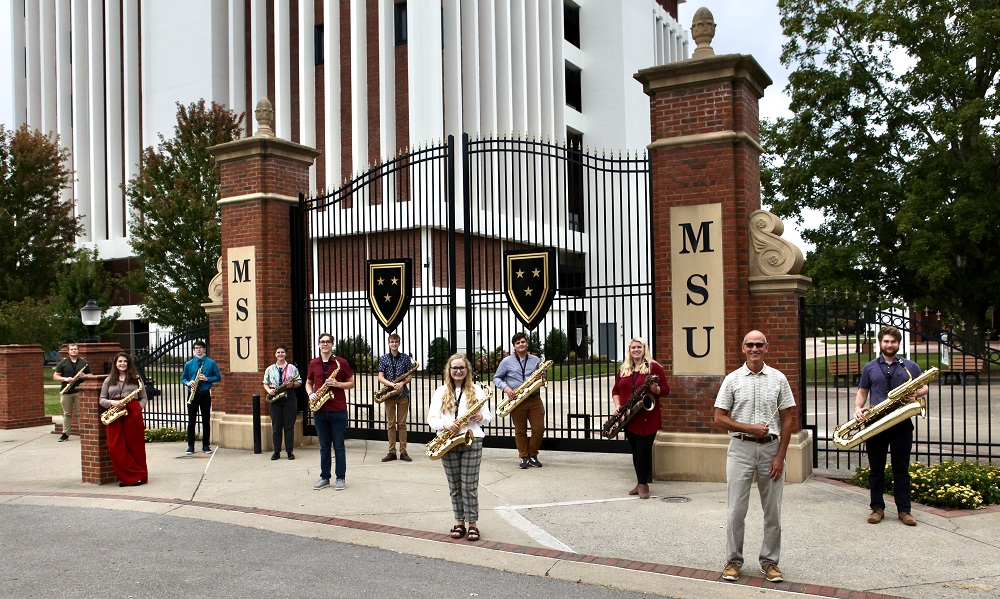 MURRAY, Ky. — The wind ensemble and the saxophone choir from the Murray State University Department of Music were recently selected to perform at the 2021 Kentucky Music Educators Association (KMEA) Professional Development Conference, to be held virtually on February 14-20.
The ensembles submitted recordings from previous live performances and were chosen by a KMEA committee through a blind selection process. The ensembles competed against other collegiate ensembles from around the state. Due to the pandemic, the conference is being presented virtually. Instead of performing live at the conference held in Louisville, the ensembles recorded their performances to be shown during the conference.
The wind ensemble is comprised of 56 players of woodwind, brass, percussion, string bass and piano. Their performance will take place Tuesday, February 16 at 8:40 p.m. Performance selections include "Havana" by Kevin Day, "Reflections in a Tidal Pool" by James Bonney, "Hymn to the Sun with the Beat of Mother Earth" by Satoshi Yagisawa, Movements III and IV from Brooklyn Bridge by Michael Daugherty and "Barnum and Tesla" from Steampunk Suite by Erika Svanoe. The wind ensemble also features guest artist, Dr. Amy McCann, assistant professor of clarinet at Murray State.
The wind ensemble is conducted by Dr. Trae Blanco, director of bands and assistant professor of music.
"The opportunity for our students to perform and record in a world-class hall is an incredible opportunity," said Blanco. "A facility like the Carson Center allows for us to feel professional, showcase our professional playing and to bring together a performance that seems almost impossible during times like these."
"I'm grateful to the students for buying into the process; they had to submit pre-screening recordings over the holiday break, they've had extra rehearsals and all while playing wearing masks, using bell covers and maintaining social distancing in rehearsals. We can't wait to share this art with the campus community and the music community at large later this semester."
Gavin Hayes, a senior music education major from Metropolis, Illinois, says he enjoys the process of putting a performance together.
"The thing I enjoy the most about playing in the ensemble is the diverse styles of music Dr. Blanco always selects for us to play. That, combined with the various instrumentation on each piece, makes for a great and enjoyable learning experience."
The saxophone choir is comprised of ten players. Their performance will take place Wednesday, February 17 at 6:50 p.m. Performance selections include Fanfare from La Peri by Paul Dukas, Preludio from Bachiana Brasileiras No. 4 by Heitor Villa-Lobos, arranged by adjunct saxophone instructor Robert Eason, Moderato, quasi marcia from Serenade, op. 44 by Antonin Dvorak, Overture, Interlude and Scherzo by Walter S. Hartley, "Salvation is Created" by Pavel Tschesnokoff and Allegretto from "The Golden Age" op. 22 by Dimitri Shostakovich.
The saxophone choir is conducted by professor Scott Erickson, who teaches oboe, bassoon, saxophone, woodwind methods and woodwind chamber ensembles. Erickson is in his 36th year at Murray State and will be retiring at the end of the spring 2021 semester.
"I'm incredibly proud of the saxophone choir and their preparation for KMEA," said Erickson. "We've had many rehearsals where we were missing members of the group due to students quarantining or testing positive, but they have persevered and are prepared to record a great program. All of them are juniors or younger, so the future of saxophone playing here is bright. Being selected to play at the conference is a special way to end my teaching career at Murray State."
For Rachel Price, a junior chemistry major and music minor from Mt. Vernon, Indiana, participating in the saxophone choir is an enjoyable activity in a challenging day of coursework.
"Playing in the saxophone choir gives me a chance to not only hang out with my friends in the music department, but it also allows me to perform with a smaller group of equally, if not more, talented people playing music that shows everyone's unique talents," said Price.
Additional information about the conference and registration can be found on the KMEA website at www.kmea.org.
Students in the saxophone choir include:
Gavin Jones (Benton, Kentucky) - Soprano
Gavin Hayes (Metropolis, Illinois) - Soprano
Kendra Chaney (Bumpus Mills, Tennessee) - Alto
Liberty Guyette (Paducah, Kentucky) - Alto
Ashton Plemmons (Ft. Worth, Texas) - Alto
Isaac Gray (Owensboro, Kentucky) - Tenor
Lydia Jenkins (Paducah, Kentucky) - Tenor
Jake Glatczak (Potosi, Missouri) - Baritone
Rachel Price (Mt. Vernon, Indiana) - Baritone
Liam Newman (Wildwood, Missouri)- Bass
Students in the wind ensemble include:
Hailey Bone (Park Hills, Missouri) - Flute, principal
Allison Grace (Herrin, Illinois) - Flute 2
Gracie Oakley (Madisonville, Kentucky) - Flute 3
Lucy Wilkinson (Russellville, Kentucky) - Flute 4
Erin Ruggles (Paris, Tennessee) - Flute 6
Shala Heppler (Murray, Kentucky) - Oboe, principal
Andrew Armes (Radcliff, Kentucky) - Oboe 2
Abby Hess (Petersburg, Indiana) - Oboe 2
Nic Hawkins (Paris, Tennessee) - Clarinet 1, principal
Jake Davis (Boonville, Indiana) - Clarinet 2
Shelby Parks (Benton, Kentucky) - Clarinet 3
Mia Gonzalez (New Baden, Illinois) - Clarinet 4
Jason Dollinger (Hopkinsville, Kentucky) - Clarinet 5
Lindsey Ostria (Owensboro, Kentucky) - Clarinet 6
Grayson Martin (Glasgow, Kentucky) - Clarinet
Kaylee Silvey (Russellville, Kentucky) - Clarinet
Stephen Mullins (Owensboro, Kentucky) - Bassoon, principal
Kendra Chaney (Bumpus Mills, Kentucky) - Bassoon 2
Gavin Jones (Benton, Kentucky) - Alto Sax, principal
Liam Newman (Wildwood, Missouri) - Alto Sax 2-1
Gavin Hayes (Metropolis, Illinois) - Alto Sax 2-2
Isaac Gray (Philpot, Kentucky) - Tenor Sax
Jacob Glatczak (Desloge, Missouri) - Bari Sax
Elena Hammann (St. Louis, Missouri) - Horn, co-principal
Garrett McLaughlin (Paducah, Kentucky) - Horn, co-principal
Addi Bussen (Eureka, Missouri) - Horn 3
Jimmy Lutz (Forest Park, Indiana) - Horn 4
Ben Gerkins (Bowling Green, Kentucky) - Trumpet, principal
Nick McKenzie (Memphis, Tennessee) - Trumpet 2
Ryn Jenkins (Murray, Kentucky) - Trumpet 3
Abby Ward (Princeton, Kentucky) - Trumpet 4
Chloe Perry (Evansville, Indiana) - Trumpet 5
Katie Zheng (Madisonville, Kentucky) - Trumpet 6
Ryan Hagood (Alvin, Texas) - Trumpet 7
Korie Brewer (Cape Girardeau, Missouri) - Trombone, principal
Thomas Wheeler (Goshen, Kentucky) - Trombone 2
Luke Weatherly (Paris, Tennessee) - Trombone 3
Aaron Beach (Paducah, Kentucky) - Trombone 4
Noah Wright (Jasper, Indiana) - Euphonium, principal
Dillon Smith (Murray, Kentucky) - Euphonium 2
Micah Crouse (Murray, Kentucky) - Tuba, principal
Jaylon Taggart (Hopkinsville, Kentucky) - Tuba 2
Cristian Velez (Owensboro, Kentucky) - Tuba 3
Jonathan Hueftle (Mount Vernon, Indiana) - Percussion
Sarah Hasekamp (Maryland Heights, Missouri) - Percussion
Jacob Zerger (West Paducah, Kentucky) - Percussion
Tyler Wright (Dover, Tennessee) - Percussion
Nathan Schulte (Newburgh, Indiana) - Percussion
Evan Lorenzen (Owensboro, Kentucky) - Percussion
Hastings Hale (Murray, Kentucky) - Percussion
Chris Trimble (Trenton, Illinois) - Percussion
Raegan Boren (Murray, Kentucky) - Percussion
Alex Thome (Murray, Kentucky) - Piano