Murray State University Promise covers tuition and mandatory fees for qualifying students
By Shawn Touney | Oct 7, 2020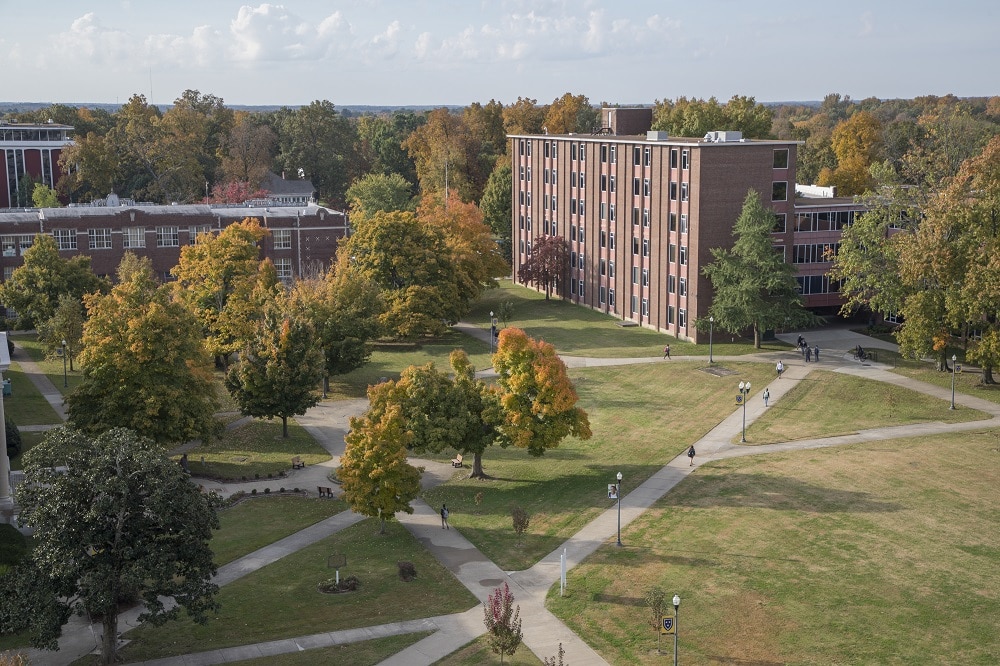 Since 2018, program has continued to position University as one of America's best college values for students
MURRAY, Ky. — In a continued effort to ensure both access and affordability for students, the Murray State Promise awards need-based scholarships to eligible students who pay no tuition to attend Murray State University.
First-time freshmen and new transfer students from Kentucky may be eligible for this program, which began in 2018 as an expansion from a previous program. The Murray State Promise offers an opportunity to provide even more students with a debt-free college degree while receiving the high-impact, high-value college experience offered at Murray State.
The University more than doubled its awards of the Murray State Promise to recipients for the current 2020-2021 academic year from the previous year.
Said one recipient: "This scholarship will allow me to continue my education here at Murray State University. With this help that you generously awarded me, I will be able to dedicate 100 percent of my effort to my studies, with less financial stress distracting me."
"Eligible Kentucky first-time freshmen and new transfer students may already have their tuition paid through the Murray State Promise," Murray State President Dr. Bob Jackson said. "In addition to numerous scholarship and aid opportunities for all students, we offer ACT/SAT test-optional admissions for qualifying freshmen and transfer students."
"As we continue to see an increasing number of first-time undergraduate, transfer and graduate students pursuing their education at Murray State, our promise is to provide access and affordability to as many students as possible who are seeking a transformative college experience."
Individuals can learn more about the Murray State Promise at murraystate.edu/promise or contact the University's Scholarship Office at (800) 272-4678 ext. 4 or by email msu.scholarships@murraystate.edu.
Based on the University's most recent annual reports and data from 2019-20, Murray State awards $115 million in financial aid and scholarships each year, and has the highest percentage of undergraduate students who graduate with no known debt among all other public regional comprehensive institutions in Kentucky. Among this year's freshman class, 89 percent received a scholarship or financial aid.
Recognized as one of America's best college values, Murray State offers 145 academic programs, nearly 180 student organizations, and within the past month, has received the following national accolades related to quality, value and student success:
"Top-Tier University" by U.S. News & World Report – 30 consecutive years
"Best Bang for the Buck" – Washington Monthly
"2020 Best College" – Money Magazine
"2021 Best Colleges in America" – Niche
"2021 Best College" - Wall Street Journal/Times Higher Education
The University offers competitive tuition rates for residents in neighboring states, such as Illinois, Indiana, Mississippi, Missouri, Tennessee, Arkansas and Alabama.
Additionally, the Murray State Alumni Legacy Tuition Grant provides in-state tuition to eligible out-of-state undergraduate children and grandchildren of Murray State graduates. Information is available at
Murray State offers on-campus courses at its main Murray location as well as five regional campuses and educational presences in Paducah, Henderson, Madisonville, Hopkinsville and Fort Campbell. The University also offers many degrees and classes entirely online, providing a flexible higher education experience to accommodate any schedule.
Students interested in joining the Racer Family can learn more, schedule a virtual or on-campus visit and apply for admission at admissions.murraystate.edu.