Murray State University nonprofit leadership studies alumnus Gavin Posey reflects on Racer experience
By Shawn Touney | Jan 29, 2021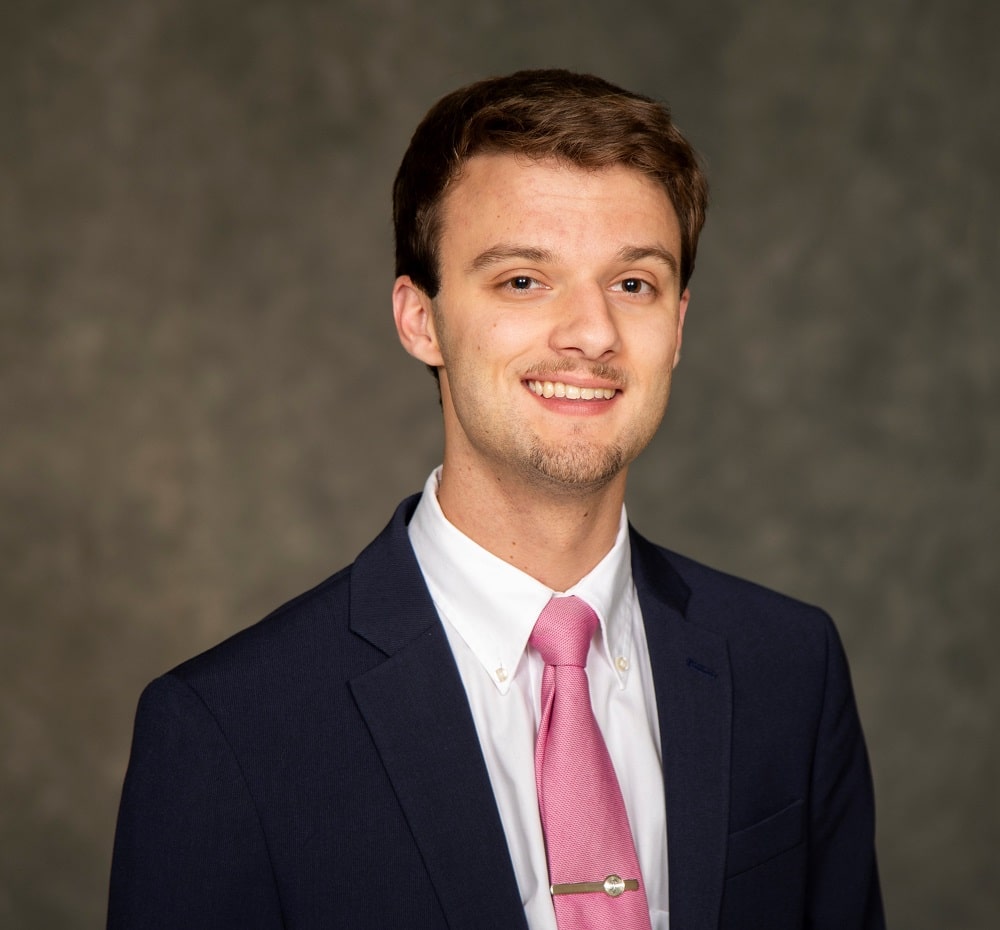 MURRAY, Ky. — Murray State University's Nonprofit Leadership Studies (NLS) graduates were recently asked to reflect on their career journeys, the impact of their work, and their aspirations for the future. A series of eight stories by Visiting Distinguished Professor of Nonprofit Leadership Dr. Bob Long have emerged and are being shared to illustrate the range and scope of the impact they are having since graduation. The stories introduce the reader to amazing nonprofit sector leaders who are pursuing their commitments to making the world a better place.
In part seven, Gavin Posey is featured. Gavin graduated in 2020 with a Bachelor of Science with an Organizational Communication major and a Nonprofit Leadership Studies minor. He accepted a position with AmeriCorps' VISTA (Volunteers In Service To America) Program in Paducah, Kentucky, starting a career where the competencies developed in college are put to use immediately in a community service mission. AmeriCorps provides critical first professional experience, a living allowance, healthcare benefits, leadership development programs, networking opportunities, and an end-of-service award of education or career development financial support. Many NLS graduates have chosen to take advantage of the AmeriCorps opportunities since it was launched in 1993. It offers a variety of opportunities across the country to combine skills and commitments, regardless of programs of study or personal interests. More information can be found at americorps.gov/serve.
Long: How did the NLS program help guide, inspire, and support you?
Posey: Murray State's Nonprofit Leadership Studies program gave me the courage to take an active role in my community's nonprofit sector, knowledge to prepare for a future career as a not-for-profit professional, and encouragement to follow my personal interests. Coming into the NLS program, I understood that nonprofits served the communities which they represented. However, it was not until I began learning about the history of our country's nonprofit sector, participated in course-based service learning activities, like grantmaking, and spent time both volunteering and advocating for public policy that my worldview of the nonprofit sector changed. I now know there is something for everyone in the nonprofit sector. This part of my academic journey was a direct complement to my Organizational Communication major. All of the competence and confidence that I developed in that program of study prepared me with essential skills for success in service of any community mission. I am certain that my time in NLS gave me the support needed to pursue the beginning stages of my nonprofit career, working to better my hometown of Paducah, Kentucky.
Long: Tell us about the work you're doing today. How has your degree helped advance your career?
Posey: After graduating from Murray State in the spring of 2020, I accepted a position to serve in the AmeriCorps VISTA program. As a VISTA (Volunteers In Service To America) in the Housing and Homeless Coalition of Kentucky: "Homes for All" AmeriCorps program, I serve at Paducah's Family Service Society. For those who do not know, Family Service Society is the second-oldest nonprofit in the city of Paducah. The organization became incorporated in 1927. Family Service Society has adapted with time in the last near-100 years (ex. we no longer pay for coal to keep households warm), yet its mission remains the same to serve as a crisis resource to households throughout the Paducah-McCracken County area.
The goal of AmeriCorps' VISTA program is to eradicate poverty. VISTAs seek work across the country, volunteering their time building capacity for the organizations that host them. I became hired as a VISTA to strengthen Family Service Society's volunteer base, further develop the organization's donor base, and enhance the general community awareness of the nonprofit. The three goals above occur through a variety of efforts. Whether it is calling potential donors, coordinating volunteering efforts, creating posts for social media, or speaking with constituents in the Paducah community, my time in the NLS program allowed me to get started immediately with Family Service Society as a VISTA member. As you can imagine, every aspect of my Organizational Communication major is put to use in all aspects of my work.
It is clear to me that without spending a significant amount of time in Murray's NLS program, I am certain I would not be prepared or confident for my current position. Studies with NLS gave me firsthand experience with grantmaking, volunteering opportunities, research and advocacy projects, board governance, and community engagement opportunities. One of my favorite lessons that I still talk about today was an advocacy project to bring awareness to "National Humor Month." There, my partner and I worked to showcase the benefits of humor in a person's day-to-day life, ultimately sharing how we can all utilize our senses of humor to make each day a little bit better. How many other programs give you the freedom to arrange a standup comedy show on campus? My self-confidence continued to grow through conversations with peers and faculty in the NLS program. Reading and discussing Brené Brown's "Daring Greatly" has allowed me to grow closer to my colleagues, friends and family, another benefit of my time in NLS. I have continued to follow my interests with ongoing support from my NLS peers, faculty, and developed NLS program connections.
Long: What sort of impact is your work having in the community?
Posey: Since graduating in the spring of 2020, I have proudly served as an AmeriCorps Member at Family Service Society. Serving as a VISTA in my hometown is a rewarding experience. It is deeply gratifying and humbling working to make "my own backyard" a better place. I believe an example of this comes from my recent MLK Day of Service Project which took place this month – delivering 250 yellow roses to members of the community as a random act of kindness. Using the skills I have been taught in both Organizational Communication and Nonprofit Leadership Studies, I designed a community service project, applied for funding, prepared, then delivered the roses for this year's MLK Day. Gold roses were chosen as they symbolize friendship and care, two themes Dr. King personified with his actions. The project would not have been possible without the help of several volunteers, so I owe them a "thank you" once again. I was humbled to see what such a small random act of kindness can do in everyday interactions; 250 roses led to quite a few (masked) smiles, and I hope this AmeriCorps Day of Service project provided a small spark in the pursuit of a better tomorrow. As a recent alumnus of Murray State, I was honored when a former NLS professor invited me to speak about AmeriCorps. In my presentation, I shared how you can follow your dreams while serving as an AmeriCorps Member, speaking to peers who were soon-to-be graduates.
I believe one of my biggest accomplishments in nonprofit leadership since graduation has been highlighting the services offered by Family Service Society, showcasing how our community can contribute or give a helping hand. These spotlights provided through my VISTA service also give our agency a chance to share what clients of Family Service Society are going through. An example of this comes from "Albert," who came to our nonprofit for short-term food assistance. Albert left our agency with a new winter coat, food for a month, and signed up for our "Santa for a Senior" program, giving him personal hygiene items, food items, and household supplies for the holidays. Albert's daughter called us the day after his visit. There, she shared, "my dad feels like it is Christmas already!" This year has been difficult for many, so being able to connect members of our community to resources has been rewarding. I look forward to completing my VISTA service and continuing to build capacity at Family Service Society.
Through the VISTA program, my community has gained a volunteer with resources from Paducah, Kentucky to Frankfort, Kentucky to Washington D.C, and everywhere in-between. I have been pleased to see how supportive the AmeriCorps network is, gaining insights from peers in Frankfort and Louisville throughout the early stages of my VISTA term. The goal of any VISTA project is to leave your community in better shape than you began – a goal many of us likely have in mind toward the end of 2020. I look to create the biggest impact through the creation of a sustainability binder before completing my AmeriCorps service, highlighting ways my current efforts can be continued long-term. I have been pleased to be included in so much of what Family Service Society takes on and know we make the biggest impact collaboratively. As a result, we have built new connections in our community, earned critical donations to help us sustain our programs and services, continued to engage with our local media, and enhance the community awareness of Family Service Society.
Long: What do you aspire to do in the future?
Posey: Throughout my personal and professional life, I look to continue emphasizing the value of community. Some of my favorite parts of life come from programs or services offered by communities: local music venues, community radio programs, local reporting, and community not-for-profits to name a handful. It is important to me that I help bring out the strengths of the communities in which I take an active role. In my long-term career, I am interested in working at a Foundation to both connect resources in my community and allocate funds to those making the world a better place. Through my experiences with AmeriCorps and my studies in the Nonprofit Leadership Studies program, I am confident that I will continue finding ways to engage in my community's nonprofit sector long-term.
"The NLS program is honored to include Gavin among its alumni and proud of the impact that he is having in the community," said Long. "He provides a wonderful example of how the core competencies of the Department of Organizational Communication and Leadership, the academic home of the NLS Program, perfectly align with the applied nature of the NLS curriculum for careers in the nonprofit sector. Gavin's work provides a remarkable example of how positive community development programs can help strengthen the capacity of families to respond to the challenges they face. Gavin is a dedicated emerging nonprofit sector leader who will have a powerful impact on all the missions he engages in the years ahead."
The Nonprofit Leadership Studies Program is a part of the Department of Organizational Communication and Leadership which is dedicated to "develop student competence in the application and synthesis of those communication processes, theories and skills that enable individuals and groups to organize effectively in an increasingly complex and global society." As a part of the Arthur J. Bauernfeind College of Business, the department and program are committed to advancing careers in dynamic environments of leadership and management.