Murray State University announces spring 2022 Outstanding Seniors
Murray State University announces spring 2022 Outstanding Seniors
By Alex Pologruto | Apr 28, 2022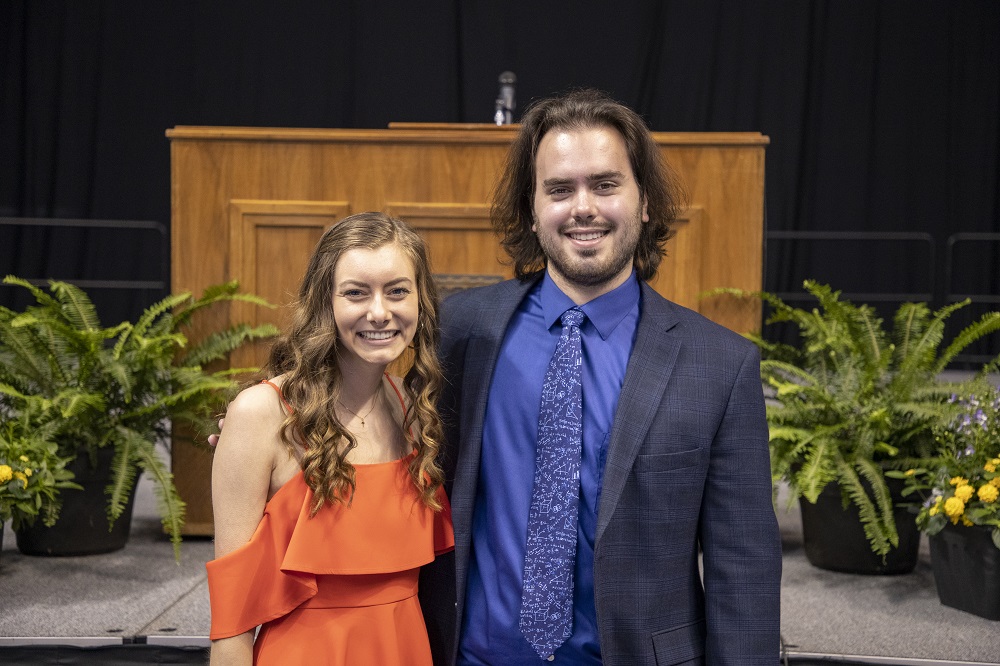 MURRAY, Ky. — Murray State University has named Amy Krazl of St. Louis, Missouri and Nicholas Gaubatz of Fairview Heights, Illinois as the recipients of the spring 2022 Outstanding Senior recognition. The students recognized with this honor are known for their academic excellence and professionalism.
Krazl is the daughter of Carla and Steve Krazl. She is majoring in nursing and expected to graduate in May 2022. After graduation, she will be moving to Nashville, Tennessee to begin her career as a nurse in the ICU at Centennial Hospital. She also plans to pursue her doctorate degree in the coming years. Additionally, Krazl will be getting married next month after graduating from Murray State. Her accomplishments during her undergraduate career include being awarded the Presidential Fellowship; being selected as a nurse extern at the Mayo Clinic in summer 2021; receiving the Elizabeth Bird Small Award, the highest award one can receive as an individual member nationally in her sorority, Alpha Sigma Alpha, in September 2021; being a member of the 2020 Murray State University Homecoming Court; being selected as a Top 15 individual in the 2021 Miss Murray State University Scholarship Pageant; and finally, perhaps her biggest accomplishment, was being named as one of the top 10 Student Leaders of 2022 at Murray State University by Dr. Don Robertson, vice president for student affairs and enrollment management. Krazl is a member of the national sorority Alpha Sigma Alpha, Campus Ministry, Student Government, Sigma Theta Tau nursing honor society, Order of Omega, greek honor society and the Honors College. She is also a student ambassador and is actively involved on campus. She has served as vice president of public relations & recruitment and vice president of alumnae & heritage in Alpha Sigma Alpha, served as vice president of administration for two terms in the Student Government Association, served on the executive team for Student Ambassadors and was selected to present undergraduate research at a Sigma Theta Tau conference.
"Murray State is a place where lives are changed for the better, of which mine is no exception," said Krazl. "This University has molded me in ways that four years ago would have been unimaginable. I have been afforded knowledge, experiences, friends and mentors that will never be replaced. At the end of the day, Murray State isn't about the red brick buildings, the T-room food, or the pretty campus magnolia trees. It's about the dedicated, supportive, kindhearted individuals that are the life and breath of this University, allowing students like me to call this place home. Thank you Murray State, the finest place I know. Shoes up forever!"
Gaubatz is the son of Amy Gaubatz. Expected to graduate in May 2022, he is majoring in mathematics, minoring in computer science, a member of the Honors College and a Presidential Fellow. Gaubatz will be attending Auburn University next fall as a Presidential Graduate Research Fellow pursuing a Ph.D. in mathematics. His ultimate goal is to become a mathematics professor. During his time at Murray State, Gaubatz's biggest accomplishments include publishing a mathematics paper titled "Friends in Z_n" in the International Journal of Mathematics and Computer Science, and participating in two Research Experiences for Undergraduates at Louisiana State University and Auburn University over the period of two summers. He has served as president of the Euclidean Mathematics Club and vice president of both the Honors Student Council and the Association for Women in Mathematics. Additionally, he has served as a Residential Advisor in JH Richmond Residential College for the 2021-2022 school year. Gaubatz has been recognized on the Dean's List and has maintained a 4.0 GPA throughout his entire college career. Apart from his studies, he is a professional pianist and organist.
"Murray State has felt like home since my first campus visit as a high school senior," said Gaubatz. "This community has truly cared about both me as an individual and as a young adult. This has inspired me to reach my full potential as an undergraduate and also give back to the same community by sharing the knowledge and experiences I have attained. I have only achieved so much because of the guidance and support of professors, staff, students and friends that I have met here. I am incredibly honored to be chosen as the Outstanding Senior Man of spring 2022. Murray State is truly the finest place I know."
The spring 2022 Outstanding Seniors were recognized at the Senior Breakfast on Wednesday, April 27 at the CFSB Center. The spring 2022 commencement ceremonies will take place on Saturday, May 14 at the CFSB Center. Please visit murraystate.edu/commencement for additional information.