Department of Art & Design to host Patricia L. Summerville Lecture Series
Department of Art & Design to host Patricia L. Summerville Lecture Series
By Alex Pologruto | Feb 13, 2023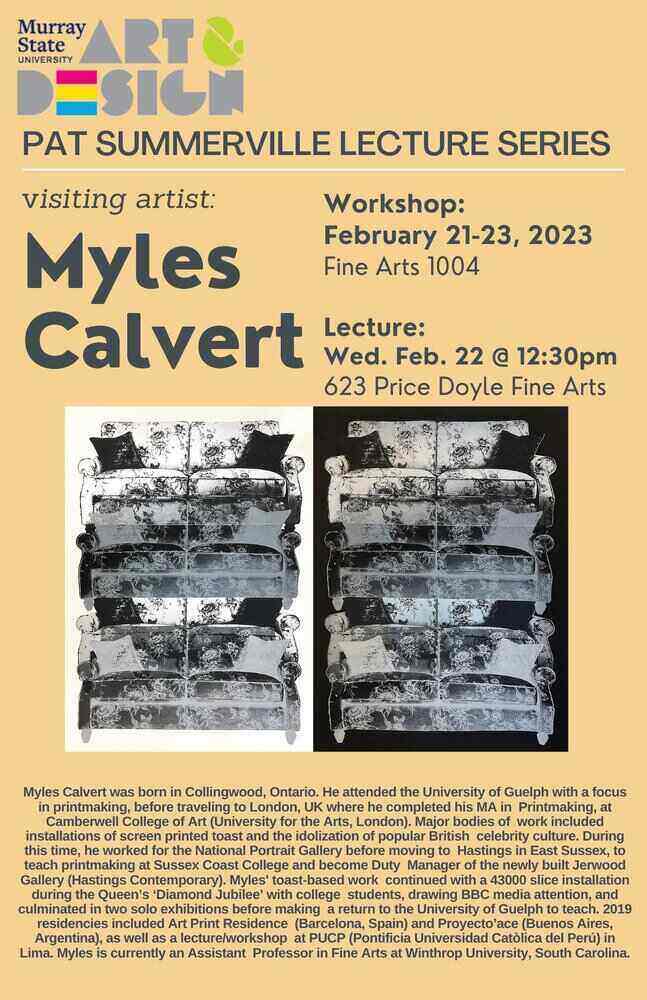 MURRAY, Ky. – Murray State University's Department of Art & Design is pleased to host Myles Calvert as the Patricia L. Summerville Artist in Printmaking on Tuesday, Feb. 21 through Thursday, Feb. 23 in room 1004 and 1006 in the Fine Arts building located on Murray State's campus. Calvert will create an intaglio and screen print edition with the help of Professor Nicole Hand's advanced printmaking class. The workshop will be Tuesday, Wednesday and Thursday, Feb. 21 – 23 from 9 a.m. – 4 p.m. Calvert will also give a lecture on his work on Wednesday, February 22 at 12:30 p.m. in room 623 in the Price Doyle Fine Arts Building. The workshop and lecture are both free and open to the public.
Calvert was born in Collingwood, Ontario. He attended the University of Guelph with a focus in printmaking before traveling to London, United Kingdom, where he completed his Master of Arts in Printmaking, at Camberwell College of Art (University for the Arts, London).
Calvert's major bodies of work included installations of screen printed toast and the idolization of popular British celebrity culture. During this time, he worked for the National Portrait Gallery before moving to Hastings in East Sussex, to teach printmaking at Sussex Coast College and become Duty Manager of the newly-built Jerwood Gallery (Hastings Contemporary). Myles' toast-based work continued with a 43,000 slice installation during the Queen's Diamond Jubilee with college students, drawing BBC media attention and culminating in two solo exhibitions before making a return to the University of Guelph to teach.
Calvert's recent residencies include the Art Print Residence in Barcelona, Spain and Proyecto'ace in Buenos Aires, Argentina, as well as a lecture/workshop at PUCP (Pontificia Universidad Catòlica del Perú) in Lima, Perú. Calvert is currently an assistant professor in Fine Arts at Winthrop University in South Carolina.
The Patricia L. Summerville Lecture Series is made possible through an endowment to the Department of Art and Design from the late Patricia Summerville, who graduated from Murray State University in 1972 with a Bachelor of Science in Education, after attending the University for only three years. She then earned three additional degrees, including a Master of Science in Education, with a major in supervision in 1976 from the University of Akron; a Master of Healthcare Administration, with a major in Hospital Administration in 1982 from Xavier University; and the Juris Doctor from Chase College of Law at Northern Kentucky University in 1994. She was admitted to the bar the following year. Summerville's career included teaching art for six years, serving as an administrator for hospitals and healthcare facilities for 20 years and practicing law for five years before retiring in 2003. She passed away in February 2022.
For more information about the Patricia L. Summerville Lecture Series or Murray State University's Department of Art & Design please contact Nicole Hand at nhandbryant@murraystate.edu.
For more information about Calvert's work please visit squirrelpigeonfish.com.