Murray State University awards 18 Presidential Fellowships
By Alex Pologruto | Apr 25, 2023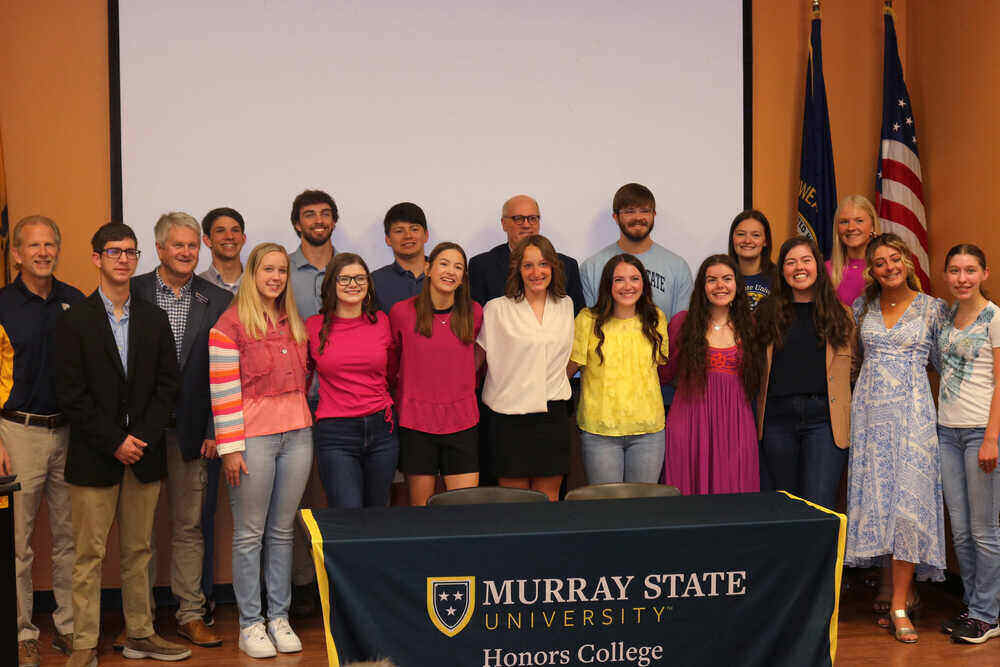 MURRAY, Ky. – Murray State University has awarded a total of 18 incoming students with the prestigious Presidential Fellowship, which includes full tuition, housing and meals for up to four years at the University.
"We are very excited to welcome this group of outstanding students to Murray State University," said Murray State University President Dr. Bob Jackson. "Each Presidential Fellowship recipient is committed to excellence both inside and outside the classroom and will be tremendous leaders throughout their time as a Racer."
The recipients, who represent several regions across Kentucky, Illinois and Missouri, will be part of the University's Honors College, a community within Murray State that offers a unique honors curriculum, critical-thinking seminars and specialized programs and activities.
"Our Presidential Fellows are all outstanding academic achievers, but they are also selected based on their demonstrated leadership potential and involvement in their communities," said Dr. Warren Edminster, Executive Director of the Honors College. "We look forward to the leadership they will provide on our campus over the next four years."
Students selected for the Presidential Fellowship complete a rigorous application process that includes multiple interviews. During their time at Murray State, recipients of the fellowship are responsible for conducting extensive research projects and serving as leaders in the campus community.
The Presidential Fellowship recipients include the following individuals:
● Courtney Bassler (Breese, Illinois)
● Easton Crowe (White Plains, Kentucky)
● Delaney Daugherty (Morgantown, Kentucky)
● Alyssa Daughrity (Murray, Kentucky)
● Maggie Drew (Murray, Kentucky)
● Michael Gray (Calhoun, Kentucky)
● Isabelle Horrell (Hillsboro, Missouri)
● Maria Ingram (Louisville, Kentucky)
● Jeremiah Kay (Benton, Illinois)
● Reid Martin (Metropolis, Illinois)
● Rachel McClung (Princeton, Kentucky)
● Molly Musselman (Paducah, Kentucky)
● Sydney Naber (Murray, Kentucky)
● Margaret Robinson (Murray, Kentucky)
● Mariela Speltz (Richmond, Kentucky)
● Cesar Villeda (Murray, Kentucky)
● Maggie White (Sturgis, Kentucky)
● Tyona McKee (Hopkinsville, Kentucky)
Incoming first-year students for fall 2023 who have a 28 ACT composite score minimum (or 1310 SAT verbal and math combined score minimum), along with a 3.7 GPA on a 4.0 scale, are eligible to apply for the Presidential Fellowship.
For more information on the University's Honors College, please visit murraystate.edu/honors.
Prospective students who are interested in joining the Racer family for the 2023-2024 academic year can learn more, schedule a campus or virtual visit and apply for admission at admissions.murraystate.edu.