Murray State University Racer Report: March 15-19
By Jennifer Cline | Mar 19, 2021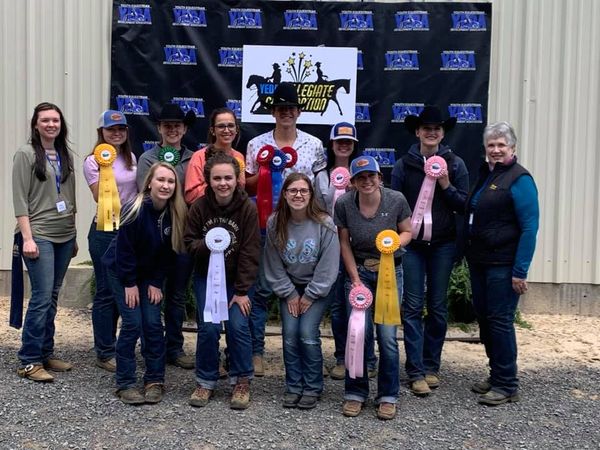 MURRAY, Ky. — See below for the latest news from Murray State University for the week of March 15-19.
**
Murray State University's StockSeat Equestrian Team hosted its last regular show of the season as well as a regional competition March 13-14, with four other universities competing in addition to an alumni class. Murray State was named the reserve high point team for the show and had several students qualify for the regional competition on March 14. Karlie Patterson, a freshman from Wright City, Missouri, tied for reserve high point rider of the show.
Eight Murray State riders qualified for regionals:
Evan Thomas (Avon Lake, Ohio)
Shelby Zellers (Casey, Illinois)
Jessica Buckman (Uniontown, Kentucky)
Baily Blackburn (Carrollton, Kentucky)
Jessica Camp (Morgantown, Kentucky)
Melissa Modglin (Hillsboro, Missouri)
Jessica Dunn (Carrier Mills, Illinois)
Morgan Short (Bristol, Virginia)
Shelby Zellers, Evan Thomas, Jessica Buckman, Baily Blackburn, Jessica Camp, Melissa Modglin and Jessica Dunn qualified to compete at the postseason invitational celebration to be held in May.
"We are very proud of our riders and all of the students from both teams and the Horseman's Association that worked diligently all weekend to make these shows a success," said Sue Robinson, coach, coordinator of riding and lecturer with Murray State's Hutson School of Agriculture.
**
The Theatre Arts program at Murray State University had the great honor of hosting Mr. John Dimes in their special topics course, Horror Hosts. Dimes is an author, artist, singer, actor and award-winning comedian.
Dimes began performing as a stand-up comedian, working alongside Dave Chappelle, Patton Oswalt and Wanda Sykes. He has appeared in several independent films and is featured in documentaries concerning the horror host genre.
He is best known as the horror host Dr. Sarcofiguy, the first African-American horror host to be inducted into the Horror Host Hall of Fame.
He was inducted into the Horror Host Hall of Fame in 2017.
In addition to his work in Washington D.C. as a horror host, Mr. Dimes has written and provided art for several graphic novels. Mr. Dimes' artwork has been showcased in galleries in the D.C. area.
**
Dr. Seid Hassan, professor of economics in the Arthur J. Bauernfeind College of Business at Murray State University, was recently selected to serve as a member of the Independent Council of Economic Advisors to the government of Ethiopia. A total of 290 Ethiopians were nominated.
Hassan hopes to establish a subcommittee that will focus on corruption/anti-corruption and ultimately, assist the government's ability to design and implement policies.
**
Continuing this spring, the Murray State University Alumni Association, Office of Development and Town & Gown are gathering more of the best and brightest Racer alumni, family and friends from around the country to share about their experiences in a series of virtual events.
In celebrating Women's History Month, on Thursday, March 25, at Noon, some of the University's most noted alumnae of the School of Nursing and Health Professions will discuss inspiring women mentors, career challenges, educational opportunities and helpful advice for all women pursuing a career in the health professions.
Guest speakers for this virtual event will include:
Lorie Oglesby - Vice President, Human Resources and Education, Baptist Health Madisonville

Amber DuVentre - Healthcare Risk Manager, Meharry Medical College

Lakeshia Yarbrough - Murray State University, Doctor of Nursing Practice Student

Mary James - ARNP, Princeton Family Care

Abigail Cox - Murray State University, Women's Center
The final portion of the speaker series will be open for Q&A. This free, virtual event will be moderated by Dr. Dina Byers and Dr. Dana Todd of the University's School of Nursing and Health Professions.
"Murray State University has a rich, nearly 100-year-history of graduating and empowering trailblazing, professional women. The panelists serving on this Women in Healthcare speaker series exemplify this tradition. They will be sharing a wealth of knowledge and experiences from their healthcare journeys, " said Dr. Dana Todd, Bachelor of Science in Nursing program director. "This is a must attend event!"
To register for this event visit murraystate.edu/speakerseries.