Racer Report: May 22-26
By Shawn Touney | May 23, 2023
MURRAY, Ky. – The latest Murray State University Racer Report includes student, faculty, staff and alumni accomplishments, announcements, upcoming campus events and more for the week of May 22-26.
**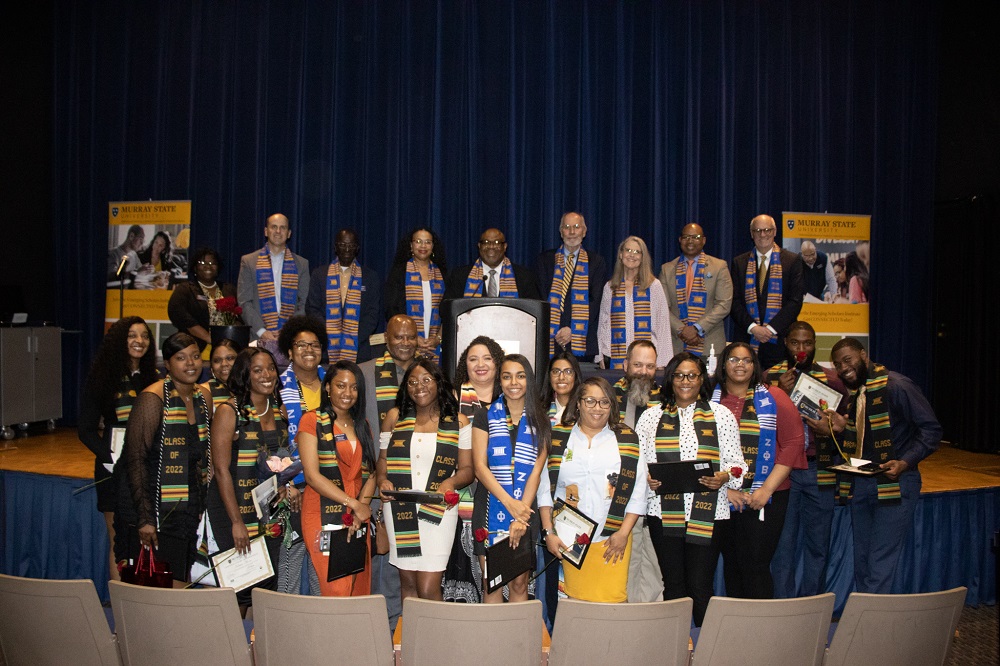 The spring 2023 Hitimu (Swahili for "finish education" or "complete") graduation celebration ceremony was held by the Office of Multicultural Initiatives, Student Leadership and Inclusive Excellence in the Curris Center Theatre on May 12. The Hitimu celebration is a graduation ceremony where Murray State's diverse student population expresses pride in the richness of their cultures as they reflect on their journey at Murray State.
During the ceremony, graduating undergraduate and graduate students thanked family, friends, and faculty/staff, and highlighted their plans for the future. Graduates who attend the celebration receive a certificate of achievement, a Kente stole, an alumni pin, and other gifts during the celebratory program, which was created by Dr. SG Carthell in 2004. The Hitimu celebration takes place at the end of the fall and spring semesters, and is traditionally held the evening before commencement.
**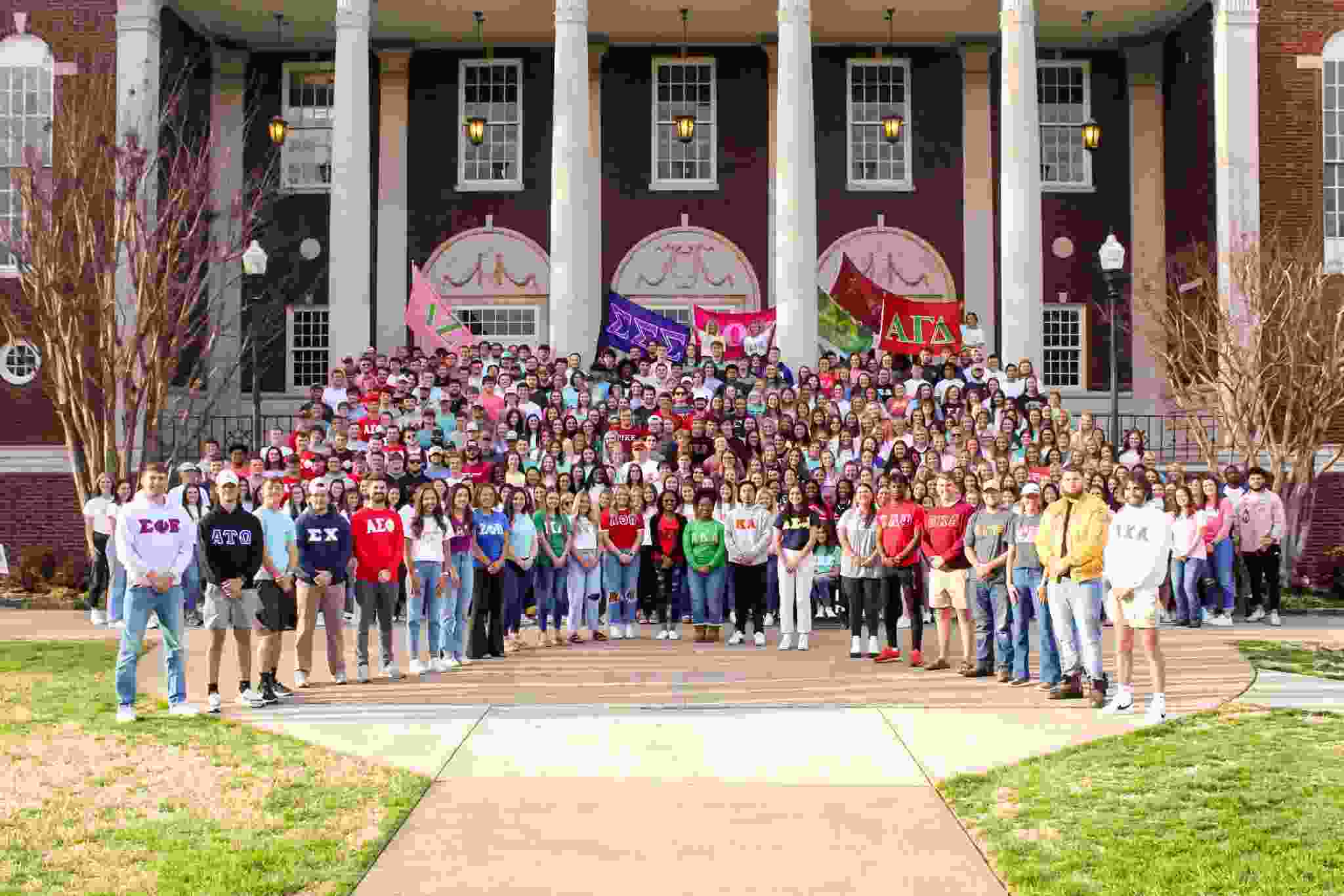 Murray State University Greek organizations showcased a successful spring 2023 academic semester with an overall term GPA of 3.31 while surpassing the overall undergraduate term GPA again this semester, based on the recently released grade report.
Alpha Kappa Alpha Sorority, Inc. and Sigma Phi Epsilon earned the highest GPAs for active members while Sigma Phi Epsilon and Sigma Alpha excelled with the highest new member GPAs. Alpha Sigma Alpha, Sigma Phi Epsilon and Kappa Alpha Psi Fraternity, Inc. earned the highest term GPAs for the semester.
**
Murray State University Police Officer Thomas Reynolds was recently named Officer of the Year and was recognized at the Murray Lions Club First Responder Awards Banquet. Officer Reynolds joined the Murray State University Police Department in 2021, after beginning his law enforcement career with the Calloway County Sheriff's Office in 2019. Reynolds was presented his award by Calloway County Jailer and Lions Club representative Ken Claud.
**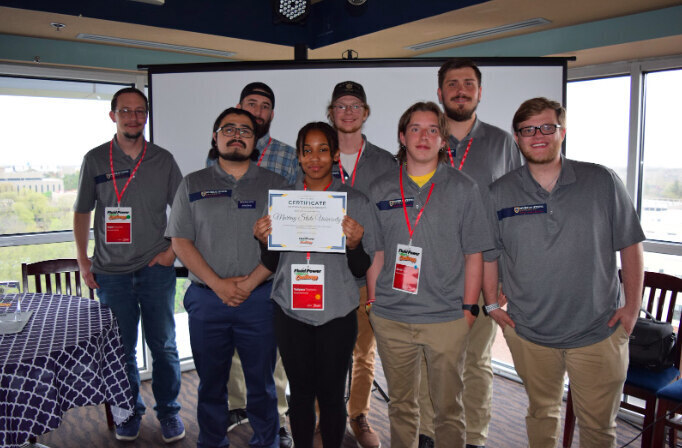 Murray State's Applied Engineering Club recently competed at an Engineering Competition, the National Fluid Power Association's Fluid Power Vehicle Challenge. The competition is a design project where teams utilize industrial controls and components to build a hydraulic vehicle. All the power comes from the stored hydraulic accumulator that receives its charge from students pedaling the bike.
The project forces students to use the skills they have acquired in classes to create a vehicle that meets the various design constraints, including a maximum weight of 210 pounds, several hydraulic test ports and manual brakes that can bring the bike to a stop regardless of the situation.
This year, the team was multidisciplinary and included Electromechanical Engineering Technology, Design Engineering Technology and Mechanical Engineering students. The competing students included:
• Mike Antes from La Center, Washington
• Boaz Burnett from Murray, Kentucky
• Russell Dennis from Shepherdsville, Kentucky
• Austin Hawkins from Murray, Kentucky
• Gavin Klotz from Murray, Kentucky
• Dawson Martin from Murray, Kentucky
• Angel Santos from Chicago, Illinois
• Tatiyana Timmons from Radcliff, Kentucky
The advisors were Roger Riquelme and Jordan Garcia.
Unfortunately, the team was held back by unexpected component failures and could only compete in two out of the four races at the final competition in Ames, Iowa. However, the group still won the Pneumatics award, accompanied by $1,000 in prize money distributed to the students. This award goes to the team who best uses industrial pneumatics on their vehicle.
Even though the team did not achieve first place, the event was still an excellent opportunity to network and meet with industry professionals. In previous years this competition has led to internships, jobs and even graduate school offers.
**
Murray State University has been recognized as one of Abound's Colleges of Distinction 2023 Best Colleges for Adults.
According to Abound, these schools uphold the practices that create and reflect flexible programming, evening access, strong part-time student retention and graduation rates, affordable tuition and more. Through the support of innovative in-person and online programs, non-traditional and adult learners can find an efficient way to attend school while giving the attention they need to their job and family.
With regional campuses in Henderson, Hopkinsville, Madisonville, Paducah and Fort Campbell, Murray State's Center for Adult and Regional Education (CARE) offers opportunities for adult learners, non-traditional students and those looking to stay close to home. CARE also offers the Bachelor of Integrated Studies program, an adult student degree completion program with a flexible, individualized curriculum. Students can take courses at the Murray campus, regional campuses or online.
Learn more about Murray State's Center for Adult and Regional Education at murraystate.edu/care.