Racers Advance In NCAA Tournament – Defeat San Francisco
Racers Advance In NCAA Tournament – Defeat San Francisco
By Dave Winder | Mar 18, 2022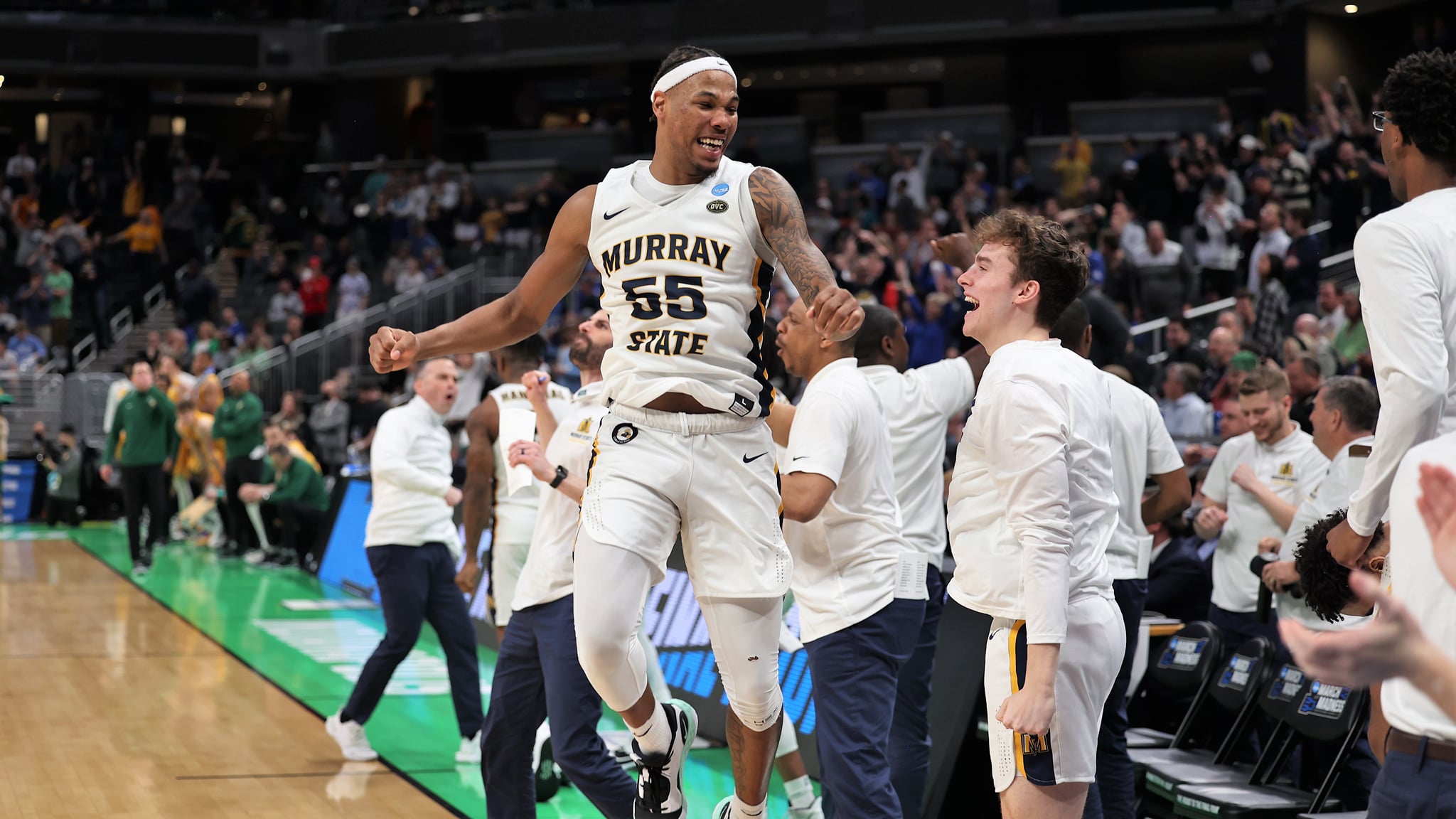 The Murray State Racers won their fifth game as they advance to the round of 32
The Murray State Racers (31-2) pushed their nation's best winning streak to 21 with a 92-87 overtime win over the San Francisco Dons Thursday at the 2022 NCAA Tournament at Gainbridge Fieldhouse in Indianapolis.
The Racers' fifth all-time win in the NCAA Tournament pushes them into a second-round game Saturday against Saint Peter's who upset Kentucky in overtime 85-79. Tip time is 6:45 p.m. Central Time as the Racers, the No. 7 seed, take on Saint Peters, the No. 15 seed.
Trae Hannibal and KJ Williams each scored 18 points to lead five Racers in double-figures including Tevin Brown with 17 points, 15 points from Justice Hill and 12 from Jordan Skipper-Brown who made it a double-double with 10 rebounds in only 17 minutes on the floor.
Trailing by a point at halftime 37-36, the Racers went to to toe with USF to produce an outstanding college game.
With 13:21 remaining, Brown missed a three, but got another chance when Williams grabbed the rebound and fed Brown again, who made his first 3-pointer of the night to tie the game 48-48. Hannibal dunked at the 12:48 mark to push the Racers in front 50-48 and DaQuan Smith and Williams followed with back-to-back threes for an 11-2 run and a 56-50 lead with 11:28 remaining. Brown scored five-straight points and MSU looked like they were going to cruise with their largest lead of the game 69-60 with 4:04 left.
But the Racers couldn't run away from the Dons and the game was tied when USF's Jamaree Bouyea hit a 3-pointer with 18 seconds remaining. MSU played for the last shot in regulation time, but when the ball got loose, they didn't get a shot off and the game went to overtime.
With Bouyea scoring an incredible 36 points, the Racers trailed the Dons for the final time 1:13 left when Williams scored on a drive for an 87-85 lead. After getting a defensive stop, Skipper-Brown scored with 31 seconds remaining to give MSU an 89-85 lead. He sealed it with a pair of free throws with 13.7 seconds left.
Game Notes
The Racers are 5-17 all time at the NCAA Tournament and 4-4 since 2010.

Coach Matt McMahon is 2-2 in the NCAA Tournament and 3-3 counting his time as MSU assistant coach under Steve Prohm from 2011-15.

Since 2010, the Racers are 4-4 in the NCAA Tournament under coaches Billy Kennedy (2010 win over Vanderbilt), Steve Prohm (2012 win over Colorado State) and McMahon (2018 win over Marquette and 2022 over San Francisco).

When MSU takes on Saint Peter's on Saturday, it will mark the first time in team history for MSU to be the higher seed in the round of 32.

Murray State has been in this spot four times previous, but have never advanced to the Sweet 16.

Prior to today, MSU's only other overtime game at the NCAA Tournament was in 1990 in Knoxville, when the 16th seeded Racers lost to No. 1 seed Michigan State, Lost 75-71.

MSU is now 3-5 in the NCAA Tournament in games with a winning margin of five or less points.

Brown has made a 3-pointer in 29 consecutive games. The last time he failed to make at least one three was against ETSU (Nov. 22).

Brown continues to extend his record for made 3-point baskets in the Ohio Valley Conference. After a 3-of-9 effort today, he has 351.

McMahon's outstanding success for the Racers now has him at 154-66 (.700) in seven seasons and 93-31 (.750) in OVC games. In his last five seasons, McMahon's Racers are an incredible 121-35 (.775).

Tonight's game was MSU's 48th all-time game as a ranked team. MSU is No. 20 this week in the Associated Press and USA Today Top-25.

MSU's win streak of 21 in a row is the best in NCAA D-I. MSU's longest program winning streak is also the OVC record of 25-straight by the 2014-15 team.

The Racers have the most wins of any team in the nation with 31, sharing that honor with Arizona.

The 36 points by USF's Jamaree Bouyea is the most of any opponent against the Racers in the NCAA Tournament. The previous best was 31 points by Georgia's Jarvis Hayes in 2002.