Racers Announce #KentuckyStrong Relief Efforts For Upcoming Games
Racers Announce #KentuckyStrong Relief Efforts For Upcoming Games
By Dave Winder | Dec 14, 2021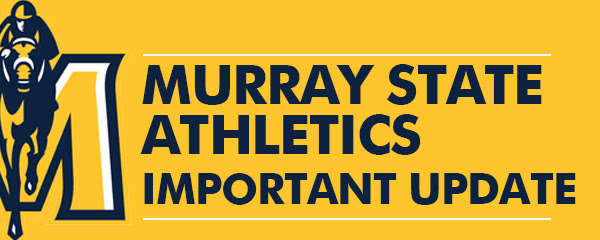 As the Commonwealth continues to navigate the catastrophic and heart-breaking events of Dec. 10, the Murray State Department of Athletics has announced a series of promotions for its upcoming basketball doubleheaders on Dec. 15 and Dec. 18 to help fellow Kentuckians in need.

Free General Admission For Both Games
With the events of Dec. 10 touching thousands of Kentuckians across multiple counties, the Murray State athletic department would like to honor all those affected and the first responders who were there for Kentucky when it needed them the most by offering free general admission tickets to both doubleheaders on Dec. 15 and Dec. 18.

Any fan can come to either game and go to the Upper B or Lower A entrances to claim a free general admission ticket. Complimentary general admission tickets will only be available the day of the game once gates open at 4:15 p.m. on a first-come, first-served basis.

Donation Drive
On both Dec. 15 and Dec. 18, Murray State Athletics will collect donations to support relief efforts for the recent tragedy and distribute all collected items to local charities. Any and all new non-perishable food items and clothing items will be accepted, but the items listed below are the most needed at this time.

Blankets, baby food, baby formula, baby wipes, bottled water, buckets, canned food, Clorox wipes, diapers, paper towels, personal hygiene items, socks, spray-on cleaners, toiletries, trash bags and undergarments are the items which can have the greatest and most immediate impact on those affected.

Collection bins will be available at both doubleheaders at the Upper B and Lower A entrances.

Swift & Staley Teddy Bear Toss
On Saturday, all fans attending the game are encouraged to bring new or gently-used teddy bears or stuffed animals to toss on the floor at halftime of the men's game against Chattanooga. All teddy bears and stuffed animals will be donated to local charities for distribution to children affected by the events of Dec. 10. All toys being tossed should be plush and soft in nature with other toy donations being welcome at the donation bins at Upper B and lower A.

#KentuckyStrong Monetary Donations
Fans wishing to give financially to help support those affected by the events of Dec. 10 can do so through numerous organizations, three of which are summarized below. All donations directly support relief efforts and those tragically impacted.
Commonwealth of Kentucky - "Team Western Kentucky Tornado Relief Fund"
secure.kentucky.gov/ formservices/Finance/WKYRelief

Journey Calloway - "Journey Church Tornado Relief Fund"
givejourney.com and select "Tornado Relief Fund"

Eight Days of Hope - "Eight Days of Hope Tornado Relief Fund"
give.cornerstone.cc/ eightdaysofhope

A Visit From Santa Saturday
Santa Claus will make a visit to the CFSB Center Saturday Dec. 18 and will be available to meet young Racer fans from 5:45-7:30 p.m. Saturday on the concourse between the Upper A and B entrances. In addition to photos with Santa, there will also be a "Reindeer Food" making station, as well as complimentary cookies.

Kids K-College Free
Wednesday and Saturday also mark the first two of four doubleheaders over the winter break in which all kids, kindergarten through college, can receive a free general admission ticket to the games. The promotion will be available for the men's and women's basketball doubleheaders on Dec. 15, Dec. 18, Dec. 30 and Jan. 1 with the goal to pack the student section with students of all ages and their families.