Murray State University hosts 'A President's Reception — A Celebration of Giving' as part of Racers Give fundraising campaign
Dec 13, 2019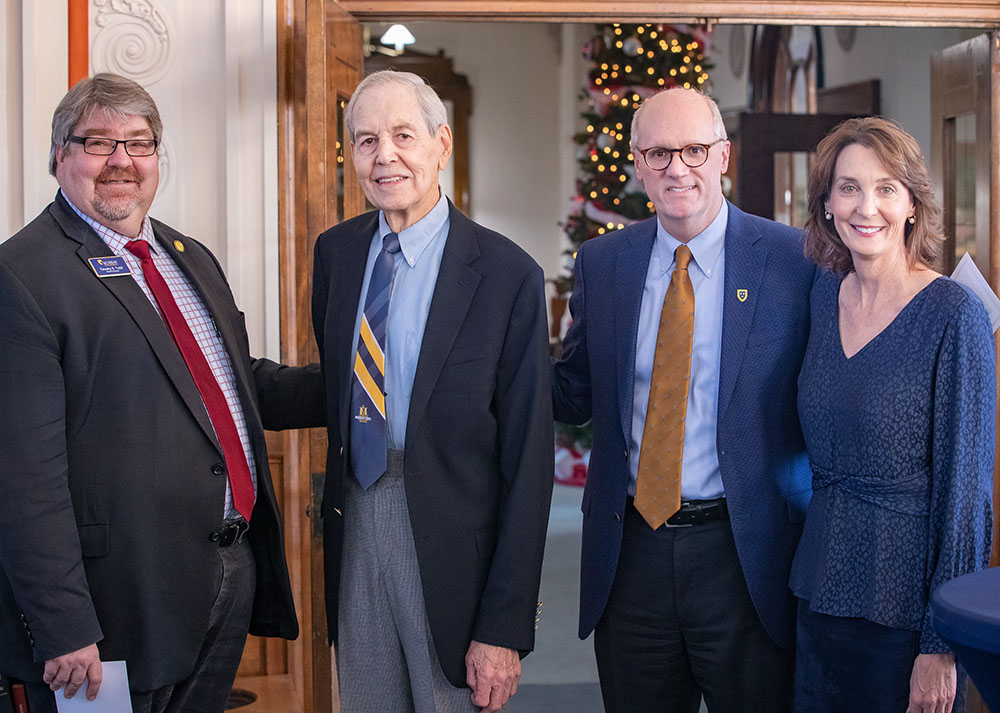 Donate to support need-based scholarships today at give.murraystate.edu
MURRAY, Ky. — Murray State University welcomed friends, supporters, alumni and the campus community to "A President's Reception — A Celebration of Giving" Dec. 4 at Pogue Library. The event celebrated the season of giving and shone a spotlight on President Dr. Bob Jackson's appreciation of all who support the University.
The University is nearing its stretch goal of $200,000 for the ongoing Racers Give fundraising campaign, with every dollar raised going to support need-based scholarships for Murray State students.
Jackson, who opted to forego a standard investiture ceremony as the 14th president of Murray State, thanked all who have generously contributed to the scholarship fundraiser.
"In lieu of that investiture ceremony, we're focusing on our students," said Jackson, a 1985 graduate of the University. "I was one of those students, too. I needed that help when I was here, and I had the good fortune of individuals helping me. I think it's a fitting gesture that we help many others in the weeks and months ahead."
Dr. Jesse D. Jones, a 1964 alum, longtime University supporter and namesake of the Jesse D. Jones College of Science, Engineering and Technology, spoke at the event.
"Dr. Jackson has done something unusual in that he's taken money that would be spent on an investiture and placed it into a scholarship fund, and I thank him for doing that," Jones said.
To contribute to the Racers Give campaign, please visit give.murraystate.edu.
To learn more about how your gift makes a difference at Murray State or to donate today, please call the Office of Development at 270-809-3001.
"As Racers do, we have exceeded expectations and soared over our original goal of $100,000," said Executive Director of Development Tina Bernot. "President Jackson has asked our community to keep giving — and reach for $200,000 — in total support for need-based scholarships. We will keep the campaign open for the remainder of December, so if you have given, thank you so much! And if not, please visit give.murraystate.edu and support the Racers Give campaign today!"