Dr. Robin Zhang named recipient of 2023-2024 Neil Weber award
By Angela Guyton | May 24, 2023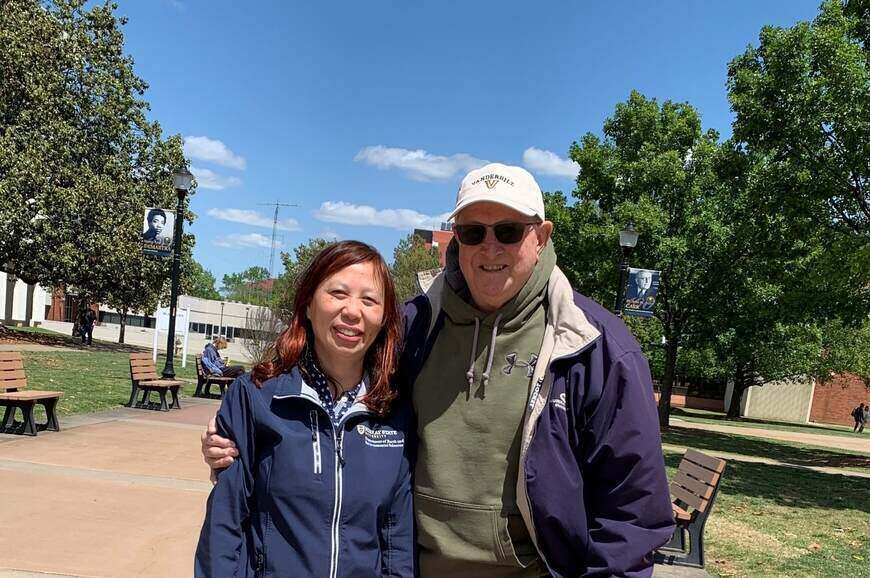 MURRAY, Ky. – Murray State University's Dr. Robin Zhang, a chair and professor of Earth and Environmental Sciences, has been selected to receive the 2023-2024 Neil Weber Award for Excellence in the Jesse D. Jones College of Science, Engineering and Technology (JCSET).
The Weber Award was established as a special tribute to former college dean Dr. Neil Weber after his retirement from Murray State University. The endowment for this award was provided through a generous gift by Dr. Jesse D. Jones, a JCSET alumnus who is a strong supporter of Murray State faculty and students, and one who shares the University's commitment to excellence in math and science education.
Recipients are chosen by a committee, with selection based on the nominee's achievements in several areas, including outstanding service and contributions to the University through academic research grants and development, classroom activities, student recruitment, governmental relations, publications, program leadership and/or assistance with matters of accreditation. Recipients receive a $2,500 stipend for the next academic year to be used for research, conferences, travel or other projects.
"Dr. Zhang has served Murray State and the surrounding community for many years. She teaches and conducts research in the Department of Earth and Environmental Sciences and she was instrumental in developing bike paths and sidewalks around Murray in her role as an urban planning instructor. She has served as chair of her department since 2016, broadening the curriculum to help students find meaningful careers, and supporting faculty as they conduct innovative research," stated Dr. Claire Fuller, dean of the Jesse D. Jones College of Science, Engineering and Technology.
Zhang received her Bachelor of Science degree from Nanjing University (Nanjing, China), Master of Science degree from the Chinese Academy of Sciences and Ph.D. from Western University in London, Ontario, Canada. She came to Murray State University in 2003 as an assistant professor, was promoted to associate professor in 2009 and full professor in 2014. Since 2016, she has served as the chair of the Department of Earth and Environmental Sciences (EES). Zhang led the transition of the department from Geosciences to EES, revising the curriculum and forging a new identity. For the last seven years, Zhang also served as a Co-Principal Investigator of the National Science Foundation-funded MSU ADVANCE project, advancing women faculty in the sciences. She is a 2020 Fellow of the Bluegrass Leadership Academy and a 2021-2022 Fellow of the IAspire Leadership Academy. She teaches courses in GIS, Remote Sensing and Geography. Her research interests include remote sensing and GIS modeling of land cover and land use change, urban development, resource management and environmental hazards.
"I am honored to receive the Neil Weber Award and appreciate the recognition of my various service roles and being a supporting actor alongside the stars," said Zhang. "I owe it to my colleagues who see me and support my work, and I thank the committee for choosing me. This award also means a little bit more to me personally since Dr. Weber hired me during his first year as the dean of our college and I was considered his 'replacement' in his former home department. His shoes are still pretty big to fill to this day."