Murray State University students participate in service learning project
By Kaitlyn Black | Feb 26, 2021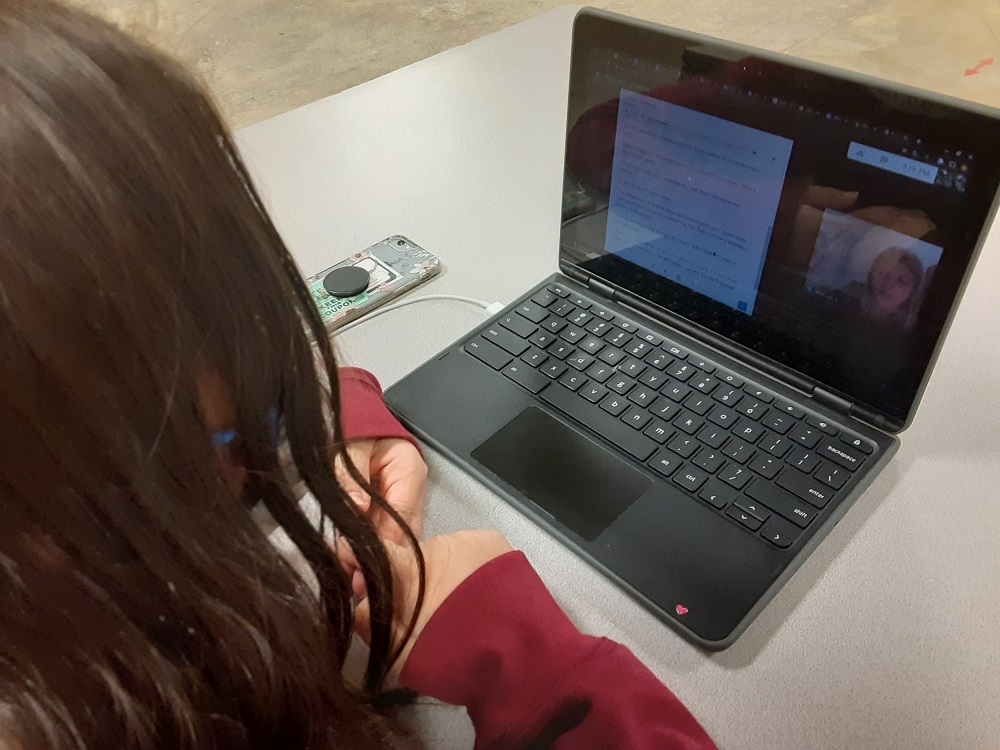 Students in Spanish courses team up with English language learning students at Mayfield High School
MURRAY, Ky. — Students studying Spanish at Murray State University are participating in a service learning project with English language learners (ELL) at Mayfield High School. Dr. Robert Fritz, assistant professor of Spanish at Murray State, and Mr. Niaz Khadem, ELL teacher at Mayfield High School, coordinated the project.
"We began discussing the partnership in early 2020," says Fritz. "After the pandemic hit, we weren't sure what would happen, but we decided to move forward because we had all the technology at our disposal to make the program work through online meetings. During the semester, we had to deal with school closings due to infection rates, as well as participants who fell ill to COVID-19. I was impressed by how flexible and resilient everyone was — both our counterparts at Mayfield and the Murray State students."
The two groups of students meet twice a week remotely through Google Classrooms and use the online library Readworks for English language practice. The Murray State students use their Spanish skills to help the ELL students through the elementary English-language texts and assignments, and the ELL students provide the Murray State students with opportunities to use their Spanish in genuine, goal-oriented communicative contexts. The Murray State students then share reflective essays about their experiences with one another through a Canvas forum.
"Collaborating with Murray State has been great," says Khadem. "Our students enjoyed working with the tutors. I think the one-on-one interaction was important. In this time of social distancing, it was good for them to make connections. The tutors from Murray State participated with a real spirit of service. I appreciated how proactive and committed they were."
Megan Smith, a junior Spanish education major from La Grange, Kentucky, is a participant in the project.
"This program is challenging, but it got me out of my comfort zone and improved my ability to speak Spanish, especially speaking Spanish to native speakers. However, just as much as practicing Spanish, I enjoyed helping the students and seeing them grow. I enjoyed hearing about their lives and how they were doing in school, the things they could express so well in Spanish, but struggled getting across in English."
Fritz believes that the program cultivates a greater appreciation by Murray State students of the diversity in western Kentucky, while it also helps the Mayfield High School students develop stronger connections to the wider community.
"Although both groups of participants come from different countries and cultural backgrounds, one thing they have in common is that they are all language learners. I hope this shared identity can serve as the basis for bridging linguistic and cultural divides within our community," says Fritz.
Smith says learning Spanish has made her more thoughtful about the lives and experiences of others.
"I think that's why it's so important for people to study other languages. It helps you realize that other people are just like you, but they say things in a different way. You can empathize and learn from people a little more than you could before. Nobody says you have to be fluent. You just need a little understanding."
In addition to creating connections among varied groups of people, developing a facility with another language has professional benefits for students, too.
"People who speak more than one language have higher salaries on average, as well as greater job security," says Fritz. "But foreign language study is also a process of self-mastery: in order to become good at it, you have to confront your fears of making mistakes or being misunderstood. You also have to devote time and energy to frequent, active practice. That requires discipline. Ultimately, the skills that students develop through the study of languages are the very same skills that will enable them to be successful at just about anything."