Music students compete in National Trumpet Competition
Music students compete in National Trumpet Competition
By Carrie Jerrell | Apr 7, 2022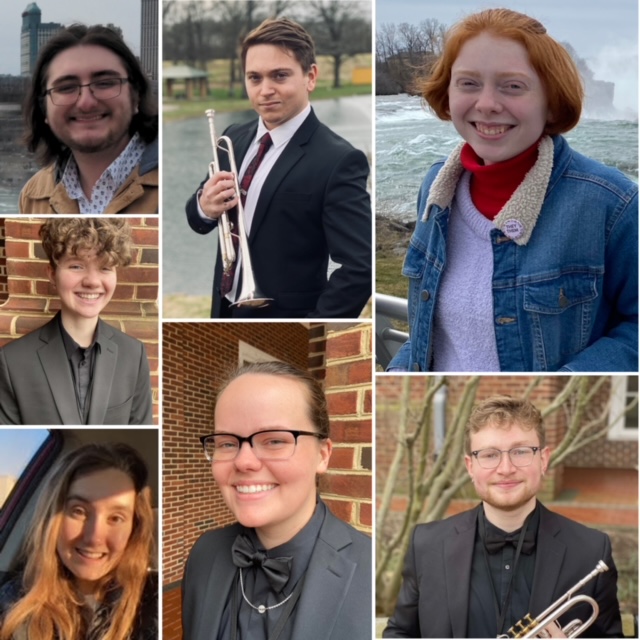 MURRAY, Ky. — A group of Murray State University music students recently competed in the National Trumpet Competition (NTC), the largest instrument competition in the world. The students, who participated in the Large Trumpet Ensemble Division, recorded their entry in December and were accepted to the quarterfinal round of NTC, held at the University of Delaware on March 31.
Inaugurated in 1992, NTC has provided performing opportunities, master classes, exhibition concerts, historic and commercial exhibits and an educational, supportive environment for nearly 12,000 students. To date, these students have represented 40 U.S. states as well six other countries. Nearly 100 artist faculty members coming from universities and symphony orchestras around the nation have donated their time and talents to judge for NTC. NTC also has the largest archive of educational and performance events in the world, with over a half-million downloads from hundreds of concert highlights and archived masterclasses. This archive is accessible to the general public for free.
Members of the Murray State ensemble include Adam Blake, senior from Murray, Kentucky; Ryan Hagood, senior from Alvin, Texas; Ryn Jenkins, senior from Murray, Kentucky; Nick McKenzie, senior from Atoka, Tennessee; Emma O'Bryan, senior from Owensboro, Kentucky; Chloe Perry, junior from Evansville, Indiana; Bek Schmidt, sophomore from Cordova, Tennessee; and Max Welch, freshman from Evansville, Indiana. In addition to playing in the ensemble, Chloe Perry entered and was accepted to the Undergraduate Solo Division quarterfinals. The group performs under the guidance of Dr. Eric Swisher, professor of music at Murray State.
Although the group did not win the division title, the student performers believe the experience was still very positive. Perry, who plays the flugelhorn in the ensemble, said that participating in the group has improved her communication and collaboration skills as a musician.
"I enjoy the community of the ensemble and the close bonds we have developed throughout many, many rehearsals," said Perry. "One of the reasons I came to Murray State in the first place is because of the awesome people that attend and work here, such as my peers in the ensemble and Dr. Swisher."
O'Bryan, who also plays the flugelhorn, appreciates how playing in the ensemble "allows for all of the members to take an active leadership role that directly correlates to the success of the ensemble." She also says her favorite part of being a music student is studying under knowledgeable professors. "I feel especially blessed to study under Dr. Swisher who is not only a fantastic teacher, but also an incredibly caring person."
McKenzie, who plays the upper register parts in the ensemble, echoes his peers' praise of Eric Swisher. "Dr. Swisher's persistence and patience is unmatched. I've truly never met a teacher that cares so much about not only his students' musical progress, but how they are growing as a person."
"My favorite part of being in the trumpet ensemble is being able to make exciting music with my best friends," says Hagood, who especially enjoyed playing the section of the groups' entry "where the trumpets are playing high dynamic stab notes where the flugelhorns are playing fast contrasting chromatic runs. The level of knowledge and pedagogical skills that the professors in the music department behold motivates me to become a better musician every day."
"I (also) love the kind and supportive environment of our ensemble," said Blake. "We all have our weaknesses as musicians, and sometimes it can be difficult to work through these weaknesses when surrounded by other great players. But with our group, I can feel comfortable addressing my shortcomings, because I know that I will always have seven other people in my corner willing to lend a hand."
"It makes me really proud to be a part of the group to see how far we've come," said Schmidt. "I simply love being able to learn more each and every day and getting to apply in so many different ensembles."
"My favorite portion of the piece is one that we've nicknamed 'Where's the Beetle' because that's what it sounded like to one of our group members," said Jenkins. "We play off of each other in chromatic and rhythmic sections and it's a lot of fun to play. I love working with everyone in the group and creating beautiful music, and my favorite part of being a music major at Murray State is the community that we've formed here. I've met most of my closest and hopefully lifelong friends through this department."
For more information about the Department of Music please visit murraystate.edu/music.