New Swift & Staley Inc. Scholarship to benefit students at Murray State University's Paducah Regional Campus
By Kaitlyn Black | Mar 24, 2021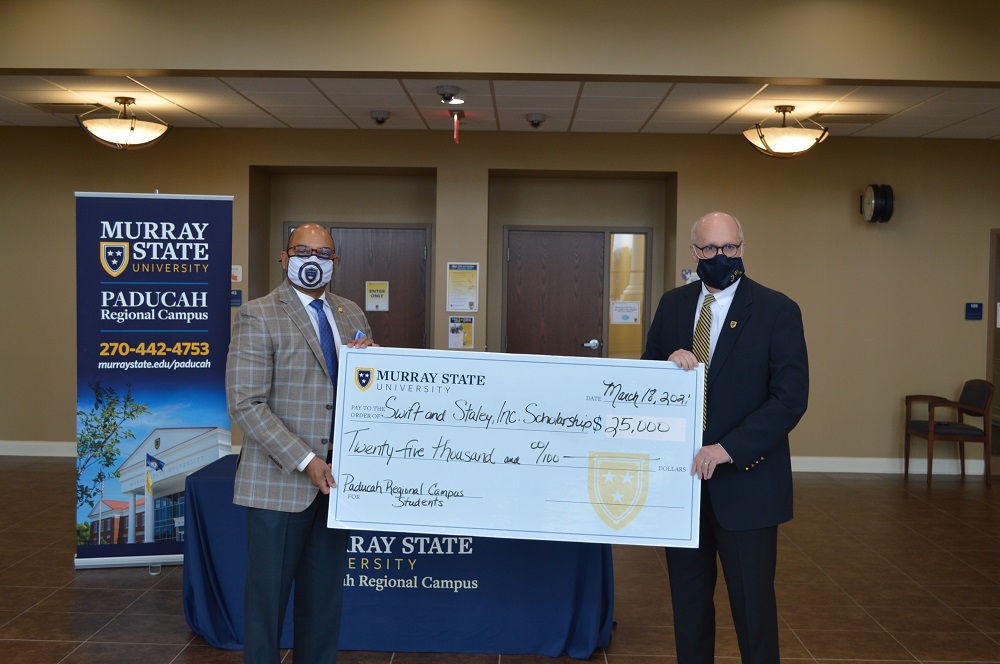 Murray State continues to offer scholarships and programs to further student success
MURRAY, Ky. — Murray State University and the Murray State University Foundation recently introduced the Swift & Staley Inc. Scholarship. The scholarship will be used as a tool to assist students at Murray State University's Paducah Regional Campus in obtaining an education to prepare them for a career.
"Swift & Staley Inc. is proud of its partnership with Murray State University and the Paducah Regional Campus. Our community and region is blessed to have a comprehensive university that emphasizes academic and scholarly excellence,"' said Swift & Staley, Inc. President and Murray State Board of Regents member, alumnus Leon Owens. "We are hopeful the new scholarship will provide non-traditional students with the support to continue their respective educational pursuits."
Swift & Staley Inc. is a local employee-owned business headquartered in Paducah, Kentucky. A mechanical contracting company that originally began in 1979, Swift & Staley Inc. continues to support and influence the communities around them. Their services include faculty support, safeguard & security/automated access control services, administrative support and records management.
Swift & Staley Inc. prides itself on being an active and participatory member of the community.
Numerous SSI employees are alumni of "the finest place we know", and it is an honor for the company to
partner with Murray State to offer the Swift & Staley Inc. Scholarship to aid the educational endeavors of students.
"We are very grateful to Regent Leon Owens and Swift & Staley for their support of Murray State University students. This scholarship support will help many students who may not otherwise be able to afford higher education. This assistance is a real difference-maker as we assist students and advance our academic programs," stated Murray State President Dr. Bob Jackson.
This scholarship will be specifically for transfer or returning students with 45 or more total credit hours. Recipients must also be full-time or part-time students at Murray State attending the Paducah Regional Campus only. If interested, students should apply through the current scholarship application portal to be eligible.
"The Swift & Staley, Inc. Scholarship will provide extended life and career opportunities for our nontraditional students and make an intergenerational impact that will change lives forever. I am grateful to Regent Owens and Swift & Staley for their continued commitment to our community and to Murray State University," said Jennifer Frazier, Director of the Paducah Regional Campus.
To learn more about ways to support the Swift & Staley Inc Scholarship, please visit murraystate.edu/givenow.