The Jason Lee McKinney Band recorded their newest album in the Murray State University recording studio
The Jason Lee McKinney Band recorded their newest album in the Murray State University recording studio
By Alex Pologruto | Mar 17, 2022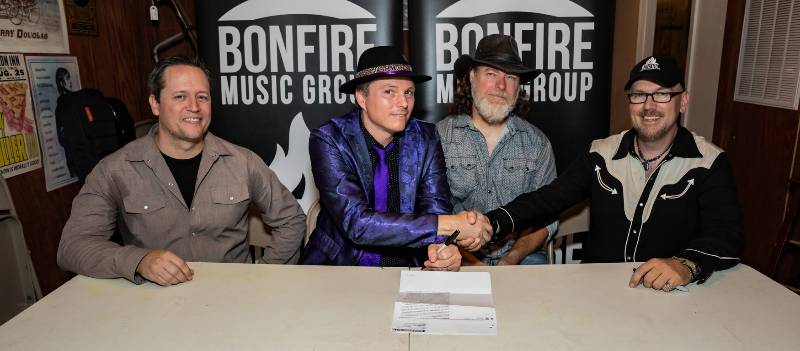 A successful Americana group provides faculty and students with the opportunity for performance and production credits
MURRAY, Ky. — The Murray State Department of Music's recording studio stays busy, but in between recording the University's various musical ensembles and hosting four different audio production courses, the facility manages to work in one or two extra-curricular projects per year to stay sharp. One such project is The Jason Lee McKinney Band's new album "One Last Thing" on the Bonfire Music Group label. McKinney has a long history with Murray State's studio engineer and recording instructor, Justin Patton.
"We're old friends, which helps make the recording process a lot of fun, and I always meet great new musicians when Jason brings folks to town. Many of those contacts have gone on to contribute to our program here at Murray State," explained Patton. "One of my favorite stories involves Jason meeting Rob Ickes while on tour overseas, and Rob coming to track dobro. I got to work with the most awarded instrumentalist in the history of the International Bluegrass Music Association for a day."
The networking has proved mutually beneficial, as musicians from the Department of Music have contributed to McKinney's latest project. Faculty member Dr. Todd French and recent graduate Ben Gerkins played trombone and trumpet respectively, while music business student Zane Birdsong assisted during the recording process. This is not the first time a student has been credited for work on a notable release.
"In 2014 we recorded an independent project for Jason on the stage of Lovett Auditorium and it won the Independent Country Music Association's album of the year award," recalled Patton. "Former student Kent McCarthy helped set up our equipment and managed quite a bit of that session. The stage of Lovett is exactly like a soundstage when the curtain is drawn; it is a best-kept secret, acoustically speaking. However, this new album was recorded in our Pro Tools facility. It's a small studio, but there's no doubt we got better sounds this time around. I've always appreciated Jason's songwriting, but I am of the opinion that this release represents the best work from both of us."
With elements of blues, soul and "red dirt" country, The Jason Lee McKinney Band fits most easily into the Americana category. But as any true fan knows, it is difficult to find a more expectation-defying genre than Americana. A solid groove and soulful vocals are McKinney's two great constants and the new album features Nashville session player Sam Berce, whose guitar wizardry is not to be missed. "One Last Thing" will be released in its entirety on Mar. 18. For more information on the release of the Gospel-infused album visit bit.ly/3IeFp3Z.
For more information please contact Justin Patton at jpatton@murraystate.edu or 270-809-5338, and watch the music video of the song "When I'm Gone" featuring some of Murray State's local horn talent at youtube.com/watch?v=XZAvxB6VnpA.