Theatre Program presents "The Fisherman and His Wife"
Theatre Program presents "The Fisherman and His Wife"
By Alex Pologruto | Sep 20, 2022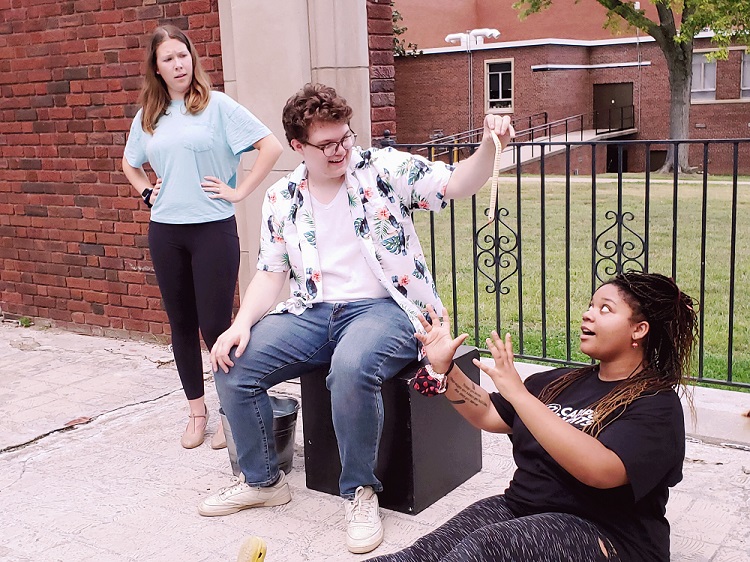 MURRAY, Ky. — The Murray State University Department of Global Languages and Theatre Arts is pleased to present "The Fisherman and His Wife", on Wednesday and Thursday, Sept. 21 and 22, at 9:30 a.m. and noon; Friday, Sept. 23 at 9:30 a.m.; and Saturday, Sept. 24 at 2:30 p.m. All performances are in the Robert E. Johnson Theatre on the campus of Murray State University. General admission is $3.00 per person. Murray State students are admitted free with their student ID.
Adapted by Claudia Haas, "The Fisherman and His Wife" is an interactive show for young audiences that follows a fisherman who hits the jackpot when he stumbles upon a magic talking fish. The simple, sweet fisherman is content to continue his way of life, but his ambitious wife is determined to take advantage of their good fortune. Narrated by Scat, the magical fish with a flair for jazz, this couple discovers the consequences of being greedy with the help of the audience.
Senior theatre major, Andrew Bittenbender from Floyd's Knob, Indiana, is the director of the show.
"The characters are constantly talking with the audience and encouraging them to respond back," said Bittenbender. "There's a lot of call and response, and even some encouragement for the audience to become waves in the water. It is a highly interactive show that is great for kids and families."
Cast member Mack Slack, a junior theatre major from Belleville, Illinois, believes the show also offers helpful reminders to audience members.
"The Fisherman and His Wife is completely full of life while also reminding us of the importance of being grateful," said Slack. "This interactive show allows the cast to captivate the audience by truly taking them along for the ride. If you like a little jazz and you're ready for a good time, this show is definitely for you."
"I think audiences should come see The Fisherman and His Wife because they'll love being transported into such a magical and interactive environment," said cast member Anna McGreevy, a junior communications disorders major from Louisville, Kentucky. "I believe they'll also enjoy the jazzy, enchanted feeling of the show while discovering an important lesson about greed."
Danny Preklas, a freshman musical theatre major from Paducah, Kentucky, rounds out the cast for the production.
Tickets for the Wednesday – Friday shows are $3.00 general admission, payable at the box office. Tickets for the Saturday show can be purchased at murraystatetickets.com. Admission to all shows is free for students with a Murray State ID.
For more information, contact 270-809-4421. To learn more about Murray State's theatre arts program please visit murraystate.edu/theatre.