Theatre Arts program presents Henrik Ibsen's Ghosts
By Carrie Jerrell | Oct 19, 2022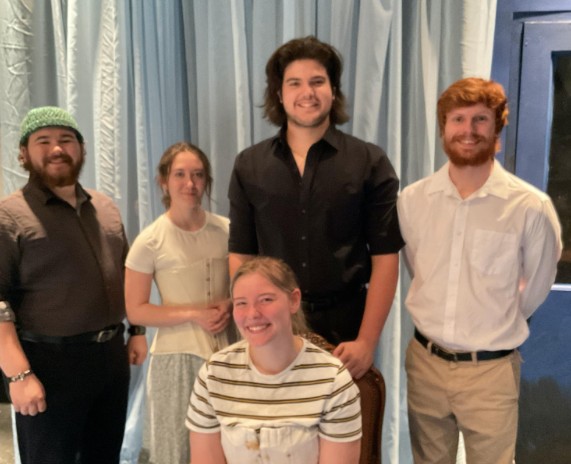 MURRAY, Ky. – The Murray State University Department of Global Languages and Theatre Arts is pleased to present Ghosts on Thursday, Friday and Saturday, Oct. 20 – 22 at 7:30 p.m.; and on Sunday, Oct. 23 at 2:30 p.m. All performances will take place in the third floor studio theatre of Wilson Hall on the campus of Murray State University. General admission is $10 per person. Murray State students are admitted free with a valid student ID.
Written by acclaimed Norwegian playwright Henrik Ibsen (1828 – 1906), Ghosts follows Helene Alving, who has spent her life suspended in an emotional void after the death of her cruel, but outwardly charming husband. Helene is determined to escape the ghosts of her past, by telling her son, Oswald, the truth about her husband's cruelty, alcoholism and lechery. But upon his return from his life as an artist in France, Oswald reveals how he has already inherited the horrendous legacy of his father's dissolute life.
Ibsen is the second most produced playwright in the world, after William Shakespeare. Many scholars credit Ibsen with single-handedly creating the style of realism in the theatre, for which he is often considered the "father of modern theatre." His works, A Doll's House, Hedda Gabler, Ghosts, and An Enemy of the People are all considered groundbreaking realistic plays which transformed the theatre from an activity of pure entertainment into a vital and progressive art form by taking on social, cultural, economic and political issues.
The Murray State production has been adapted by Daryl W. Phillipy, associate professor of theatre arts and director.
"Ibsen is perhaps the very first 'feminist' playwright," said Phillipy. "In his plays, he challenges the assumptions of the constrictions placed on women during his lifetime by society. Ghosts certainly has a strong, free-thinking and independent woman in the role of Mrs. Helene Alving. He genuinely challenges the status quo of a close-minded and conservative society in his home nation of Norway, and indeed that type of society was prevalent throughout Europe, and in the United States."
The cast of Ghosts includes senior musical theatre major Abby Ankrom from Troy, Illinois; junior musical theatre major Olivia Beach from Louisville, Kentucky; freshman theatre major Jackson Bell from Murray, Kentucky; freshman theatre major Duncan Hollis from Union City, Tennessee; and sophomore theatre-film concentration major Holden Mast from St. Louis, Missouri.
For more information about tickets, call 270-809-4421. To learn more about Murray State's theatre arts program please visit murraystate.edu/theatre.