Murray State University professor co-authors new publication
By Shawn Touney | Feb 26, 2021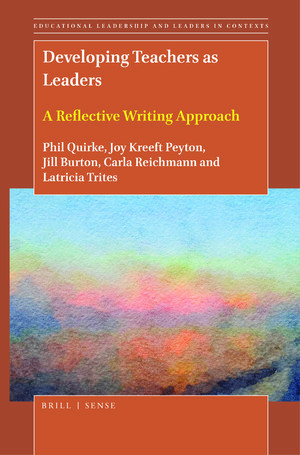 MURRAY, Ky. — Dr. Latricia Trites, professor of TESOL (Teaching English to Students of Other Languages) and English and Director of the TESOL program at Murray State University, has co-authored a new book, Developing Teachers as Leaders: A Reflective Writing Approach, published by Brill.
"(My co-authors and I) hope that this book will help teacher leaders to be more reflective not only in their own teaching practices, but also in the training of future teachers," says Trites.
"My chapter focuses on the Multidimensional Mentoring Model that I developed while I was on a Fulbright in Taiwan in 2009. I explored how teacher candidates are mentored by their supervising teachers and their university supervisors and how we can help all levels to be more reflective and supportive of teaching practices."
This is the third book that Trites has written with co-authors Phil Quirke, Joy Kreeft Peyton, Jill Burton and Carla L. Reichmann. Their partnership began 20 years ago with the book, Journal Writing in ESL.
"What I think is interesting about our group is that we are located all over the world. Phil is in the UAE, Jill is in Australia, Carla is in Brazil and Joy and I are in the United States. When we presented (Journal Writing in ESL) at the TESOL Convention in Salt Lake City in 2002, we, as authors spent quite a bit of time getting together and learning about each other's research.
"Throughout the years, we have presented together on the topic of journal writing and reflective teaching practices. As a result, we decided to write a second book, Reflective Writing – A Way to Lifelong Teacher Learning that was published electronically with TESOL (in 2009)."
For the last several years, the group has submitted their book proposal to a number of publishing companies. When it was finally accepted in December 2019, the authors wrote their chapters independently and shared them with each other, then drafted and revised the first and last chapters of the book together. Final drafts were submitted to the publishers in May 2020, who returned the draft to the authors with feedback from independent reviewers in July. Revisions and minor edits took place from late summer through the fall, and the book was published in January 2021.
Trites says the editing process was challenging, but the collaborative nature of the project made the work more manageable.
"Writing during a busy semester is always hard, but after experiencing a personal hardship, finding the time and motivation to revise and edit was tough. My co-authors were understanding and supportive throughout the process. They put me at the end of the revision and editing chain, so that I was given more time to look over and work on the manuscript. In addition, when we discussed revisions with the publisher, I was happy to find that my co-authors were also supportive about sticking to our vision and not removing elements that we considered important."
Trites believes that TESOL is an important area of study because it trains teachers to be more aware of multicultural issues and the role that a person's background and life experiences play in their ability and desire to learn. It also allows teachers to be advocates for students and to help other classroom teachers to be more aware of teaching strategies that will be beneficial in differentiating their curriculum to help English Language Learners (ELLs) be successful.
"Over the years, our undergraduate program has grown as more students want to become English language teachers both in the United States and abroad. Many of our students start out with a simple love of multiculturalism and language study and develop a desire to help others become more competent in communicating with others. The desire to foster multiculturalism, tolerance, and cultural understanding is probably one of the greatest outcomes of the program," says Trites.
For more information about the Murray State TESOL programs, visit murraystate.edu/tesol or email Dr. Trites at ltrites@murraystate.edu.