Murray State University unveils two campus statues recognizing Dr. John W. Carr and Racer One
Nov 2, 2020
Generosity from University supporters funds permanent sculptures to further enhance the beauty of campus
MURRAY, Ky. — Murray State University formally unveiled a pair of statues Saturday, Oct. 31 to recognize an instrumental figure in the institution's history as well as a beloved campus tradition, thanks to the generous support of alumni and friends of Murray State.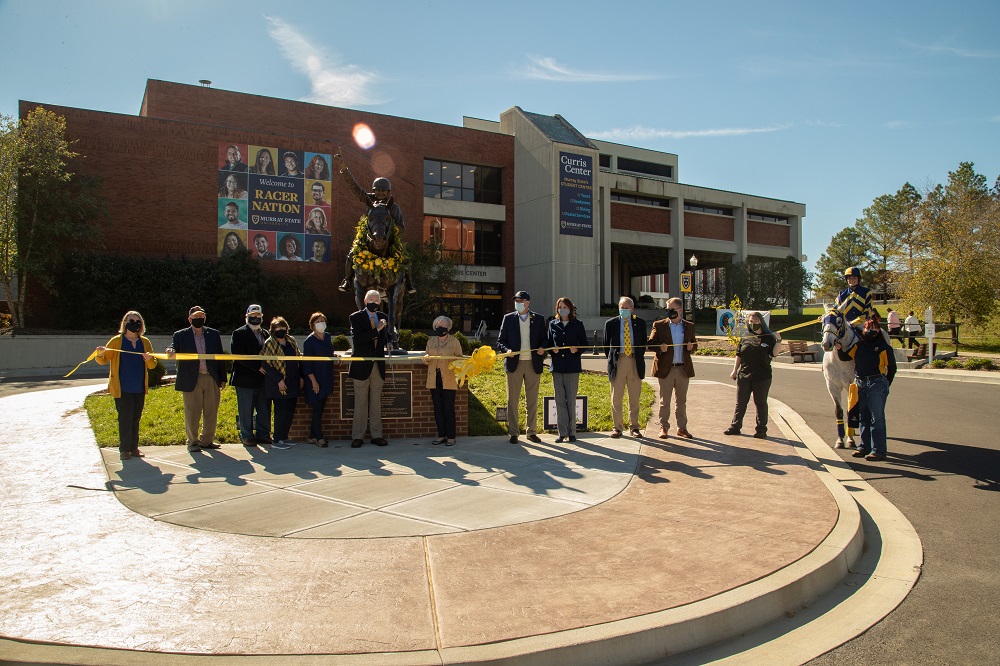 Murray State's favorite thoroughbred, Racer One, is now permanently displayed on campus. The sculpture, which is 150% larger than life size, displays Racer One and jockey, and is located in front of the Curris Center off of Chestnut Street. The monument honors Racers of the past, present and future, and its location is where hundreds of students arrive each year for campus tours as a first step in becoming Racers.
The lead gift was generously made by alumni and long-time supporters Dr. Jack Rose '65, '67, '71 and Janice Rose '67, '70, coupled with other major gifts from alumni and supporters to fund the project. Dr. Jack Rose was a Professor and Dean of the University's College of Education and Human Services, Calloway County Schools Superintendent and Mayor of Murray, Kentucky. Janice was a lifelong educator in the Calloway County Schools.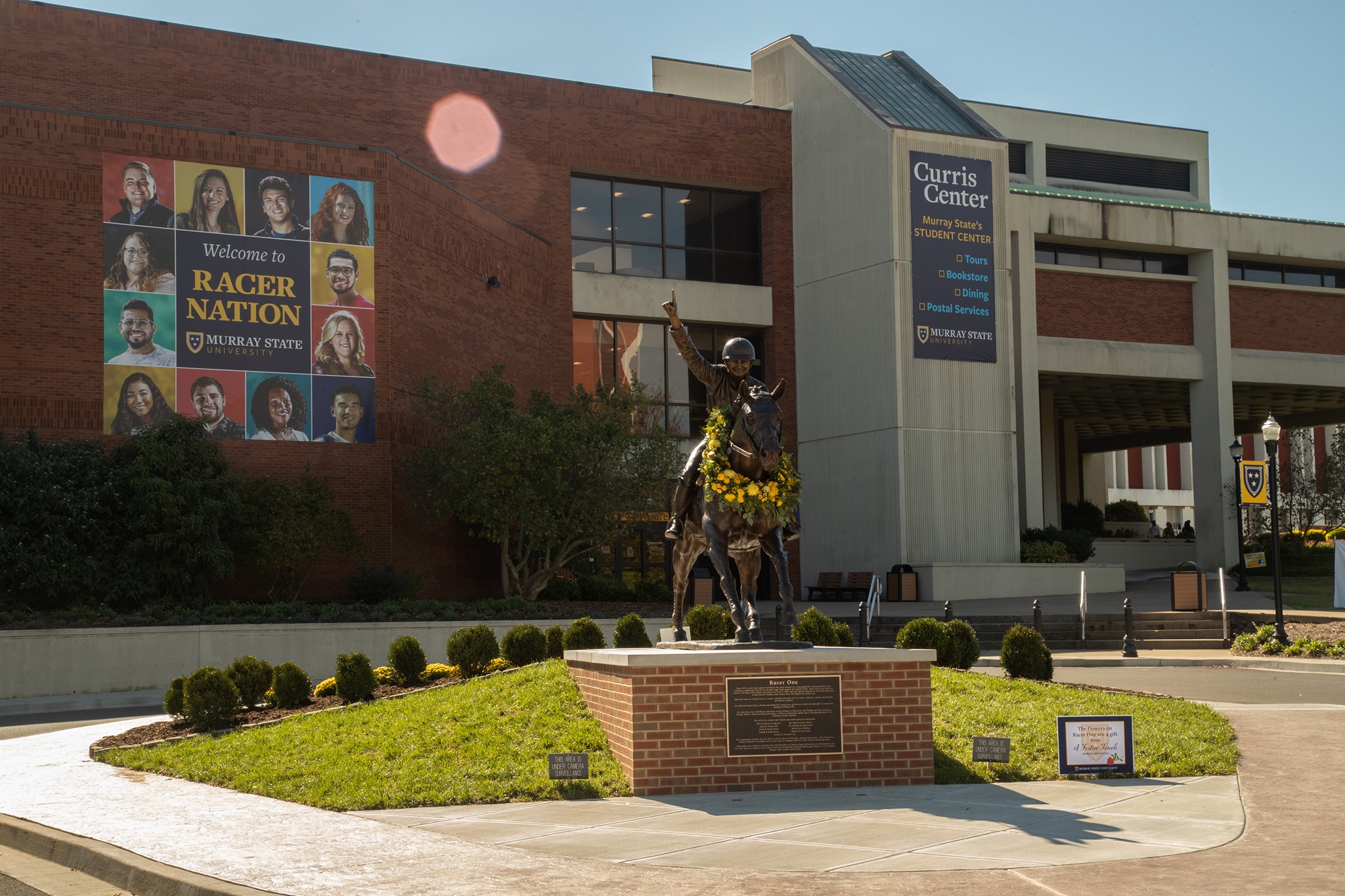 In addition to the Rose family who generously donated the sculpture of Racer One, alumni and friends who made generous donations to create the base of the sculpture of Racer One include Dick Anderson '80, '81 and Maureen Anderson; David Dill '90 and Ashley Dill '89; Frank Doran '77 and Susan Doran '76, '78; Harold Doran '75 and Kelly Doran '85; Dr. Melvin Henley '61,'64, '90 and Rita Henley '78; Dr. Michael Porter '64, '69 and Lana Porter '65, '72; Kris Robbins '81, '83 and Lori Robbins '80; Dennis Smith '89 and June Smith '93, '99; and Friends of Pinnacle, Inc.
The gifts were made to recognize the 14th President of Murray State, Dr. Bob Jackson '85 and wife Karen '84, to enhance campus with an outstanding landmark while paying tribute to students, faculty, staff, alumni and friends.
Since 1976, every home-game touchdown has been marked by a thoroughbred, nicknamed Racer One, running a celebratory lap on the Marshall Gage Track around the football field. Violet Cactus was the first horse to fill Racer One's shoes, and when she died in 1984, she was buried adjacent to the north end zone at Roy Stewart Stadium, near where Racer One begins its victory lap.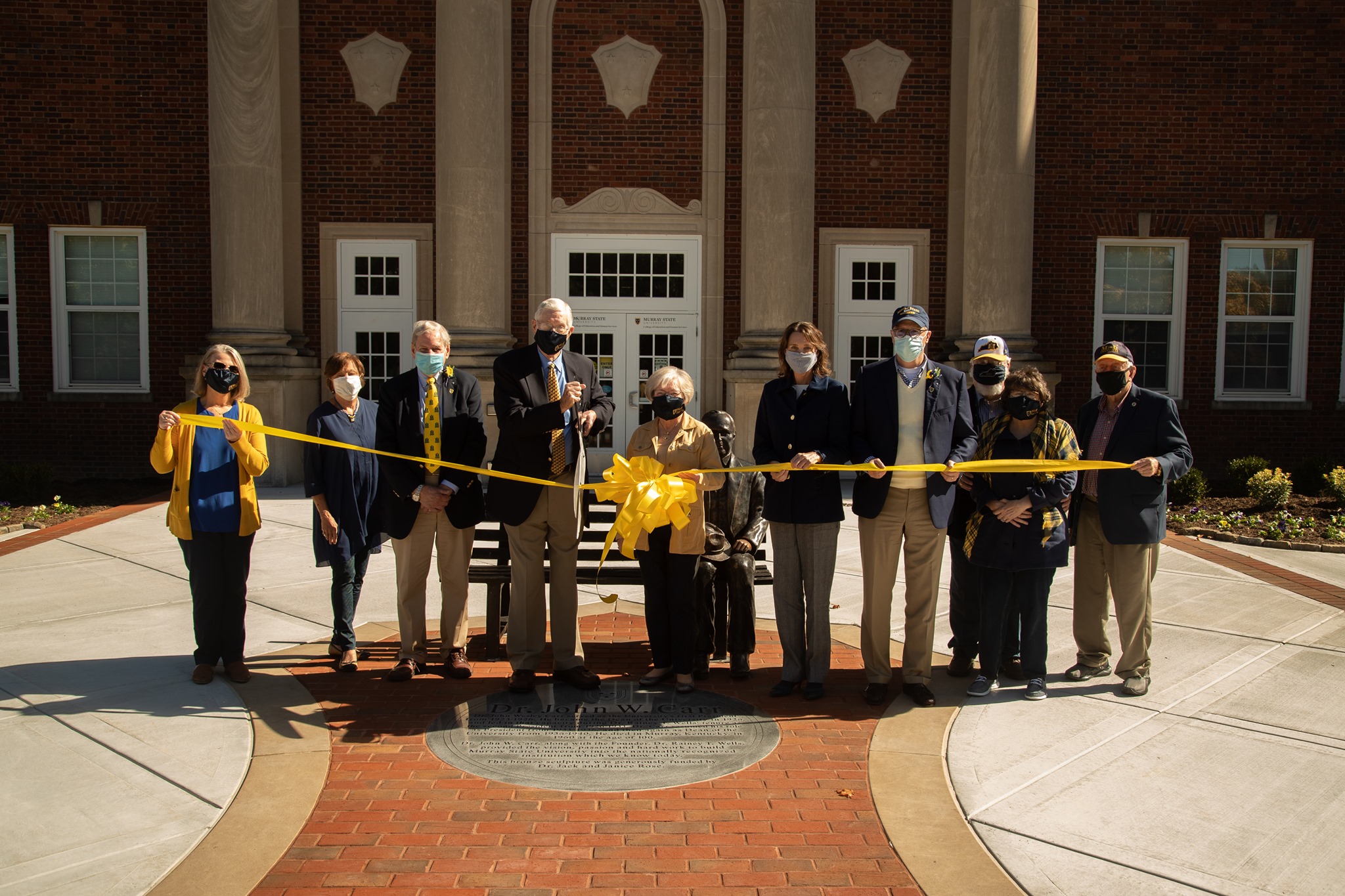 Situated in front of John W. Carr Hall, the likeness of the building's namesake is featured in a prominent location in front of the building and has great visibility from the pedestrian mall area of campus. A life-sized Carr, seated on a bench, is part of a larger re-designed plaza area which includes seating for individuals around the statue area. Another nice touch within the plaza is a large granite medallion that is embedded in the walking surface in front of the sculpture.
Dr. John Wesley Carr served as the University's first President from 1923-1926. He became Dean of the University in 1926, and led in that capacity during Dr. Rainey T. Wells' tenure as the second President from 1926-1933. Dr. Carr resumed his role as President from 1933-1936, and then again as Dean of the University from 1936-1940. He died in Murray, Kentucky in 1960 at the age of 100. Carr was referred to by some as "The Grand Old Man of Murray State College" as a widely-used term of endearment.
The sculpture was generously funded by Dr. Jack and Janice Rose.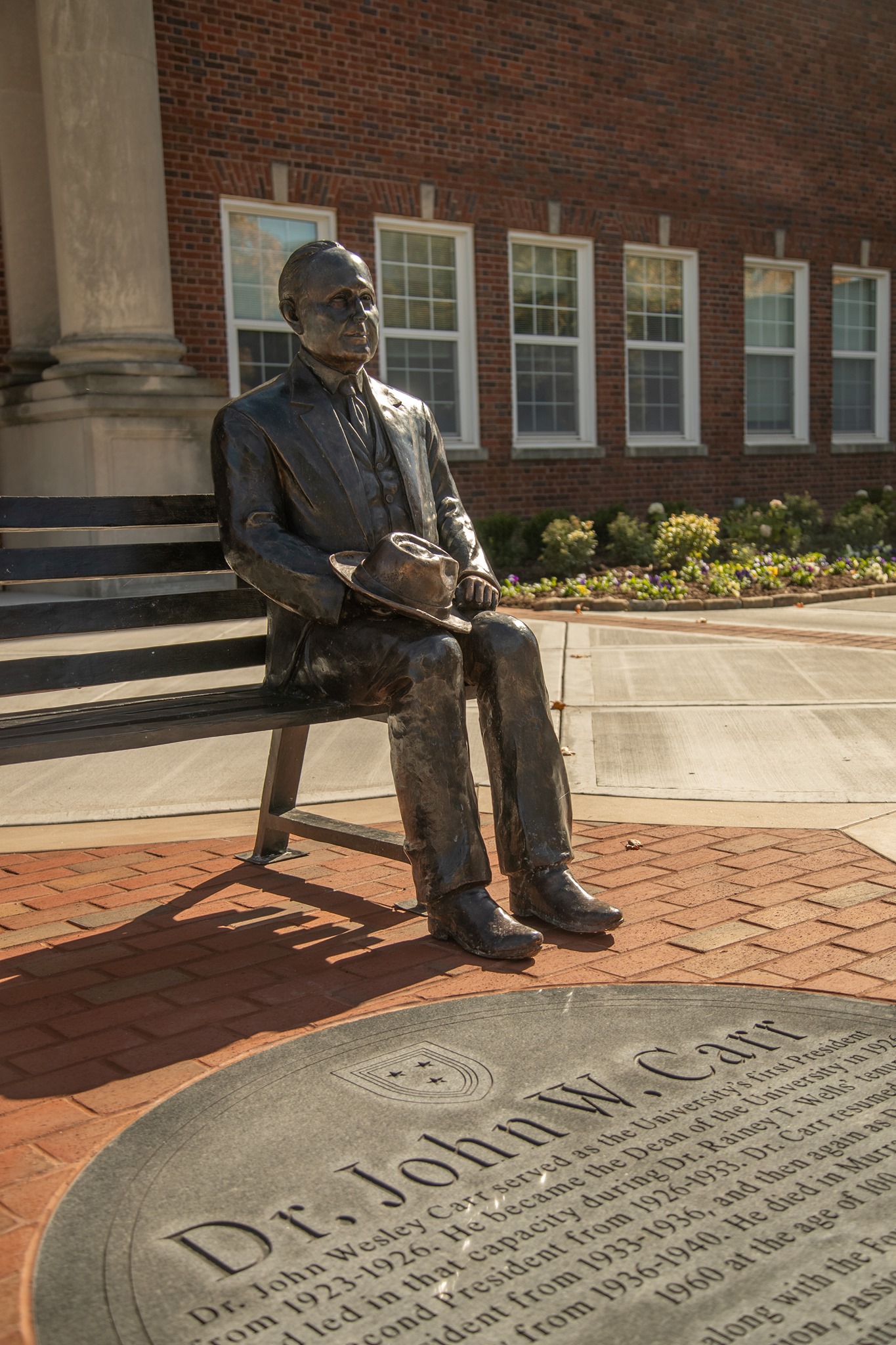 Said the Rose family: "We love Murray State University. Our personal and professional lives have been significantly enhanced by Murray State. We both have two degrees from Murray State and are first-generation college graduates. Murray State always has and continues to provide outstanding academic programs and personal interest in students' lives.
The statue of Dr. Carr represents the outstanding foundation he established at Murray State. The statue of Racer One represents the nationally-recognized athletic program at the University. This is one of our ways of giving back to an institution that has given so much to us. We hope these statues will provide positive and pleasant experiences for all students, faculty, staff and visitors, and sincerely appreciate all the efforts of President Jackson and others in making this a reality."
"This is an exciting day in the history of Murray State University," said Murray State President Dr. Bob Jackson. "We have discussed adding these enhancements for many years. Our history and traditions are vitally important and these additions will add a great deal to our campus. I am very grateful to Dr. Jack and Janice Rose and other major donors who made these projects a reality."