U.S. News & World Report ranks Murray State University among 2023-2024 Best Graduate Schools
Apr 27, 2023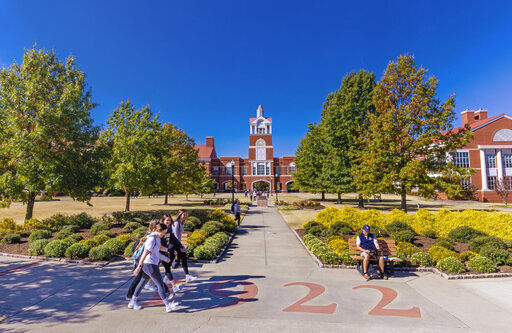 MURRAY, Ky. – Murray State University has recently been ranked among the 2023-2024 Best Graduate Schools for three programs - Doctor of Nursing Practice (DNP), Master's of Business Administration (MBA) and Master's of Public Administration (MPA) by U.S. News & World Report. These recognitions are added to Murray State's ranking last fall as one of the top schools in the country in multiple categories, marking the institution's 32nd consecutive year of top-tier rankings by the reputable college guide.
Designed for prospective students looking to further their education beyond college, the Best Graduate Schools rankings evaluate programs in a variety of disciplines including business, education, engineering, law, medicine and nursing.
By collecting graduate school data annually, U.S. News is able to present the most current figures on enrollment, job placement, faculty and other critical quality indicators that help prospective students make informed decisions.
"We are extremely proud of this national recognition of these graduate programs," said Dr. Tim Todd, Murray State University Provost and Vice President for Academic Affairs. "Most importantly we are proud of and appreciate the hard work of our faculty and staff in building these programs to benefit our students."
The Doctor of Nursing Practice at Murray State is a clinical doctoral degree program in nursing designed for nurses seeking a terminal degree in nursing practice and offers an alternative to research-focused doctoral programs. Graduates of the DNP program will be able to serve as leaders who use best practices as advanced practice registered nurses (APRNs) at individual, population and organizational levels. Learn more at murraystate.edu/nursing.
Murray State's AACSB Accredited MBA Program has a long, rigorous and proud tradition of quality and excellence in business and management education, and a recognized capacity for meeting the educational needs and challenges of MBA students. Learn more at murraystate.edu/mba.
The MPA program at Murray State provides education and training for professional careers in government agencies and non-profit organizations. The program prepares students who are seeking a career in public service or to enhance the careers of those already employed in the public sector. Learn more at murraystate.edu/mpa.
"When prospective students are considering their options for graduate school, the Best Graduate Schools rankings are designed to help them identify schools that excel in the program they want to study," said LaMont Jones, senior editor of Education at U.S. News. "With many options available, U.S. News provides a wealth of data in an easy format to help each student make the best decision."
Murray State offers 148 academic programs within six diverse colleges and schools for undergraduate and graduate students seeking to achieve their personal and professional goals. With personalized class sizes and more than 170 student organizations on campus, Racers discover countless opportunities for a life-changing educational experience.
Prospective graduate students interested in joining the Racer Family can learn more, schedule a campus visit and apply for admission at murraystate.edu/graduate.