Faculty/Staff Information
Testimonials
"…I believe the advice given by Career Services has made our graduating nursing students feel more comfortable and confident in their resumes and interviewing skills as they go out and seek jobs."
"…There are so many positive impacts with the knowledge you share with our students…. (they) motivate the students to shine with upbeat, positive attitudes, in not just interviews, but in everyday life!"
"Career Services has provided my students quite a few useful services such as practice with mock interviews, professional headshots, and advice on resumes & job applications. It has been helpful for our music students to meet friendly staff who are outside our subject area but who are well-versed in all aspects of professionalism."
Career Services is Here to Help!
Career Services professional, paraprofessional and well-trained student staff members are available to give presentations on a wide-variety of topics. Presentation requests should be submitted at least two weeks prior to the date requested. Possible topics include:
Career Services Overview
How to Choose a Major
Resume Writing
Cover Letter Writing
Job Search Strategies (can be major focused)
Interview Strategies
Networking Strategies
Dining and Business Etiquette

Handshake is our online job platform that students can utilize to search for full-time and part-time jobs, on-campus jobs, internships, register for career events and career fairs, meet with our office and more!
We would like to extend an invitation to any faculty or staff member that would be interested in accessing Handshake. Faculty and staff can utilize Handshake to post jobs for their department, research companies and job postings, look at career fair attendees and more! If you would like to gain access to Handshake feel free to check out our Department Guide on how to do this, or feel free to reach out to our office at 270.809.3735 or msu.careerservices@murraystate.edu.
An internship integrates practical experience with education in a structured, supervised work environment. Internships are available year-round and typically last one semester. They can be paid or unpaid; for class credit (consult academic or faculty advisor for approval) or not. Contact Career Services with any questions: 270.809.3735.
The benefits of participating in an internship are vast. When you intern, you have the opportunity to do the following:
Enhance your resume and be more marketable for the full-time job search

Build your professional network

Expand understanding about your chosen industry or field

Develop general work functions and workplace etiquette

Gain exposure to organizational culture, latest trends, technologies and practices

Develop transferable skills: communication, time management, report writing, customer service, etc.
The Student Employee of the Month award was established by the Career Services Office in the Fall 2022 semester. The goal of the Student Employee of the Month program is to recognize members of the Racer community who embody the mission, vision, and values of Murray State University, as well as their respective residential colleges, academic programs, and work departments.
In April, during National Student Employment Week, a Student Employee of the Year is named during a banquet celebrating all student employees of Murray State.
Have a student employee you want to nominate? Nominate them at this link: Student Employee of the Month Nomination Form
November, 2022 Student Employee of the Month: Markeese Meriwether
Markeese works in the Office of Multicultural Initiatives, Student Leaders, & Inclusive Excellence. Markeese is a senior chemistry major from Louisville, KY who is considering graduate school. Dr. Alicia Carthell nominated Markeese, saying he "goes above and beyond his student worker duties. With a solid work ethic, he is quick to help the OMI Staff and Faculty Liaisons with various tasks and activities that require critical thinking, a curious intellectual mindset, and advanced planning. In all that he does for the OMI Office and for his fellow students, he maintains courteousness, professionalism, humbleness, and strength."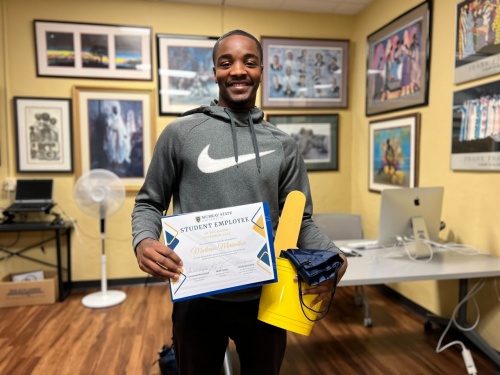 October, 2022 Student Employee of the Month: Bailey Lyman
Baily is the Fitness Graduate Assistant at the Susan E. Bauernfeind Wellness Center. Bailey is working toward her Master of Science in Speech/Language Pathology. Bailey's supervisor, Jordan Williams had this to say, "Bailey has been a vital employee for our department. On top of her primary duties, Bailey was willing to go out and get certified as a lifeguard to help keep the pool open during the summer months." Bailey supports the Murray State University vision by helping "understand the importance of the behaviors necessary to maintain a healthy lifestyle."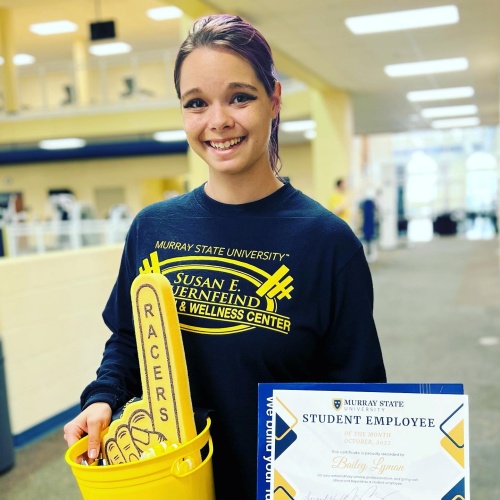 September, 2022 Student Employee of the Month: Brooklyn Woolsey
Brooklyn is a senior from Evansville, Indiana majoring in Communication Disorders. Brooklyn has worked in the Office of Recruitment since her freshman year, and her supervisor, Angela Richerson says, "Other than her everyday kindness, she is the best student worker I've ever had. She doesn't have to be asked to complete our daily tasks. She knows the importance of making our visitors feel at home the moment they step into our office."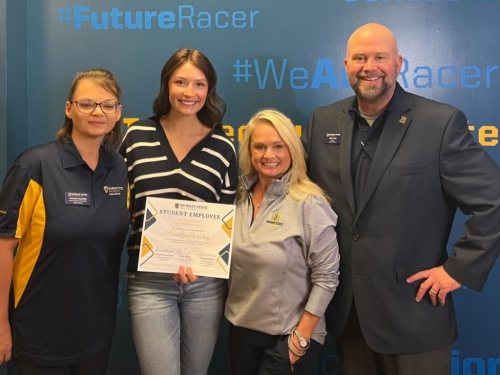 Pictured left to right: Amanda Mansfield, Career Experience Coordinator for the Career Services Office; Brooklyn Woolsey; Angela Richerson, Campus Visit Coordinator for the Office of Recruitment; and Matt Purdy, Director of the Career Services Office
Sample Career Services Assignments
Career Services is happy to work hand in hand with faculty to develop career-oriented assignments and tasks for your students. We have put together some of the more popular activities past faculty have used and invite you to take advantage of these pre-made resources. (NOTE: The "Audience" column is merely a suggestion and can always be modified)
We are always happy to work with our students - it's easiest if we have a heads-up that things like the following will be included on your syllabus. On a related note, consider having us come and speak to your class - We can spend as little as 5 minutes or as long as an entire class session. Simply fill out our handy presentation request form to get the reservations process started.
Assignment

Audience

Instructions

Follow-up/Assignment verification

Career Discovery

Freshmen/Sophomores/Undecided students

Take the Focus2 Assessment on the Major Exploration/Career Direction page (A

ccess Code: racers).

Schedule an appointment with a career counselor at Handshake to go over your results.
Come in for a 15-30 minute consultation/interpretation to discuss your results.

Report run by Career Services

Career Exploration

Freshmen/Sophomores/Undecided students

Use Candid Career and What Can I Do With This Major? to research various careers and paths for their particular major.
Write a small assignment detailing what they were surprised by in their research and if they feel drawn to any particular field of study..

Write-up turned in by student

Resume Review

Most underclassmen

If students don't have a resume, we recommend referring to our Career Services Handbook to develop a rudimentary version.

If a student does have a resume, they can email it to msu.eresume@murraystate.edu to have it reviewed by one of our staff.

Student could turn in updated/refreshed resume

Handshake Activation

All students

Students can log in to Handshake (m

yGate username and password).

Have them complete their profile to 100%.
Education Section (click the pencil next to the name and make sure they have your Major and Start/End Dates filled out).
Fill out their Work Experience (make sure they have a Job title, Employer, Time Period and Location).
Add an Organization and Extracurricular Activities.
Add multiple skills, documents, courses, projects.
Add a profile picture.

Students can turn in a PDF or printout of their profile

Mock Interview

Juniors/Seniors/Graduate Students

Schedule a mock interview via Handshake (Note: interviews can be in-person or virtual).
Fill out the appointment documentation.
Go through said interview.

Report run by Career Services
Contact Us
Office Hours & Appointments
Office Hours
Fall and Spring
Monday — Friday
8 a.m. to 4:30 p.m.
Summer
Monday — Friday
7:30 a.m. to 4 p.m.
Walk-In Hours
Monday – Friday
8 a.m. to 4 p.m.
(Summer: 7:30 a.m. – 3:30 p.m.)
Walk-In Appointments Available: Resumes, Cover Letters and Basic Questions
Scheduled Appointments
Please schedule appointments on Handshake or call us at 270.809.3735. Scheduled Appointments are required for Major/Minor Counseling, Career Assessments and Mock Interviews.