Student Information
ACCESS RECENTLY POSTED FULL-TIME JOBS FROM HANDSHAKE
Resources for Students and Alumni
These resources are designed to help guide you in your career path. Please make an appointment with a Career Counselor for more tailored assistance.

What is Handshake?
Handshake is the online career management platform for Murray State Career Services.
In addition to being the place where you can search and apply for internships, Co-op, part-time, and full-time jobs, you can also use Handshake to:
Upload a resume and complete your online career profile

Allow your online career profile and resume to be viewable by employers

Keep track of your appointments with Career Services in one location

View upcoming local and on-campus career events

Research contact information for local and national employers

Search for and apply to open positions
Uploading Your Resume to Handshake
We HIGHLY recommend getting your resume reviewed by a staff member before it's used in applications. This process may take up to 48 hours.

Submit your resume to eResume for feedback within 48 business hours

Drop in during Walk-In Hours (check bottom of page for current walk-in hours)

Call 270.809.3735 or schedule an appointment online at Handshake.
Office Appointments
We offer a variety of different appointment options for students, faculty, staff and alumni! You can schedule an appointment with us by going to Handshake, email us at msu.careerservices@murraystate.edu or call our office at 270.809.3735.
Some of the appointments we offer include:
Resume and Cover Letter Review - Receive one-on-one help with your resume and cover letter
Career Counseling - Basic counseling as it relates to career and educational choice
Major Counseling - Discover what major you should be in or what you can do with your current major
Internship Counseling - Assistance finding internships and filling out paperwork
Job Search - Receive help on finding and searching for the right job
Interview Coaching - Practice your interview skills in a general or customized mock interview
Professional Headshots - Come get your professional headshot taken for free!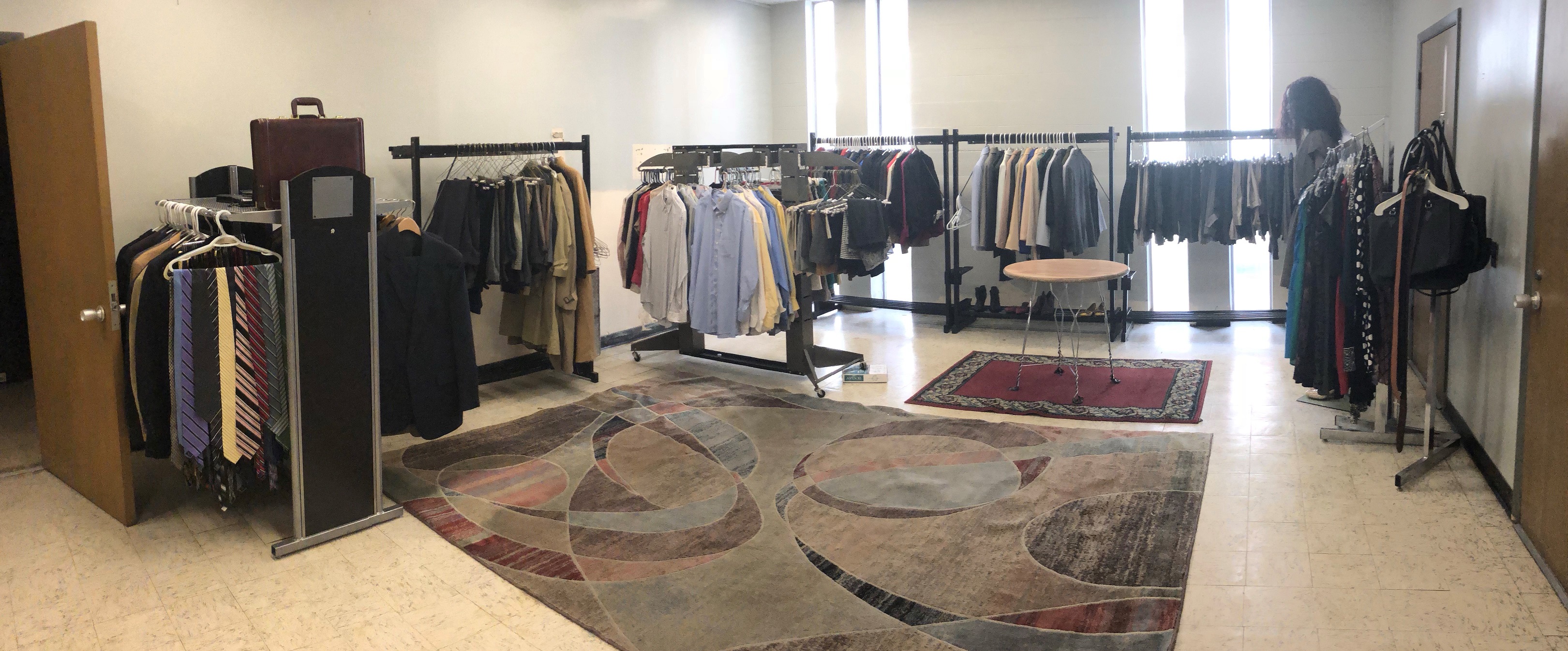 Featuring various sizes of slightly-used business professional clothing, Racers have the opportunity to come in and 'shop' for suits, shirts, skirts, blouses, shoes and other accessories. Find something you like? You get to keep it - for no charge! One outfit per student per semester, please.
Please make an appointment on Handshake in order to take advantage of the Career Closet.
Career Closet Donation Guidelines
Thinking about donating to the Career Closet? That's wonderful!
What we take: Suits, dress shirts, slacks, skirts, blouses, belts and dress shoes
What we don't take: Casual clothing (sneakers, jeans, yoga pants, t-shirts, etc.) OR formal wear (prom dresses, tuxedos, etc.)

In order to best serve our students, we have the following guidelines for donations:
Clothing should be clean

Donations should be free from holes/rips/tears

Clothing shouldn't have any stains

Shoes should be able to take a shine

Given that students will be wearing these clothes to interviews and events, donations should be of recent vintage and appropriate styling
If you have items that align to these standards, contact us at 270.809.3735 or send us an email at msu.careerservices@murraystate.edu for donation details!
Choosing a major and career path is a process, and there are many resources on campus to help you purposefully navigate this process.
Assessments
FOCUS 2 (Access Code: racers) This is a self-paced, career and education planning tool that enables you to self-assess your career relevant personal qualities and explore career fields and major areas of study that are most compatible with your assessment results.)

My Next Move (Evaluate interests as they relate to career choice)

16Personalities (Evaluate strengths and weaknesses, suitable careers, approach to relationships based on personality)
Discover Your Major!
With Candid Career, you have thousands of videos at your fingertips! Learn about different careers directly from those who are in them!
Murray State Career Services is excited to help coach our international undergraduate and graduate students in the career development process that includes developing the following for a successful transition to the world of work in the United States and in their home countries:
Professional behavior and etiquette

Resume/curriculum vitae and cover letter development

Interview skills

Networking skills

Major Selection/Career Exploration
Campus Resources
Job Search Assistance
The National Student Exchange program allows Murray State University students to leave Murray State and exchange to another NSE member college or university. The classes taken at the host college or university count towards the student's chosen degree at Murray State so forestalling graduation isn't an issue. The student may pay tuition to Murray State or the host school's in-state tuition rate.
Kentucky residents, your KEES money can assist you with tuition at Murray State while you attend another college or university. Some scholarships can be utilized with this NSE program. Student financial aid is also fully accepted as a financial option with this program.
Learn More:
General
Education (K-12 and Higher Education)
Government
Healthcare
Nonprofit
Business
Students with Disabilities
International Students
LGBT Students
Veteran Students
Other Resources
Career Services tries to screen employers and the positions posted to our website, but it is imperative that you, as a job seeker, exercise common sense and caution. Read position descriptions carefully!
If a position or job offer seems too good to be true, if you feel uncomfortable with some of the information requested, or if something just doesn't seem right – proceed with extreme caution. Even if the original position description seems valid, if you receive follow-up e-mails, phone calls or job offers that make you feel uncomfortable, proceed cautiously.
WARNING SIGNS OF FRAUDULENT POSTINGS
You are asked to give credit card, bank account or PayPal account numbers
You are asked to send a payment by wire service or courier
You are offered a large payment or reward in exchange for allowing the use of your bank account—often for depositing checks or transferring money
You receive an unexpectedly large check
You are asked to transfer money, including via e-Bay, PayPal or Western Union
You are asked for personal information, such as your Social Security Number
You are requested to send a photocopy of your ID, i.e., driver's license to "verify identity"
You are asked to complete a background check before you can be considered for a position
The posting appears to come from a legitimate company or organization, but the contact's e-mail address doesn't match the company's website domain (i.e., jdoe@gmail.com rather than jdoe@companyname.com) or the company's website domain is misspelled (e.g. jdoe@microsft.com)
The job posting doesn't mention the responsibilities of the job; rather, it focuses on the amount of money you will make
Additionally, you may receive a job offer in response to your application to a legitimate-appearing position description that is actually a marketing e-mail to sell you job search "help." Some other tips:
Be wary of postings for Mystery Shoppers, work at home, or virtual Administrative Assistants or Bookkeepers. Some opportunities are legitimate; many others are not.
Gather as much information as possible about positions for independent contractors or franchise opportunities, especially those that are not explicitly advertised as such. Some opportunities are legitimate business opportunities, but opportunities in which some people who don't succeed lose money. Others are scams.
Beware of positions that require a financial investment or upfront fees.
If you are an entry-level candidate with little experience, be wary of an offer with a salary that is way out of range.
Multiple misspellings in a job notice are often a sign of trouble.
If the position listing is for an international opportunity, does it include travel expenses? Upfront program fees? Research the organization and compare its program/benefits with other similar opportunities.
Verify that a URL listed in the ad goes to the internet domain of the company that listed it. If it does not, it could be a scam.
When using job boards, read their privacy policies carefully. Also, read how easy it is for employers to post jobs by going through the site's employer links.
IF YOU ENCOUNTER SUSPICIOUS POSTINGS via our website or Handshake:
Report your experience to Career Services at msu.careerservices@murraystate.edu or

270.809.3735. You also can visit The Internet Crime Complaint Center.
Contact the police and report the fraud or scam.
End all communication with the employer.
Depending on what personal information was disclosed, monitor or close your accounts. Depending on the situation, you may need to notify the three credit bureaus: Experian, Equifax and Transunion.
If you sent money to a fraud employer, contact your bank or credit card company immediately to close your account and dispute the charges.
If the incident occurred entirely over the internet, file an incident report with the FCC at

1.877.FTC.HELP

(1.877.382.4357); or at Cyber Crime.
MORE RESOURCES FOR SAFE ONLINE JOB SEARCHING
If you have questions or concerns about job postings, a position for which you've applied, a task you've been asked to complete as part of the application process or a job offer, please contact Career Services to discuss it.
Adapted from Case Western Reserve University, October 2015
Contact Us
Office Hours & Appointments
Office Hours
Fall and Spring
Monday — Friday
8 a.m. to 4:30 p.m.
Summer
Monday — Friday
7:30 a.m. to 4 p.m.
Walk-In Hours
Monday – Friday
8 a.m. to 4 p.m.
(Summer: 7:30 a.m. – 3:30 p.m.)
Walk-In Appointments Available: Resumes, Cover Letters and Basic Questions
Scheduled Appointments
Please schedule appointments on Handshake or call us at 270.809.3735. Scheduled Appointments are required for Major/Minor Counseling, Career Assessments and Mock Interviews.