Student Information
ACCESS RECENTLY POSTED FULL-TIME JOBS FROM HANDSHAKE
Resources for Students and Alumni
These resources are designed to help guide you in your career path. Please make an appointment with a Career Counselor for more tailored assistance.
Welcome to Handshake!
What is Handshake?
Handshake is the online career management platform for Murray State Career Services.
In addition to being the place where you can search and apply for internships, Co-op, part-time, and full-time jobs, you can also use Handshake to:
Upload a resume and complete your online career profile

Allow your online career profile and resume to be viewable by employers

Keep track of your appointments with Career Services in one location

View upcoming local and on-campus career events

Research contact information for local and national employers

Search for and apply to open positions
Uploading Your Resume to Handshake
We HIGHLY recommend getting your resume reviewed by a staff member before it's used in applications. This process may take up to 48 hours.

Submit your resume to eResume for feedback within 48 business hours

Drop in during Walk-In Hours (Mon - Fri | 8 a.m. - 4 p.m.)

Call 270.809.3735 or schedule an appointment online at Handshake.
We offer a variety of different appointment options for students, faculty, staff and alumni! You can schedule an appointment with us by going to Handshake, email us at msu.careerservices@murraystate.edu or call our office at 270.809.3735.
Some of the appointments we offer include:
Resume and Cover Letter Review - Receive one-on-one help with your resume and cover letter

Career Counseling - Basic counseling as it relates to career and educational choice

Major Counseling - Discover what major you should be in or what you can do with your current major

Internship Counseling - Assistance finding internships and filling out paperwork

Job Search - Receive help on finding and searching for the right job

Interview Coaching - Practice your interview skills in a general or customized mock interview

Professional Headshots - Come get your professional headshot taken for free!
and much more...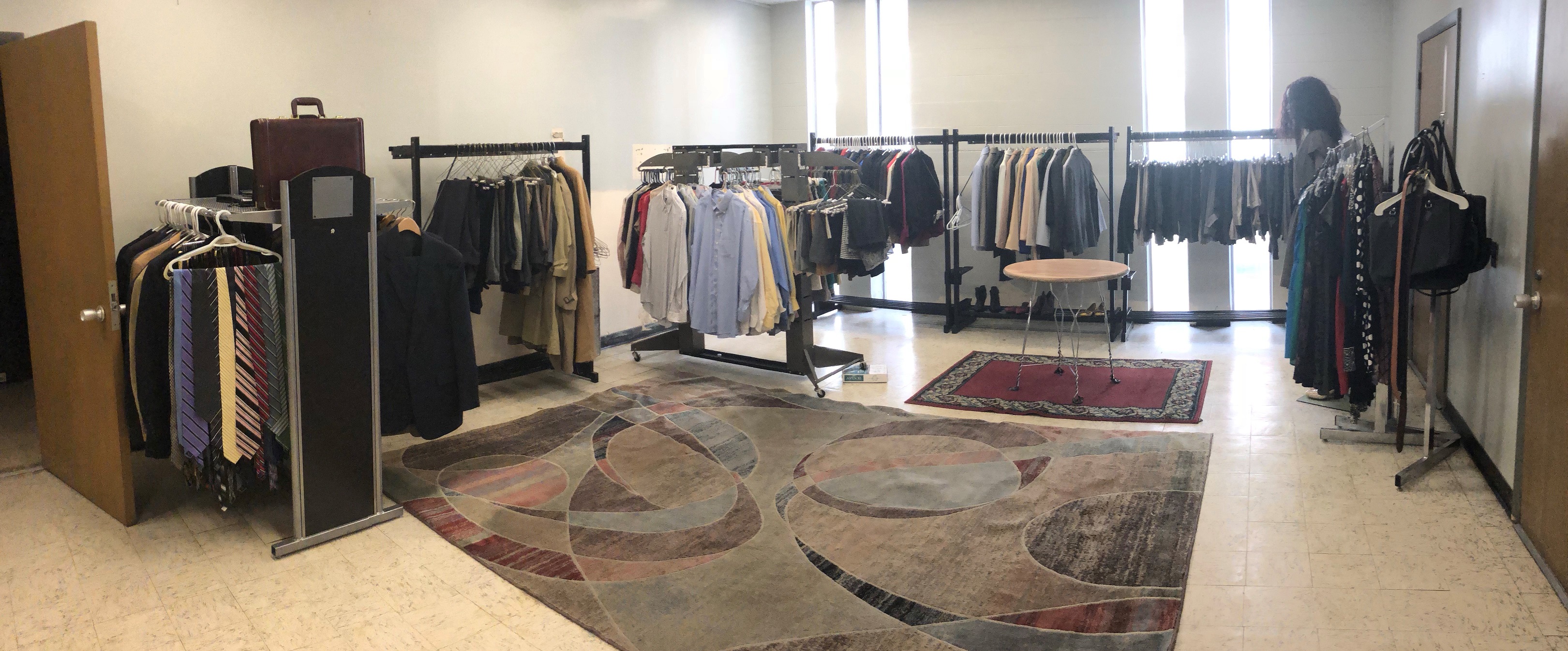 Featuring various sizes of slightly-used business professional clothing, Racers have the opportunity to come in and 'shop' for suits, shirts, skirts, blouses, shoes and other accessories. Find something you like? You get to keep it - for no charge! One outfit per student per semester, please.
Please make an appointment on Handshake in order to take advantage of the Career Closet.
Career Closet Donation Guidelines
Thinking about donating to the Career Closet? That's wonderful!
What we take: Suits, dress shirts, slacks, skirts, blouses, belts and dress shoes
What we don't take: Casual clothing (sneakers, jeans, yoga pants, t-shirts, etc.) OR formal wear (prom dresses, tuxedos, etc.)

In order to best serve our students, we have the following guidelines for donations:
Clothing should be clean

Donations should be free from holes/rips/tears

Clothing shouldn't have any stains

Shoes should be able to take a shine

Given that students will be wearing these clothes to interviews and events, donations should be of recent vintage and appropriate styling
If you have items that align to these standards, contact us at 270.809.3735 or send us an email at msu.careerservices@murraystate.edu for donation details!
Looking for recordings of our career labs and other help videos? Check out our YouTube Channel! Make sure to subscribe to stay up to date on our videos!
Choosing a major and career path is a process, and there are many resources on campus to help you purposefully navigate this process.
Assessments
FOCUS 2 (Access Code: racers) This is a self-paced, career and education planning tool that enables you to self-assess your career relevant personal qualities and explore career fields and major areas of study that are most compatible with your assessment results.)

My Next Move (Evaluate interests as they relate to career choice)

16Personalities (Evaluate strengths and weaknesses, suitable careers, approach to relationships based on personality)
Resources
With Candid Career, you have thousands of videos at your fingertips! Learn about different careers directly from those who are in them!
Murray State Career Services is excited to help coach our international undergraduate and graduate students in the career development process that includes developing the following for a successful transition to the world of work in the United States and in their home countries:
Campus Resources
Resume/CV Assistance
Job Search Assistance
Career Services provides resources and services to assist Murray State Alumni with their job search. Please review the following available resources and contact us as needed:
Consider joining the Murray State Alumni Association as well.
Do you want to hire a fellow Racer?
Through Handshake you can post jobs and internships, screen public resumes, sign-up for on-campus interviews and register for career fairs. Please contact us if you are interested in providing job shadowing, networking and/or training opportunities for Murray State students as well. For more information, visit the Employer Information page.
The National Student Exchange program allows Murray State University students to leave Murray State and exchange to another NSE member college or university. The classes taken at the host college or university count towards the student's chosen degree at Murray State so forestalling graduation isn't an issue. The student may pay tuition to Murray State or the host school's in-state tuition rate.
Kentucky residents, your KEES money can assist you with tuition at Murray State while you attend another college or university. Some scholarships can be utilized with this NSE program. Student financial aid is also fully accepted as a financial option with this program.
Learn More:
Career Services staff are happy to present to student groups. Please complete the request, and someone will get in touch with you within 48 business hours.
Contact Us
Office Hours & Appointments
Office Hours
Fall and Spring
Monday — Friday
8 a.m. to 4:30 p.m.
Summer
Monday — Friday
7:30 a.m. to 4 p.m.
Walk-In Hours
Monday – Friday
8 a.m. to 4 p.m.
(Summer: 7:30 a.m. – 3:30 p.m.)
Walk-In Appointments Available: Resumes, Cover Letters and Basic Questions
Scheduled Appointments
Please schedule appointments on Handshake or call us at 270.809.3735. Scheduled Appointments are required for Major/Minor Counseling, Career Assessments and Mock Interviews.