Employment
Murray State is committed to providing a welcoming, inclusive environment for the campus community. One focus of this commitment is the recruitment and hiring process. Human Resources has developed the Online Search Committee Training Module to provide guidance to search committees to ensure fair and equitable searches. The Office of Institutional Diversity, Equity and Access has developed additional Diversity, Equity and Inclusion Advocate Training for search committee chairs. When you click the links, you will be directed to login and will then be able to enroll in the modules. Successful completion of this training is a prerequisite for serving on faculty and exempt staff searches.
The Hiring Process
Training
An online module was created using CANVAS to provide training for faculty and staff who may be involved in any phase of the hiring process. To self-enroll in the online training module.

Once logged in to CANVAS, the following landing page will appear. Please click "Enroll in Course".
The Dual-Career Spousal Accommodation is available for the recruitment and retention of faculty and professional staff positions. An approved spousal accommodation provides the opportunity for a spouse to be considered in the pool of internal candidates. Board Approved Action.
Procedures
Department head must inform Human Resources that a spousal accommodation is being requested. This notification must include the spousal contact information, including the name, email address and telephone number.

HR will review the request to determine eligibility based on criteria in the policy.

HR will contact the spouse directly to provide a link for access to the internal search to be considered as an internal candidate.

University officials in charge of hiring should inform candidates of the dual-career accommodations policy during the interview process. This also applies in a retention situation.
For questions, please contact Liz Ridley, Employment Manager, at eridley@murraystate.edu or 270.809.3094.
Training Information
Human Resources has expanded the Administrative Support Training, which is available to all employees in an administrative support role. The training will focus on common Human Resources processes, with topics including the Personnel Action Form (PA), the Background Check and Form I-9 procedures for new employees, reporting injuries and Workers' Compensation, the Clearance process, and Temporary and Adjunct processes.
Sessions will be offered quarterly. Please register for one of the upcoming sessions.
Please check back for more information on upcoming training events.
A Supervisor Workshop Series has been developed as a resource to support Murray State University faculty and staff who serve in a supervisory role. The workshop series is designed to provide supervisors with the tools to support departmental and institutional goals, encourage engagement and enhance effective communication. The series is for supervisors who are new to their role, or as a refresher for a seasoned supervisor. Supervisors are considered those individuals who directly oversee another Murray State University employee's regular work activity, approve timesheets/leave reports, and complete an annual performance appraisal.
Requirements
A certificate of achievement is earned by successful completion of five (5) required core courses, as well as a minimum of three (3) additional online courses which will be self-selected from a list of approved modules. This series will require a time commitment of approximately 2-3 hours each month during the series schedule.
Registered participants will have the opportunity to select one of the scheduled dates offered for each core course.
Schedule of Core Courses
July: Building a Foundation-Fundamentals of Supervision (In person)
Tuesday, July 11th: 9:00-11:00am OR
Wednesday, July 19th: 2:00-4:00pm
August: The Search and Recruitment Process (via Zoom)
Tuesday, August 8th: 9:00-11:00am OR
Wednesday, August 16th: 2:00-4:00pm
September: Onboarding, Engagement and Retention (via Zoom)
Tuesday, September 12th: 9:00-11:00am OR
Wednesday, September 20th: 2:00-4:00pm
October: Respectful Workplace Conduct and Communication (In person)
Tuesday, October 10th: 9:00-11:00am OR
Wednesday, October 18th: 2:00-4:00pm
November: Understanding and Managing Leaves (In person)
Tuesday, November 7th: 9:00-11:00am OR
Wednesday, November 15th: 2:00-4:00pm
December: Series Wrap-up
Additional session information will be provided to registered series participants.
Registration
In order to register for the initial series, please complete the 2023 Supervisor Workshop Series Registration Form. Registration will be limited to 35 participants. The series will be offered again in Spring 2024, and will also be available annually.
For questions, please contact Haley Stedelin, Associate Director of Human Resources hstedelin@murraystate.edu or ext. 2156, or Liz Ridley, Employment Manager eridley@murraystate.edu or ext. 3094.
Please check back for more information on upcoming training events.
Performance Appraisals
The annual performance evaluation period is March 1 through the last day of the following February each year.
Please help reduce paper by printing appraisals double sides, when possible.
Please contact Haley Stedelin at 270.809.2156 or Liz Ridley at 270.809.3094 with any questions.
View Performance Appraisal Instructions and forms
View Policy III.I Performance Appraisals
Employment and Training Staff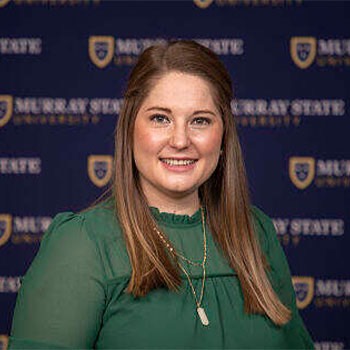 Haley Stedelin
Associate Director of Human Resources
Human Resources