Assessment Framework
Assessment, Timeline, and Elements
Murray State University (MSU) establishes and follows a set of guidelines and criteria to guide the assessment process. In a nutshell, the assessment process at MSU begins within the academic programs and administrative units, where discussions and decisions are made with regard to outcomes, assessment measures, and achievement targets for a particular academic year. Assessment plans are submitted via SPOL (MSU's assessment platform) by October 1 of each academic year while assessment reports are due on September 15 of the subsequent year. The University Assessment Committee (UAC) reviews and evaluates both assessment plans and reports using an established rubric to help academic programs and administrative units improve their planning and reporting submissions. The assessment process ends and restarts when all changes based on the reported results and analysis are implemented. The graphical representation of MSU's cyclical assessment process (Figure 1) along with MSU's assessment timeline (Table 1) are provided below.
Figure 1. MSU Assessment Process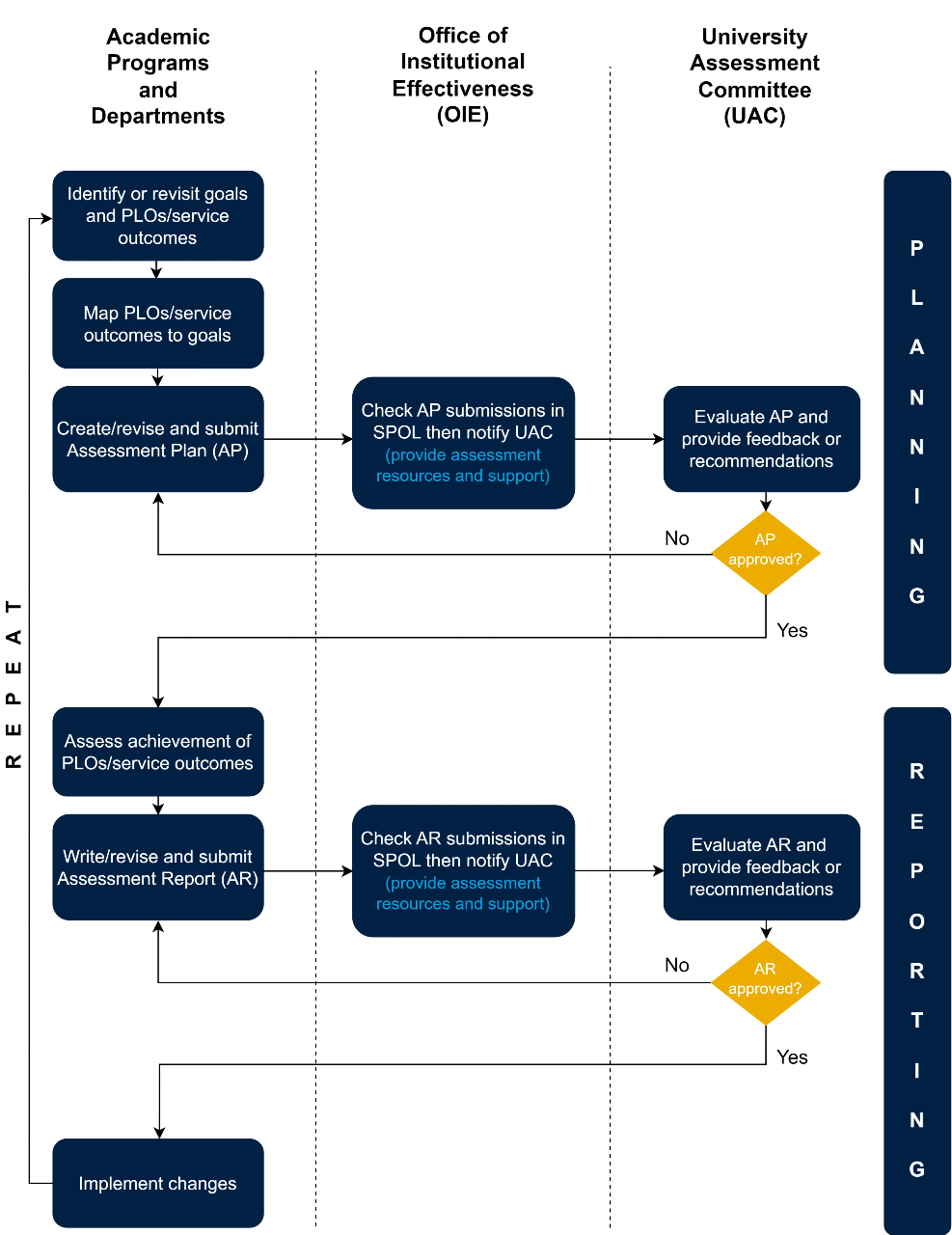 Table 1. MSU's Assessment Timeline
Timeline

Activity

People Responsible

October 1

DUE - Assessment plans to SPOL

Assessment Coordinators

October 1 - 31

UAC reviews assessment plans

UAC and OIE

Ongoing

Implementation of assessment plan

Academic Programs and Departments

Last Friday of August (recommended)

Assessment Day: Closing the Loop

(within programs/units)

- structure, topics, and activities are determined by the Assessment Coordinator

Academic Programs and Departments

September 15

DUE - Assessment reports to SPOL

Assessment Coordinators

September 15 - October 15

UAC reviews assessment reports

UAC and OIE

Ongoing

Implementation of recommendations and action plans from the assessment report

Academic Programs and Departments
Note: If the due date falls on a holiday or weekend, the required activity is due on the following business day.
Assessment Plan and Report Components
To help you become successful with your program or departmental assessment, clarifying the content and focus of an assessment plan and report is an essential step. By understanding what is included in an assessment plan and looking at what you already have in place, you can begin to think about the effective assessment strategies and activities within your academic program or department. Table 2 lists the required components that programs and administrative units are expected to submit within their annual assessment plans and reports via SPOL.
Table 2. Required Annual Assessment Plan and Report Components
Assessment Plan
Assessment Report

Multiple measures
FOR UNITS/DEPARTMENTS:
at least one direct measure and one indirect measure for each outcome that a department plans to assess
FOR ACADEMIC PROGRAMS:
at least one formative assessment and one summative assessment for each PLO that a program plans to assess
Criteria for each measure created
Planning process narrative

Findings for each established measure and criteria
Evidentiary documents related to results/findings (optional)
Outcome analysis and use of results narrative
Reporting process narrative