About the Program
Murray State is proudly the only institution in Kentucky that offers the option of either a Bachelor of Science or Bachelor of Arts degree in criminal justice. For students looking for a minor, such as those individuals majoring in the Chemistry Department's forensics track, we offer a minor in criminal justice as well as a juvenile justice minor for students looking to earn a degree from another program and work with children in a manner relating to the juvenile justice system.
Housed within the Department of Community Leadership and Human Services and the College of Education and Human Services, the criminal justice (CRJ) program boasts four dedicated professors. We may be smaller than some other programs, but we use this size to the advantage of our students, working diligently to challenge them but to also provide assistance as needed and to equip them with the tools necessary to succeed, not only in the classroom but also in their professional lives after graduation.
The University Studies (core curriculum) provides the necessary liberal arts education, while the criminal justice major further develops the students' oral, written, analytical, research, and problem-solving skills. Courses offered focus on topics such as law enforcement and criminal investigations, juvenile delinquency, violent crime, organized crime, terrorism, ethics, constitutional law, and much more. Internship experiences are available during the students' junior and senior years from a variety of agencies, including the public defender, local police agencies, Kentucky State Police, the Office of the Commonwealth Attorney, victims' services agencies, and regional corrections agencies.
Students are encouraged to join the Criminal Justice Society (CJS). Open to all Murray State students regardless of degree program, this student organization is designed to build professionalism and provide both practical and academic experiences outside of the classroom. Through CJS, students are able to hear from and interact with practitioners in the criminal justice field, go on trips and tours, and participate in fun and informative events, such as mock crime-scene investigations. Student leadership opportunities are also available through CJS.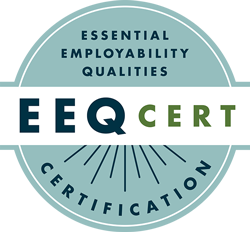 As of 2022, the Criminal Justice Program has received the Essential Employability Qualities Certification as granted by the Quality Assurance Commons. This certification follows a rigorous process of external and independent review.
EEQ Certified programs foster a distinctive set of attributes in their graduates and completers. These qualities are intended to prepare students to make important contributions in their workplaces: communication, thinking and problem solving, inquiry, collaboration, adaptability, principles and ethics, responsibility and professionalism, and learning.