Student and Alumni Highlights
Anasha A.W.

"I attended Murray State University for five years, completing a bachelor's degree in criminal justice with a minor in sociology in spring of 2018. I always knew criminal justice was my calling and Murray State provided so many opportunities. During my time at Murray State, I was able to intern with the Calloway County & Marshall County Circuit Court Judge Jamie Jameson in Murray, Kentucky and Benton, Kentucky. Upon completion of this internship, I learned so much about the court system of Kentucky and the court system in general. After graduation, I accepted a position with the Department of Probation & Parole as a felony probation officer in Louisville, Kentucky. Murray State has prepared me for many life experiences and professional experiences. Working in the law enforcement industry is not for the weak, and MSU taught me that early in my collegiate career. The CRJ program at Murray State is guaranteed to prepare for your future in the criminal justice field and in society with all the necessary teachings and techniques taught by some of the greatest professors on Earth! Get ready for the doors to open amazing opportunities within Criminal Justice here at Murray State!"
Victoria A.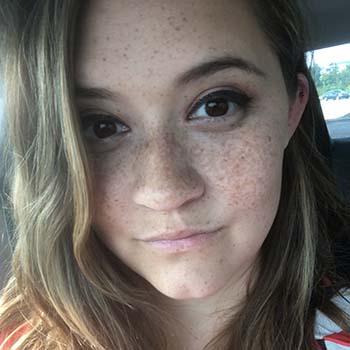 "I attended Murray State University for four years, completing a bachelor's degree in psychology with a minor in criminal justice in Spring of 2017. During my time at Murray State, I joined Criminal Justice Society and held two officer positions; through this society, I built relationships with my fellow criminal justice majors/minors and helped construct several events for its members. With the help of my teachers, I was able to intern with the public defender to fine-tune what I love about the criminal justice system -- the law. After leaving Murray State, I accepted a position with CACI to work at the US Attorney's Office in St. Louis, Missouri as a general clerk and was able to begin my master's program in criminal justice at Purdue University Global to further my love for this field. I have also spent time as a state probation officer as well as a paralegal for the District Attorney's Office. With these career experiences and my experience at Murray State, it has all led me to where I am now as a legal assistant for the United States Attorney's Office in the Middle District of Tennessee."
Alaina S.
"I graduated from Murray State University in 2012 with a major in criminal justice and a minor in legal studies. During my time at Murray State, the faculty in the criminal justice program fostered my desire to pursue a career in academia. I graduated from the University of Cincinnati in 2014 with a master's degree in criminal justice. In 2020, I graduated from Southern Illinois University Carbondale with a Ph.D. in criminology and criminal justice. I was extremely honored to have Murray State's Dr. Daniel Hepworth serve on my dissertation committee. I am currently an assistant professor of criminal justice at Bethel University in McKenzie, Tennessee. I am blessed to be doing something I love, and it all started with the comprehensive curriculum and student-oriented faculty in Murray State's Criminal Justice Program."