Message from the Chair
Contact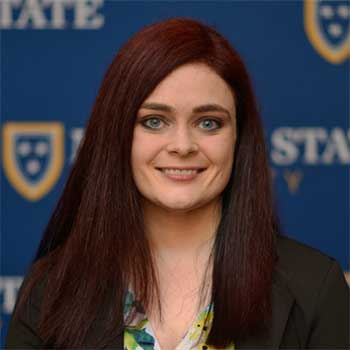 Dr. Katy Hancock
Department Chair
Criminal Justice and Social Work
108-A John W. Carr Hall, Murray, KY 42071
Welcome to the Department of Criminal Justice and Social Work (CJSW)!
We offer undergraduate programs in criminal justice and social work. Many courses are offered at our regional campuses in Paducah, Hopkinsville, Madisonville, and Henderson through Interactive Television (ITV) and Hybrid (ITV/WEB) courses. In fact, over 100 social work students indicate one of the four regional campuses as their home base. Additionally, web courses are being added each semester. In some cases, program faculty will be teaching face-to-face courses at regional campuses.

CJSW is a leader when it comes to experiential learning!
The department leads our University in the number of students and faculty engaged in service learning. In support of the current Quality Enhancement Plan, titled "Bring Learning to Life", by the Southern Association of Colleges and Schools Commission on Colleges, many courses offered in the department are designated "service-learning" as a part of the University's Service Learning Scholars Program. Fifty-four percent of department faculty teach at least one Service Learning Scholars designated course each year. Experiential education is a part of most courses in the department. In addition, all three of the department's programs offer internship opportunities.
Social workers make a real difference!
Jane Addams is considered one of the top 100 most influential figures in American History. A Nobel Peace Prize recipient, she was a social worker on a mission to make a difference. Addams co-founded the Hull House in Chicago, which helped to improve the lives of countless Americans. If you have a heart for people and want to make a real difference in the world, consider a career in social work. According to the Bureau of Labor Statistics, "employment of social workers is expected to grow by 25 percent from 2010 to 2020, faster than the average for all occupations. Growth will be due to an increase in demand for health care and social services but will vary by specialty." The department offers an area in social work leading to a Bachelor of Social Work degree, as well as minors in social welfare and gerontology.
Do you have an interest in law enforcement?
A degree in criminal justice may open the door to a career as a correctional officer, federal agent, fish and game officer, or any number of related jobs. According to the Bureau of Labor Statistics, "employment of police and detectives is expected to grow by 7 percent from 2010 to 2020." This program offers a major, a minor, and an area in criminal justice.

Sources