Voice and Swallowing Clinic
The Murray State University Voice and Swallowing Clinic offers expertise and technology to diagnose and treat voice, airway, and swallowing disorders.
Our team includes speech-language pathologist graduate clinicians (students) under the supervision of our clinical faculty, who are all fully trained speech-language pathologists.
Endoscopy
Our graduate students learn to perform rigid endoscopy as part of their Voice Disorders course. A rigid endoscope is a small narrow tube-like device with a camera that is inserted through the mouth so that the clinicians are able to see the throat and vocal folds. Images are recorded and portrayed on a computer screen.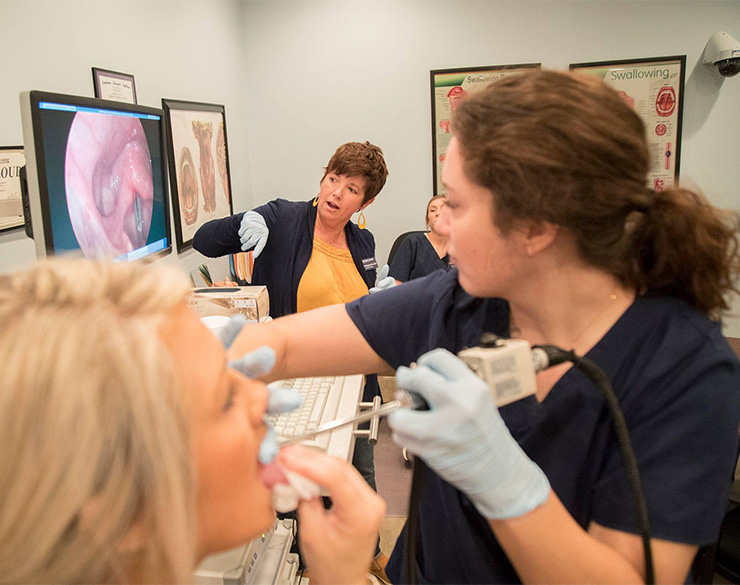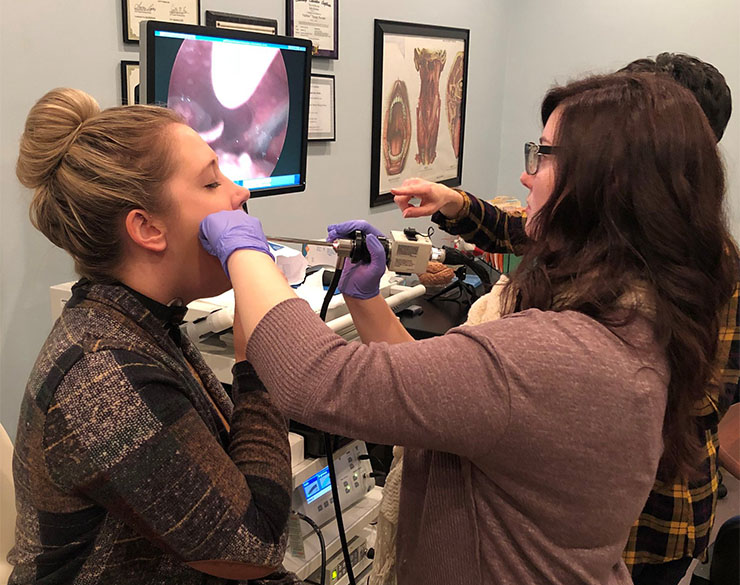 Stroboscopy
Stroboscopy is an examination of the vocal folds during the production of sound and is typically completed during endoscopy. During stroboscopy, the strobe light is timed to the frequency of the client's voice and this allows the clinicians to view the vocal folds as they vibrate. Stroboscopy allows the examiner to visually assess the appearance and movement of the vocal folds.
Expert care for voice, airway and swallowing functions
Here at the Murray State University Speech and Hearing Clinic, we provide care for a range of conditions including, but not limited to:
Voice disorders
Laryngitis/chronic hoarseness
Muscle tension dysphonia
Laryngeal reflux/chronic cough
Presbylarynx or age-related voice changes
Vocal fold nodules/polyps/cysts or other lesions affecting the voice
Vocal fold weakness/paralysis
Throat and laryngeal cancer
Spasmodic dysphonia
Transgender voice therapy
Professional care for the singing voice
Airway disorders
Exercise-induced laryngeal obstruction (EILO)
Vocal cord dysfunction
Airway obstruction/stenosis
Swallowing disorders
Dysphagia resulting from:
Surgery
Stroke
Primary lateral sclerosis (PLS)
Amyotrophic lateral sclerosis (ALS - Lou Gehrig's disease)
Parkinson's disease
Other neurological diseases
Through a recent grant program, Murray State University Speech and Hearing Clinic now offers SPEAK OUT! and LOUD Crowd therapy services for individuals with Parkinson's Disease as a part of the CDI 624 Assessment and Treatment of Voice Disorders class.
What is SPEAK OUT! & LOUD Crowd?
SPEAK OUT! is a therapy regimen tailored to people with Parkinson's disease to improve their voicing, and in turn, their swallowing. In this program, speech is transformed from an automatic function to an intentional task. SPEAK OUT! is usually completed in 12 sessions spanning four to six weeks, and then the client transitions to the LOUD Crowd.
LOUD Crowd is the group therapy portion of the program and meets once weekly. The sessions provide maintenance for skills obtained during SPEAK OUT! and are a source of camaraderie for the members.
The SPEAK OUT! & LOUD Crowd therapy regimens were developed at Parkinson Voice Project in Richardson, TX.
When and where can I receive services?
All sessions occur at Murray State University Speech and Hearing Clinic or can be virtual through telehealth.
Contact Us
To schedule an appointment or make a referral to our Voice and Swallowing Clinic please contact:
Voice and Swallowing Clinic
Murray State University
125 Alexander Hall, Murray KY 42071